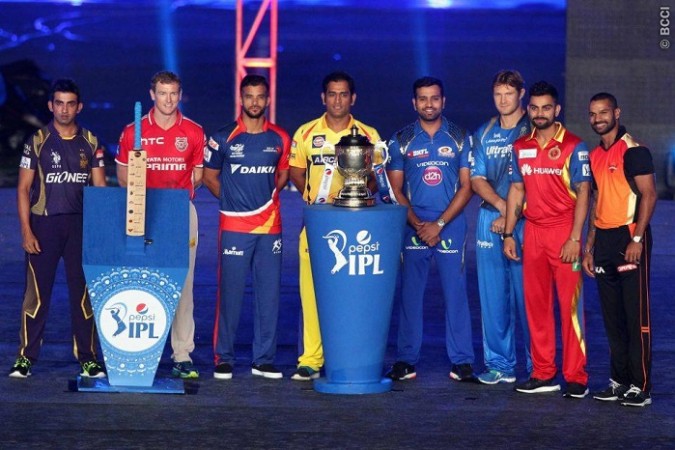 The IPL train has returned from it shed and it is time for that unrelenting cricketing action again, which starts from Wednesday and goes all the way up to 24 May with very little rest days in between.
IPL 2015 promises to be just as glamorous and exciting as its predecessors, with plenty of new faces and a few reignited teams, along with the usual suspects, looking to take home that glinting gold cup.
The eighth season of the IPL begins with a match involving the defending champions and the 2013 winners – Kolkata Knight Riders vs Mumbai Indians – with the rest of the six teams then given the opportunity of taking centre-stage.
The opening match at the Eden Gardens promises to be a really good cricketing match, between two teams who will expect to be right up there competing for the title once all the league phase dust settles.
Chennai Super Kings will also be another franchise again thinking about winning the IPL title, while the Kings XI Punjab will look to clear that final hurdle this time around having fallen short against KKR last season.
The Royal Challengers Bangalore will be desperate to make an impact after underwhelming time and again despite having an array of superstars, while the Sunrisers Hyderabad, with a revamped squad, will look to go and mix it with the big guns.
Delhi Daredevils are another side with a much-changed team, while the Rajasthan Royals will look to not just impress in patches, but do enough to make the playoffs and then eventually take that title.
While there are a couple of teams that do hold the edge, all eight teams do look capable of taking the IPL 2015 crown, if they play up to their potential, and with superstars, Indian and international, in pretty much every team, expect another cracker of an Indian Premier League season.
Below are the results of every match of this IPL, updated daily right after the results are in.
| | | | | | |
| --- | --- | --- | --- | --- | --- |
| Date | Match | Time | Teams | Venue | Match Result |
| Wed, 8 April | 1 | 8 pm | KKR vs MI | Eden Gardens | KKR won by seven wickets. Get the Match As It Happened HERE. Get Morne Morkel Quotes HERE |
| | | | | | |
| --- | --- | --- | --- | --- | --- |
| Thu, 9 April | 2 | 8 pm | CSK vs DD | Chepauk | CSK won by 1 run. Get the Match Report HERE |
| | | | | | |
| --- | --- | --- | --- | --- | --- |
| Fri, 10 April | 3 | 8 pm | KXIP vs RR | Pune | RR won by 26 runs. Get the Match Report HERE |
| | | | | | |
| --- | --- | --- | --- | --- | --- |
| Sat, 11 April | 4 | 4 pm | CSK vs SRH | Chennai | CSK won by 45 runs. Get the Match As It Happened HERE |
| | | | | | |
| --- | --- | --- | --- | --- | --- |
| Sat, 11 April | 5 | 8 pm | KKR vs RCB | Kolkata | RCB won by 3 wickets. Get the Match Report HERE |
| | | | | | |
| --- | --- | --- | --- | --- | --- |
| Sun, 12 April | 6 | 4 pm | DD vs RR | Delhi | RR won by 3 wickets. Get the Match Report HERE |
| | | | | | |
| --- | --- | --- | --- | --- | --- |
| Sun, 12 April | 7 | 8 pm | MI vs KXIP | Mumbai | KXIP won by 18 runs. Get the Match Report HERE |
| | | | | | |
| --- | --- | --- | --- | --- | --- |
| Mon, 13 April | 8 | 8 pm | RCB vs SRH | Bengaluru | SRH won by 8 wickets. Get the Match As It Happened HERE |
| | | | | | |
| --- | --- | --- | --- | --- | --- |
| Tue, 14 April | 9 | 8 pm | RR vs MI | Ahmedabad | RR won by 7 wickets. Get the Match Report HERE |
| | | | | | |
| --- | --- | --- | --- | --- | --- |
| Wed, 15 April | 10 | 8 pm | KXIP vs DD | Pune | DD won by 5 wickets |
| | | | | | |
| --- | --- | --- | --- | --- | --- |
| Thu, 16 April | 11 | 8 pm | SRH vs RR | Vizag | RR won by 6 wickets |
| | | | | | |
| --- | --- | --- | --- | --- | --- |
| Fri, 17 April | 12 | 8 pm | MI vs CSK | Mumbai | CSK won by 6 wickets. Get the Match Report HERE Get the Highlights HERE |
| | | | | | |
| --- | --- | --- | --- | --- | --- |
| Sat, 18 April | 13 | 4 pm | SRH vs DD | Vizag | DD won by 4 runs. Get the Match Report HERE |
| | | | | | |
| --- | --- | --- | --- | --- | --- |
| Sat, 18 April | 14 | 8 pm | KXIP vs KKR | Pune | KKR won by 4 wickets |
| | | | | | |
| --- | --- | --- | --- | --- | --- |
| Sun, 19 April | 15 | 4 pm | RR vs CSK | Ahmedabad | RR won by 8 wickets. Get the Match Report and Score HERE |
| | | | | | |
| --- | --- | --- | --- | --- | --- |
| Sun, 19 April | 16 | 8 pm | RCB vs MI | Bengaluru | MI won by 18 runs. Get the Match Report, Score and Highlights HERE |
| | | | | | |
| --- | --- | --- | --- | --- | --- |
| Mon, 20 April | 17 | 8 pm | DD vs KKR | Delhi | KKR won by 6 wickets. Get the Match Report, Score and Highlights HERE |
| | | | | | |
| --- | --- | --- | --- | --- | --- |
| Tue, 21 April | 18 | 8 pm | RR vs KXIP | Ahmedabad | KXIP won in Super Over. Get the Match Report, Score and Highlights HERE |
| | | | | | |
| --- | --- | --- | --- | --- | --- |
| Wed, 22 April | 19 | 4 pm | SRH vs KKR | Vizag | SRH won by 16 runs. Get the Match Report, Score and Highlights HERE |
| | | | | | |
| --- | --- | --- | --- | --- | --- |
| Wed, 22 April | 20 | 8 pm | RCB vs CSK | Bengaluru | CSK won by 27 runs. Get the Match Report, Score and Highlights HERE |
| | | | | | |
| --- | --- | --- | --- | --- | --- |
| Thu, 23 April | 21 | 8 pm | DD vs MI | Delhi | DD won by 37 runs. Get the Report, Score and Match Highlights HERE |
| | | | | | |
| --- | --- | --- | --- | --- | --- |
| Fri, 24 April | 22 | 8 pm | RR vs RCB | Ahmedabad | RCB won by 9 wickets. Get the Match Report, scores and highlights HERE |
| | | | | | |
| --- | --- | --- | --- | --- | --- |
| Sat, 25 April | 23 | 4 pm | MI vs SRH | Chennai | MI won by 20 runs. Get the Match Report, Score and Highlights HERE |
| | | | | | |
| --- | --- | --- | --- | --- | --- |
| Sat, 25 April | 24 | 8 pm | CSK vs KXIP | Chennai | CSK won by 97 runs. Get the Match Report, Score and Highlights HERE |
| | | | | | |
| --- | --- | --- | --- | --- | --- |
| Sun, 26 April | 25 | 4 pm | KKR vs RR | Kolkata | Match abandoned |
| | | | | | |
| --- | --- | --- | --- | --- | --- |
| Sun, 26 April | 26 | 8 pm | DD vs RCB | Delhi | RCB won by 10 wickets |
| | | | | | |
| --- | --- | --- | --- | --- | --- |
| Mon, 27 April | 27 | 8 pm | KXIP vs SRH | Mohali | SRH won by 20 runs. Get the Match Report, Highlights and Score HERE |
| | | | | | |
| --- | --- | --- | --- | --- | --- |
| Tue, 28 April | 28 | 8 pm | CSK vs KKR | Chennai | CSK won by 2 runs. Get the Report and Highlights HERE |
| | | | | | |
| --- | --- | --- | --- | --- | --- |
| Wed, 29 April | 29 | 8 pm | RCB vs RR | Bengaluru | No result after rain washes second innings out. Get the Report and Highlights HERE |
| | | | | | |
| --- | --- | --- | --- | --- | --- |
| Thu, 30 April | 30 | 8 pm | KKR vs CSK | Kolkata | KKR won by seven wickets. Get the Match Report and Highlights HERE |
| | | | | | |
| --- | --- | --- | --- | --- | --- |
| Fri, 1 May | 31 | 4 pm | DD vs KXIP | Delhi | DD won by nine wickets. Get the Match Report and Highlights HERE |
| | | | | | |
| --- | --- | --- | --- | --- | --- |
| Fri, 1 May | 32 | 8 pm | MI vs RR | Mumbai | MI won by eight runs. Get the Match Report and Highlights HERE |
| | | | | | |
| --- | --- | --- | --- | --- | --- |
| Sat, 2 May | 33 | 4 pm | RCB vs KKR | Bengaluru | RCB won by seven wickets. Get the Match Report and Highlights HERE |
| | | | | | |
| --- | --- | --- | --- | --- | --- |
| Sat, 2 May | 34 | 8 pm | SRH vs CSK | Hyderabad | SRH won by 22 runs. Get the Match Score and Highlights HERE |
| | | | | | |
| --- | --- | --- | --- | --- | --- |
| Sun, 3 May | 35 | 4 pm | KXIP vs MI | Mohali | MI won by 23 runs. Get the Match Score and Highlights HERE |
| | | | | | |
| --- | --- | --- | --- | --- | --- |
| Sun, 3 May | 36 | 8 pm | RR vs DD | Mumbai | RR won by 14 runs |
| | | | | | |
| --- | --- | --- | --- | --- | --- |
| Mon, 4 May | 37 | 4 pm | CSK vs RCB | Chennai | CSK won by 24 runs. Get the Match Report and Highlights HERE |
| | | | | | |
| --- | --- | --- | --- | --- | --- |
| Mon, 4 May | 38 | 8 pm | KKR vs SRH | Kolkata | KKR won by 35 runs. Get the Match Report and Highlights HERE |
| | | | | | |
| --- | --- | --- | --- | --- | --- |
| Tue, 5 May | 39 | 8 pm | MI vs DD | Mumbai | MI won by 5 wickets |
| | | | | | |
| --- | --- | --- | --- | --- | --- |
| Wed, 6 May | 40 | 8 pm | RCB vs KXIP | Bengaluru | RCB won by 138 runs. Get the Report and Highlights of the match HERE |
| | | | | | |
| --- | --- | --- | --- | --- | --- |
| Thu, 7 May | 41 | 4 pm | RR vs SRH | Mumbai | SRH won by 7 runs. Get the Report and Highlights of the match HERE |
| | | | | | |
| --- | --- | --- | --- | --- | --- |
| Thu, 7 May | 42 | 8 pm | KKR vs DD | Kolkata | KKR won by 13 runs. Get the Report and Highlights of the match HERE |
| | | | | | |
| --- | --- | --- | --- | --- | --- |
| Fri, 8 May | 43 | 8 pm | CSK vs MI | Chennai | MI won by 6 wickets. Get the Report and Match Highlights HERE |
| | | | | | |
| --- | --- | --- | --- | --- | --- |
| Sat, 9 May | 44 | 4 pm | KKR vs KXIP | Kolkata | KKR won by 1 wicket. Get the Match Report and Video Highlights HERE |
| | | | | | |
| --- | --- | --- | --- | --- | --- |
| Sat, 9 May | 45 | 8 pm | DD vs SRH | Raipur | SRH won by 6 runs. |
| | | | | | |
| --- | --- | --- | --- | --- | --- |
| Sun, 10 May | 46 | 4 pm | MI vs RCB | Mumbai | RCB won by 39 runs. Get the Match Report and Video Highlights HERE |
| | | | | | |
| --- | --- | --- | --- | --- | --- |
| Sun, 10 May | 47 | 8 pm | CSK vs RR | Chennai | CSK won by 12 runs. |
| | | | | | |
| --- | --- | --- | --- | --- | --- |
| Mon, 11 May | 48 | 8 pm | SRH vs KXIP | Hyderabad | SRH won by 5 runs. Get the Report and Match Highlights HERE |
| | | | | | |
| --- | --- | --- | --- | --- | --- |
| Tue, 12 May | 49 | 8 pm | DD vs CSK | Raipur | DD won by 6 wickets. Get the Report and Match Highlights HERE |
| | | | | | |
| --- | --- | --- | --- | --- | --- |
| Wed, 13 May | 50 | 8 pm | KXIP vs RCB | Mohali | KXIP won by 22 runs. Get the Report and Match Highlights HERE |
| | | | | | |
| --- | --- | --- | --- | --- | --- |
| Thu, 14 May | 51 | 8 pm | MI vs KKR | Mumbai | MI won by 5 runs. Get the Report and Match Highlights HERE |
| | | | | | |
| --- | --- | --- | --- | --- | --- |
| Fri, 15 May | 52 | 8 pm | SRH vs RCB | Hyderabad | RCB won by 6 wickets. Get the Report and Match Highlights HERE |
| | | | | | |
| --- | --- | --- | --- | --- | --- |
| Sat, 16 May | 53 | 4 pm | KXIP vs CSK | Mohali | CSK won by 7 wickets. Get the Report and Match Highlights HERE |
| | | | | | |
| --- | --- | --- | --- | --- | --- |
| Sat, 16 May | 54 | 8 pm | RR vs KKR | Mumbai | RR won by 9 runs. Get the Report and Match Highlights HERE |
| | | | | | |
| --- | --- | --- | --- | --- | --- |
| Sun, 17 May | 55 | 4 pm | RCB vs DD | Bengaluru | No result |
| | | | | | |
| --- | --- | --- | --- | --- | --- |
| Sun, 17 May | 56 | 8 pm | SRH vs MI | Hyderabad | MI won by 9 wickets. Get the Report and Match Highlights HERE |
| | | | | | |
| --- | --- | --- | --- | --- | --- |
| Tue, 19 May | Qualifier 1 | 8 pm | CSK vs MI | Mumbai | MI won by 25 runs. Get the Match As It Happened HERE |
| | | | | | |
| --- | --- | --- | --- | --- | --- |
| Wed, 20 May | Eliminator | 8 pm | RCB vs RR | Pune | RCB won by 91 runs. Get the Match As It Happened HERE. Get the Report and Highlights of the Match HERE |
| | | | | | |
| --- | --- | --- | --- | --- | --- |
| Fri, 22 May | Qualifier 2 | 8 pm | CSK vs RCB | Ranchi | CSK won by three wickets. Get the Match As It Happened HERE. Get the Highlights HERE |
| | | | | | |
| --- | --- | --- | --- | --- | --- |
| Sun, 24 May | Final | 8 pm | MI vs CSK | Kolkata | MI won by 41 runs. Get the Match As It Happened HERE. Get the Highlights HERE |