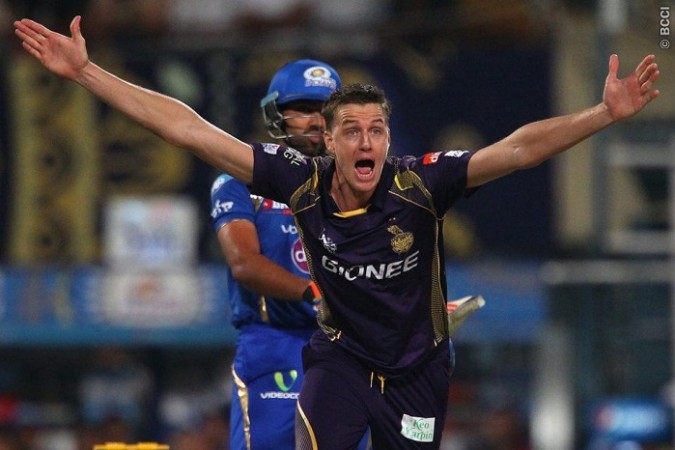 11.33 pm: Man that was clinical from KKR. Gambhir played a nice innings at the top, with Manish Pandey going all guns blazing at No.3. Suryakumar Yadav then came in and then played one of the best 46 from 20 balls (1x4, 5x6) you are likely to see. Easy as pie for KKR this, with Morne Morkel setting the match up with his early spell. The fact that MI could not get too many runs in the first 14 overs, probably cost them in the end, even if Rohit and Anderson went slam-bang to great effect in the final six overs.
KKR have thrown down the gauntlet and made a major statement. They are going to be a seriously difficult team to beat, and near unbeatable at home. MI have plenty to think about, especially with their bowling.
That's it from me and IBTimes India, time to get some sleep. Bye, bye it is until next time.
11.32 pm: Morne Morkel is the man of the match for his brilliant spell of 4-1-18-2. "I think with the new ball there was a little bit of swing up front, and I just needed to make the most of it. Hopefully the groundsman will keep the grass on it. It just feels great to be back here, playing in front of this amazing ground. It is breathtaking to play here, it gives you a lot of energy, it is special."
11.29 pm: "A lot of credit should go to the entire unit," says Gambhir. "It was a difficult target to chase, but we showed we were the deserving winner. The way the guys batted was unbelievable.
"Morne bowled really well, I think he was exceptional. The way Sunil bowled, after coming back shows a lot of mental toughness and character. Happy to start the tournament on a high."
11.28 pm: Suryakumar Yadav gets the maximum sixes award for his five sixes, while Hotstar of the match award, an award for the most entertaining player, also goes to the same man. What an innings aye!
11.20 pm: "I think the kind of wicket it was, we were probably 10-15 runs short," says Rohit. "But we should have done better with the ball, we didn't execute the plans well. But there is still time, and I hope we can come up with a better performance next.
"The wicket was really good, which is always the trend in Kolkata. We just should have executed our plans well. Ending up on the losing side does not please you so much, once we go back to Mumbai we will figure out what we can do better with the bowling."
11.16 pm: Vinay Kumar to bowl what looks like being the final over of the match with KKR needing just a boundary for a win. Pathan gets one with a crash to long-on, allowing Suryakumar Yadav to fittingly hit the winning runs, which he does with a glorious cover drive for a four. KKR win by seven wickets with nine balls to spare after finishing on 170/3 in 18.3 overs.
11.13 pm: After Bumrah's over went for 20 runs, even Malinga cannot do much, no matter how well he bowls. Doesn't bowl that well, mind, as a single first ball is followed by a four with Yusuf helping the ball to the boundary off a ball down the legside. A short ball follows which Pathan cannot make contact with. Has to keep it at that length for Yusuf, always fast and short. Pathan takes a single fourth ball and then Suryakumar Yadav treats a length ball from Malinga with disdain, thumping it over wide long-on for a huge six. All of 14 runs from the over, KKR 165/3 in 18 overs, 4 from 12.
11.08 pm: Suryakumar Yadav has played some outstanding shots and he adds another to his collection, with a beautiful lofted drive for a six over extra cover off Bumrah, who started the over with a wide and a dot. Hits the batsman's helmet next ball, but misses the yorker and Suryakumar Yadav just swings that bat along like a pendulum and thumps it over midwicket for another six. This game is over really, with Pathan smashing, and it is smashed, a six over midwicket. KKR 151/3 in 17 overs, another 18 needed from 18 balls.
11.01 pm: Malinga is back on. He still has two overs to bowl, including this one. Beats the outside edge Yusuf, who cannot score off the first three balls. Takes a single to third man off the fourth, which brings Suryakumar Yadav on strike. Malinga gets away with a wide as Tare goes for a ridiculous appeal, and then a single to end the over. KKR 131/3 in 16 overs, 38 from 24. Strategic timeout time again.
10.55 pm: Right after the Gambhir wicket, Suryakumar Yadav gets that flick going for another six again. Beautiful shot once more, doesn't get it as sweetly as the first one, but the ball clears the fine-leg fielder well enough. Wicket of Gambhir, but another big over for KKR 129/3 in 15 overs.
10.52 pm: Four off the first ball from Gambhir, who clears his leg and clubs the ball over mid-on. But then, Wicket, Gambhir gone! Gambhir (57, 43b, 7x4, 1x6) goes for another big shot, and this is a bit of a slog as Bumrah drops the ball short. Doesn't get any sort of timing and Ambati Rayudu takes a simple catch deep on the onside. KKR 121/3 in 14.2 overs. Yusuf Pathan is in.
10.49 pm: Gambhir gets to his half-century in slightly fortuitous circumstances. Hits the ball straight back at Harbhajan, who just cannot get enough of a hand to latch on and the ball goes to the boundary as well. Fifty off just 39 balls for Gambhir, and he is taking KKR to the target. KKR 117/2 in 14 overs.
10.45 pm: Suryakumar Yadav is the new man in. He can be really dangerous too, and he shows just why off just his second ball. Slightly too straight and Suryakumar Yadav just flicks it for a huge six, outstanding shot that, really was class. That six means, it was a decent over again for KKR 107/2 in 13 overs.
10.39 pm: Wicket, Pandey gone! A decent tight over finally from Harbhajan and it gets him a wicket. Pandey looks for the big shot again, this time off the final ball, and does not get it right once more. Kieron Pollard makes no mistake, taking a simple catch at long-on. Pandey's 40 from 24 balls (2x4, 3x6) was just what the doctor ordered, though. KKR 98/2 in 12 overs.
10.36 pm: Lasith Malinga is brought back in hope of a wicket. But, instead one slips out of his hand second ball and Pandey just helps it along over the fine-leg boundary for a big six, another over with plenty of runs. KKR are going to finish this in a hurry at this rate, easy peasy at the moment. KKR 94/1 in 11 overs.
10.31 pm: Pandey dropped. Another one goes down. Pandey looks for the big shot straight back, doesn't get it and he is livid with himself thinking he is gone. But, Anderson runs in way too much and then has to jump up and try to snare it one-handed, which he cannot. Looks at the lights as if it is to blame, but Anderson just misjudged it. Gambhir then rubs salt into the wounds with a gorgeous inside-out drive off Harbhajan for a four, before taking another boundary via a cut to backward point. KKR 85/1 in 10 overs.
10.27 pm: Will this match be a tale of the two captains? The way Gambhir is going, it just might be as the KKR skipper steps it another level with the spinners on. The KKR batsmen are enjoying the spinner, who it must be said have not found their lines at all. Short ball from Ojha is dispatched to midwicket crowd by Pandey for another six, and KKR are motoring along here, cruising towards rhe target. KKR 74/1 in 9 overs.
10.24 pm: Gambhir is finding his groove now with the spinners on as he hits Harbhajan Singh for a boundary to the offside. A two follows, before Lady Luck smiles his way as an inside edge just misses leg-stump. Harbhajan is getting plenty of spin, but he is bowling it way too short as well, and Gambhir makes him pay for that with a beautiful cut for a second boundary in the over. Another good over for KKR 62/1 in 8 overs.
10.18 pm: Pragyan Ojha, another who has had his issues with his action, now. Gambhir loves the spinners, and he is mad at himself for missing out on the first ball. Cuts away the second for a two and then comes down the track and hoicks it over midwicket for an 83-metre six. Completely different player to the spinners is Gambhir. KKR 49/1 in 7 overs. Strategic timeout time.
10.14 pm: Pandey is in a hurry here. Short and a little wide from Jasprit Bumrah andPandey does not miss out. Good comeback from the fast bowler after that, however, just two more runs. KKR 38/1 in 6 overs.
10.09 pm: Another chance blown off the final ball of the previous over. Gambhir struck the ball to the covers and Pandey took off, was sent back and would have been short of his crease had it been a direct hit. Pandey, though, shrugs that chance off by clubbing Anderson for a six straight back past the bowler, before he gets very lucky as a leading edge drops in no-mans land and runs away for a four. Pretty good over for the batting side, 13 off it, despite some good bowling from Anderson, who is getting the ball to swing both ways. KKR 32/1 in 5 overs.
10.04 pm: Vinay Kumar bowls short and on legstump first ball of the fourth over, and Gambhir punishes it for a four. A leg-bye taken after that, before Manish Pandey gets off the mark with a quick single to the offside. Vinay keeps it tight in the next three balls, KKR 19/1 in 4 overs.
9.59 pm: Wow, what a shot! Just the one over for Malinga and Corey Anderson is given the ball. Onto the pads first up and Uthappa just times it perfectly, and I mean perfectly, over square-leg for an easy as they come six. Gets it to the off next and Uthappa plays and misses, and then Anderson drops a caught and bowled chance. Uthappa drives straight and Anderson cannot hold on to the ball down low, a really tough chance that, but the kind you need to take if you are going to get that W. both Gambhir and Uthappa have had lives here.
Wicket, Uthappa gone! Chuck that Anderson drop. The left-armer gets it outside off again, Uthappa throws his bat at it, only gets the outside edge and Harbhajan Singh takes a catch over his head in the slips. Manish Pandey is then cut in half off the final ball, KKR 13/1 in 3 overs.
9.55 pm: Vinay Kumar, against his former side, gets it going nicely in his first over. A bit of shape away to the right-hander again, and Uthappa nearly gives a catch to mid-off via a leading edge as he looks to turn the ball to the onside. Having played with Vinay with Karnataka for a long, long time, though, Uthappa should know all about him. And it is dropped. Gambhir gets the outside edge, the ball flies low to the wicketkeeper, but Tare cannot hold on diving to his left. Think the ball carried, and if it did, he should have hung on. Just two singles from the over, KKR 5/0 in 2 overs.
9.51 pm: A broken bat for Gambhir. Goes for the cover drive off R Vinay Kumar and the bat just breaks as the ball hits the upper half. Gambhir has a handle and a bit of the willow in his hands. Ridiculous.
9.49 pm: A decent first over from Malinga, who is getting that shape away from the right-hander Uthappa and into the left-hander Gambhir. A single, a leg-bye and a wide to begin, KKR 3/0 in 1 over.
9.45 pm: And we're back with Lasith Malinga opening the bowling to Robin Uthappa.
9.34 pm: The chase will be interesting and as Morkel said, much will depend on how the KKR openers play the new ball. If they can see that initial burst off, they will be in the driver's seat.
But, unfortunately the elements might have a say as well, because it is starting to rain at the Eden Gardens, and not the six variety I'm afraid.
9.30 pm: A decent score for MI in the end, all built on a wonderful unbeaten 98 (65b, 12x4, 4x6) by Rohit Sharma, with Corey Anderson doing brilliantly well, with his unbeaten 55 (41b, 4x4, 3x6) after coming in at a tough time. At 37/3 in the sixth over, courtesy some brilliant bowling from Morne Morkel, KKR would have expected to restrict Mumbai Indians to a lower total, but they might have probably taken chasing 169 at the start of the match, even if they haemorrhaged 88 runs in the final 6 overs.
MI will need to bowl well to stop KKR, who are a really good chasing side, especially in their own backyard the Eden Gardens.
9.27 pm: "I just think I had a good rhythm tonight and it did a bit with the new ball, Gauti backed me and I bowled out," says Morne Morkel. "It is a good wicket, the margins are still very, very small with a fast outfield. It is a good wicket, I think it is important for us to lay a good platform up front, we have got some good hitters towards the end."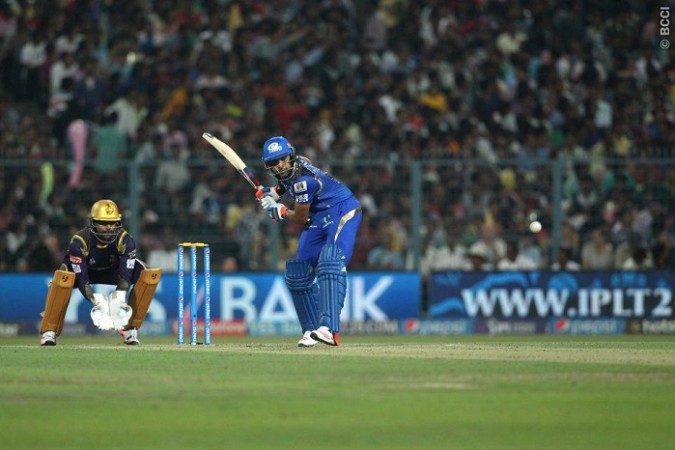 9.25 pm: The first ball of the final over, from Shakb, goes for six as Anderson slog sweeps one over the midwicket boundary. Shakib has no luck in this match, as another drop comes, this time from Morkel after Anderson mistimed his heave to the onside. A single is taken, which brings Rohit back on strike on 93. He goes to 97 with a ridiculous shot past point for a four. Full ball, yorker length, but somehow finds the gap. Rohit will not get his hundred as he takes a single to long-on off the penultimate delivery to stay not out on 98. Anderson finishes the innings off with another big six over long-on, which gives him his half-century. Shakib over goes for 20 runs, Mumbai Indians finish their innings on 168/3 in 20 overs.
9.21 pm: Russell gets the wide yorker just wrong and Anderson clubs it straight back again, this time for a six to start the over. Gets it right second ball and only a single is taken, bringing Rohit back on strike. Rohit goes from 86 to 92 with a wonderful hit straight back for a six as the West Indian misses his length again. Gets it fuller next and only a single is taken. Can Rohit get his hundred? Anderson can't get bat to ball to a quick short delivery from Russell and then a single is taken final ball, which means Rohit is off strike in the final over of the innings. Mumbai Indians 148/3 in 19 overs.
9.17 pm: Narine finishes with figures of 4-0-28-0, not bad, but not exactly Narine-like figures either, even if it is only his first game this season. A wide to start with Shakib over as he fires it outside thinking Rohit will come down the track. The MI captain then gets a four through to wide long-off, with Russell just unable to stop the ball. Shakib does well in the next couple of balls, though, just giving away a single, but Anderson then smashes a low full toss straight back for a lightning four. Mumbai Indians 133/3 in 18 overs.
9.14 pm: Another chance gone. Rohit goes for the big shot dancing down the track, Narine gets the nick, but Robin Uthappa, not a regular enough wicketkeeper, cannot hang on, and with it also goes a stumping chance. Rohit follows that up with a whack through the onside for a four, before the slog sweep comes out for a six, Narine's final over goes for 13 runs, Mumbai Indians 122/3 in 17 overs.
9.10 pm: Four overs to go, Mumbai Indians will look for at least 50 from it, considering they still have Kieron Pollard to come. KKR will do well to restrict the batsmen to under 40.
9.08 pm: Rohit is just in a completely different zone. Waits for the ball to drop outside off and he thumps it through the covers for another outstanding four. Decent over for KKR, though, considering the last one, eight off it, Mumbai Indians 109/3 in 16 overs. The second strategic timeout is taken.
9.06 pm: Shakib now, and he should have had a wicket first ball. Anderson looks for the big shot over midwicket, does not get it right and the ball goes straight down the lap of Russell, who drops the sitter of all sitters.
9.04 pm: One of the two needs to go now surely, and it will probably be Anderson. MI need at least 150 to make a game of it here, and that means over 10 runs an over from here. Umesh Yadav is brought back, and just a couple of singles off the first two deliveries. Rohit then mistimes one to the cow corner boundary. Goes for the heave through the onside, does not time it at all, but the ball drops in the gap and runs away from the running Morkel for a four and with it his half-century as well.
Gets the timing going next ball, though, as he scythes ones through the offside for a typical Rohit boundary. Umesh's pace is to Rohit's liking it seems as he makes it four, four and a six with a huge loft over wide long-on. Moves his front foot out of the way and swats a length ball for a massive six. Add another four to the over, as Rohit glides the ball beautifully past backward point. Big over, 21 off it, Mumbai Indians 101/3 in 15 overs.
8.59 pm: Narine returns as Gambhir looks to break the partnership. No wickets, but no boundaries either, with four singles taken. Mumbai Indians 80/3 in 14 overs.
8.56 pm: Rohit goes for the big slog sweep to try and get the over off to a fast start after playing and missing first ball. Doesn't get it in the middle and only a single is taken, two more after that, and for the second straight time Anderson finishes a Chawla over with a powerful boundary, this time flat-batted straight back. Mumbai Indians 76/3 in 13 overs.
8.52 pm: Russell continues and it is an uneventful over. Just the three singles, Mumbai Indians 69/3 in 12 overs.
8.49 pm: Piyush Chawla for the first time, a tidy enough over in the T20 perspective for the first five balls, a two and three singles, and then Anderson gets that power out and clubs the ball through extra cover for a boundary. Mumbai Indians 66/3 in 11 overs.
8.45 pm: Andre Russell replaces Morkel and Rohit looks to take him on second ball, but misses a swipe attempt to the legside, grimaces a little as the ball hits his arm, an arm without the elbow pad. The physio is asked for and gives a bit of that magic spray. Takes a single next ball does Rohit, with Anderson doing the same a couple of balls later. Rohit finishes the over with a single to the onside, Mumbai Indians 57/3 in 10 overs.
8.38 pm: There is definitely a marked change in Narine's action. He is slowly but surely getting into his groove as well, with Anderson taking a single to get off strike, before Rohit blocks a few. Gets it a touch wrong fifth ball, though, short and wide and Rohit guides the ball past the two men behind point for a four. He is looking really good here is the MI captain, Mumbai Indians 54/3 in 9 overs. Strategic timeout time.
8.35 pm: Morkel is asked to bowl out by Gambhir, who is looking for that fourth wicket just to dent MI's innings more. Rohit takes a single first ball and then Anderson is watchful, knowing there is no need for a big shot here, with plenty of overs still remaining. As I write that, Anderson goes for a waft outside off and misses, and then he gets off the mark with a whack through the covers for a boundary. Brilliant contrast this Anderson and Rohit – one clubs, the other caresses. Morkel finishes with figures of 4-1-18-2. Mumbai Indians 48/3 in 8 overs.
8.31 pm: Rohit is looking his ridiculously good self. Narine bowls a low full toss first and Rohit just creams it through the covers for a four. Blocks the next ball and then tries to cut a short one past point. Can't and Anderson, who had backed up, is nearly run out at the non-striker's end. The accuracy is slowly coming, but Narine can't get that pace with this action can he. Rohit takes a single to the onside to bring Anderson on strike. The New Zealander does not read Narine's ball that goes the other way, and he just about block the final ball out. Mumbai Indians 42/3 in 7 overs.
8.28 pm: Sunil Narine for the first time. A loud cheer from the crowd. How will he do?
8.27 pm: Attacking field with plenty of slips as Corey Anderson walks in. Morkel with his tail up gets that ball sniffing the bat a couple of times, but no wicket. A wicket maiden from the South African, Mumbai Indians 37/3 in 6 overs.
8.23 pm: Wicket, Ambati Rayudu gone! After sitting on the sidelines for the entire World Cup, Rayudu would have itching to make an impression. But the outstanding Morkel gets his second wicket and it is a brilliant short of a good length delivery which gets the outside edge through to Yusuf Pathan at slips. It was a nice setup from Morkel, who gave Rayudu the heebie jeebies with a nice short ball first up. Mumbai Indians 37/3 in 5.2 overs.
8.21 pm: Spin already as Shakib is given the ball by Gambhir. Single first ball to the onside, with Rohit just warily blocking the second. Will the MI captain go for the big shot in this over? Yup, he does it, and it goes for a huge six straight back, but....
Wicket, Tare gone! He didn't need to do that, goes for the big shot off Shakib a couple of balls after Rohit's massive tonk, and he does not get it right. Down the track and Shakib gets it right this time with the pace and trajectory as Tare only manages to find Umesh at long-off. Mumbai Indians 37/2 in 5 overs.
8.17 pm: Aditya Tare gets his first chance with the bat in IPL 2015. Gets off the mark with a throw of the hands at a wide delivery from Morkel which goes through the covers for a four. A big swipe outside off follows, which gives him a single via a thick edge to third man. Rohit then plays and misses as Morkel bowls a nice delivery in that corridor, before a quick single is taken to mid-on. The final ball is a single to fine-leg from Tare, Mumbai Indians 28/1 in 4 overs.
8.13 pm: Umesh needs to get his line right here. Well down the legside and Rohit needs no second invitation as he uses those wonderful hands of his to guide the ball to the square-leg boundary for a four. Gets the line eight after that does Umesh, but not for long. A ball pitched up well outside off, a slower one, and Rohit gets that gorgeous cover drive out for a second boundary in the over. A beautiful square drive follows, but Manish Pandey stops the ball at point, before the final ball yields another boundary as Rohit throws his bat at it with Pandey not doing well enough to stop the ball this time. Should have fielded that. Mumbai Indians 21/1 in 3 overs.
8.09 pm: Ooh and then Morkel nearly gets Rohit as well. A nicely pitched up delivery on the stumps and Rohit misses as the ball crashes into the pads. Big appeal made, Morkel is convinced it is out, but the umpire shakes his head. Mumbai Indians 9/1 in 2 overs.
8.07 pm: First boundary of IPL 2015, and it is off the blade of Finch. Morne Morkel strays down the legside first ball and Finch just helps it along fine for a four.
Wicket, Finch gone! The first wicketof the IPL also involves Finch, with Morkel getting his man. After blocking the second ball, Finch goes for a shove to square-leg for a boundary, but only manages a leading edge. The ball soars high, and Umesh Yadav runs around from fine-leg to take a really nice catch. Mumbai Indians 8/1 in 1.3 overs.
8.04 pm: The second ball is on leg stump and Rohit flicks it away to fine leg for a single to get himself and his team off the mark. Umesh bowls on the stumps to Finch as well, albeit back of a length, and the Australian, fresh from winning the World Cup, pushes the ball to the onside for another single. A third straight single follows as Yadav's ball which just tails away gets Rohit's edge and goes down to third man. Onto the pads and a leg-bye taken next as MI get off to a decent start with a dot off the final ball. A good shot from Rohit to the offside, a tad uppish, but finds the fielder on the first bounce. Mumbai Indians 4/0 in 1 over.
8.01 pm: The first ball of IPL 2015 is delivered by Umesh Yadav to his India teammate Rohit Sharma, who defends the ball outside off to the covers.
7.59 pm: The umpires are out on the field and so are the two Mumbai Indians openers – Aaron Finch and Rohit Sharma.
7.56 pm: The KKR players are waiting to get onto the field and as I write that they do so, with a huddle coming up. Gambhir has plenty to say.
7.49 pm: Kolkata Knight Riders: Gautam Gambhir, Robin Uthappa, Manish Pandey, Suryakumar Yadav, Yusuf Pathan, Shakib Al Hasan, Andre Russell, Piyush Chawla, Sunil Narine, Umesh Yadav, Morne Morkel.
Mumbai Indians: Rohit Sharma, Aaron Finch, Ambati Rayudu, Aditya Tare, Corey Anderson, Kieron Pollard, Harbhajan Singh, Lasith Malinga, Vinay Kumar, Jasprit Bumrah, Pragyan Ojha.
7.37 pm: The teams are on expected lines with KKR picking Shakib Al Hasan, Andre Russell, Sunil Narine and Morne Morkel as their four overseas players, while MI have gone with Aaron Finch, Corey Anderson, Kieron Pollard and Lasith Malinga.
7.33 pm: "The preparation has been good, we are looking forward to the match," says Gautam Gambhir. Rohit going along the same lines, gives a special shout out to new coach Ricky Ponting. "Hopefully we can put up the show we expect," he adds. "It looks a good track."
Rohit calls heads and it is tails, KKR win the toss and they will bowl first.
7.31 pm: Bat first or second? We'll find out soon enough as the captains toss that coin with Ravi Shastri going crazy as always – no need of a mike for Ravi is there!
7.26 pm: Will Shreyas Iyer or KC Cariappa, two uncapped players who went for big bucks be a part of the playing XI. We will find out soon enough, toss in four minutes.
7.14 pm: The first good news for today is that, unlike yesterday, when the Opening Ceremony turned out to be a damp squib in more ways than one, there is no rain. It is nice and clear, and hopefully the rain stays away for the next four hours or so.
7.10 pm: Here we are then, the beginning of IPL 2015 with a match between the Kolkata Knight Riders – the current champs – and the Mumbai Indians – the team they took the title from last season.
Welcome to IBTimes India's Live Coverage of IPL 2015's first match. Stay right here as we take you through what will hopefully be a "now that is what IPL cricket is about" contest.
Gautam Gambhir vs Rohit Sharma – battle of two different captains, with two different squads, both equally capable of picking up that title come the end of May.
The Knight Riders went on a stunning run to book their place in the playoffs last season and then beat Kings XI Punjab in the final, while the Mumbai Indians found themselves in deep, deep trouble before an amazing run of their own, coupled with some unbelievable heroics from Corey Anderson pushed them into that fourth and final spot.
However, the Chennai Super Kings ended their run in a hurry and having disappointed in the Champions League T20, MI will want to do much better in this IPL 2015.
What will help will be a winning start against KKR, and if that win will prove to be possible will probably depend upon just how Sunil Narine does with the ball for the team from Kolkata at the Eden Gardens.
Narine will be playing cricket in the big spotlight for the first time since that changed action having decided against playing in the ICC Cricket World Cup 2015, and it will be interesting to see if he stays within those straightening degree rules and, if he does, how effective he is.
This match does promise to be one that can lay the platform for another ripper of a season, and let's hope it does not disappoint.
If you feel the need to watch the Match on TV or via live streaming online, do not worry one bit, we have everything you need to do just that HERE