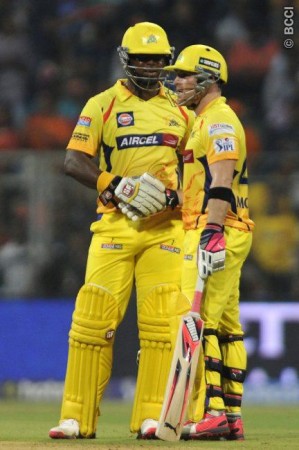 It was almost as if MS Dhoni, during halftime (the easier word for the mid-innings break) had told his two Chennai Super Kings openers – Dwayne Smith and Brendon McCullum – "look boys, I've just been told by the manager, there is a flight at 1 in the morning, so finish the game off by 11 and we can fly to Ahmedabad for out next IPL match on Sunday."
Such was the speed with which Smith and McCullum began the chase – and as good as ended it – that the only real reason to thump the Mumbai Indians bowlers so mercilessly had to be because they had a plane to catch. Why else would you torture international class bowlers like that?
Two runs came off the first five balls as CSK started their chase of 184, with the Mumbai Indians finishing their innings on a "now it looks ridiculously easy to chase" 183/7, and then that fire was lit and all the white ball did from that moment was either hit the ropes or soar over it.
McCullum (46, 20b, 6x4, 2x6) and Smith (62, 30b, 8x4, 4x6) scored 88 runs in the next 25 balls to finish the Powerplay on 90/0 in 6 overs, the second highest ever in IPL history – no prizes for guessing CSK also hold the record for the highest ever – and from there it was as easy as one, two, three.
During that six over spell, over number two, from Lasith Malinga, went for 12 runs, courtesy a six and a four from McCullum; over number three, from Jagadeesha Suchith, went for 11 runs, via a four and a six from Smith; over number four, from Malinga, one of the post potent bowlers in T20 cricket, was plundered for 21 runs, with both Smith and McCullum pitching in; over number five, from Suchith again, was thumped for 22, with Smith doing most of the heavy-lifting; and over number six, from Harbhajan Singh, was thrashed for 18 runs, this time McCullum tonking those boundaries at will.
Ricky Ponting got his team around and gave them a talking to during the strategic timeout that followed, but it made no difference as CSK zoomed past 100 in the seventh over, with Pawan Suyal going for 17 runs, before the insanity and carnage was finally quelled as both McCullum and Smith fell to Harbhajan – one caught at long-off and the other at midwicket.
However, it mattered little, as CSK were on 115/2 in 8 overs at that point, and all Suresh Raina (43 n.o., 29b, 4x4, 2x6), Faf Du Plessis, MS Dhoni and Dwayne Bravo – T20 masters in their own right, but made to look like Test match specialists in the wake the McCullum and Smith assault – had to do was score a mere 69 from 12 overs, which they did with ease, with six wickets and 20 balls to spare.
Earlier, the Mumbai Indians looked headed for another disappointing batting outing when they stumbled to 12/3 in the middle of the fourth over, with Parthiv Patel, for a golden duck, Corey Anderson, sent in at No.3, and Lendl Simmons, the man replacing the injured Aaron Finch, all falling way too early, with Ashish Nehra (4-0-23-3) again proving his worth.
Harbhajan Singh, after his stunning innings against the Kings XI Punjab, was promoted to No.5, and the veteran, along with Rohit Sharma, steadied the ship a touch with a 45-run partnership, before the inevitable Harbhajan (24, 21b, 2x4, 1x6) wicket came.
However, the momentum in the Mumbai Indians innings only went up from there as Kieron Pollard (64, 30b, 4x4, 5x6), fresh from his brilliant half-century in the last game, got down to business with Rohit (50, 31b, 5x4, 1x6), first, giving him decent company at the other end, before Ambati Rayudu (29, 16b, 1x4, 3x6), smarting from being dropped in the last game, also smashed a few.
A 26-run 14th over, bowled by Ravindra Jadeja, where Pollard thumped three sixes and a four, was the catalyst, with 85 runs coming in the final seven overs – nothing like the CSK assault, mind -- to take the home team to a total that they might have defended, had McCullum and Smith not turned their willows into an instrument for unstoppable destruction.
It is four straight losses in IPL 2015 and a desperate escape needed from the mire now for the Mumbai Indians, while the Chennai Super Kings head into Ahmedabad for their clash against the marauding Rajasthan Royals in unbeatable mood.