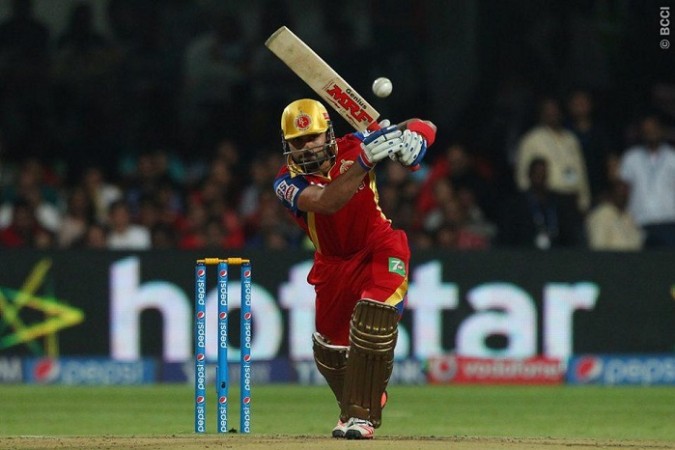 With rain deciding to park itself in Bengaluru for a while again, and the match reduced to 10 overs a side, the only result was plenty of boundary-hitting action from over one with the Royal Challengers Bangalore finally breaking their home jinx to pick up a win over the Kolkata Knight Riders in IPL 2015.
A little after the toss, the Rain Gods decided it was time to make their presence felt for a while, and make their presence felt they did to such an effect that the match, supposed to start at 4 pm IST, could only get the go-ahead from the umpires at 6.45 pm, with the game also halved to 20 overs in total.
With just ten overs to play for each batting side, and that too at the batting beauty that is the Chinnaswamy, there was going to be plenty of boundaries and sixes, with KKR starting things off nicely by posting 111/4 in their 10 overs.
RCB's reply, you would have thought, would revolve around Chris Gayle, Virat Kohli and AB De Villiers, and even if two of those superstar batsmen got off to starts, it was Mandeep Singh who grabbed the spotlight with a blitzkrieg-and-a-half worth 45 in 18 balls (4x4, 3x6).
A 10-over game is tailor-made for a player like Gayle, where he does not have to think about taking his time to settle in, with the West Indian able to just stand and deliver from ball one. Stand and deliver Gayle (21, 9b, 3x6) very much did, thumping three big sixes, with two of them coming off Brad Hogg, who would have the last laugh by dismissing the dangerous opener.
AB De Villiers came and went much to the home crowd's dismay as the South African maestro played a quicker ball from Piyush Chawla onto his stumps. It looked like the two spinners had yet again pulled things back for KKR, after RCB had raced to 48/0 in 3.4 overs, but there were plenty more twists and turns to come in this chase.
While Chawla might have had a great first over, the second one was not quite so good, with Mandeep and Kohli smashing the googly-lover for 18 runs in over number seven.
Just like that RCB were the favourites again, which went back in KKR's favour soon after as Kohli (34, 20b, 2x4, 3x6) holed out in the deep. But there was Mandeep, keeping calm as everyone else bit their fingernails to take the match to the final over, via two boundaries off the final two balls of the penultimate over.
With 12 runs needed off the final six balls, Mandeep sliced a six over third man for a six, before finishing the match off with a pull over fine-leg for another maximum, leaving Andre Russell and KKR in disbelief.
Earlier, Robin Uthappa and Gautam Gambhir might not have been the guys you go to when you want those big sixes, but the KKR opening duo got their side off to a decent start, even if the former, playing at his home ground, could not quite find that usually crisp timing of his.
Gambhir fell in the fourth over, and that was the cue for Andre Russell to come in. It was get those hard hats out time for the fans from that point, with Russell getting that big bat of his and using it to smash the white ball with ridiculous ease.
Russell's 17-ball 45 (5x4, 3x6) gave KKR the impetus to go well over 100, but there was Mandeep to play a blinder of his own to see RCB home for the first time in IPL 2015 at the Chinnaswamy.