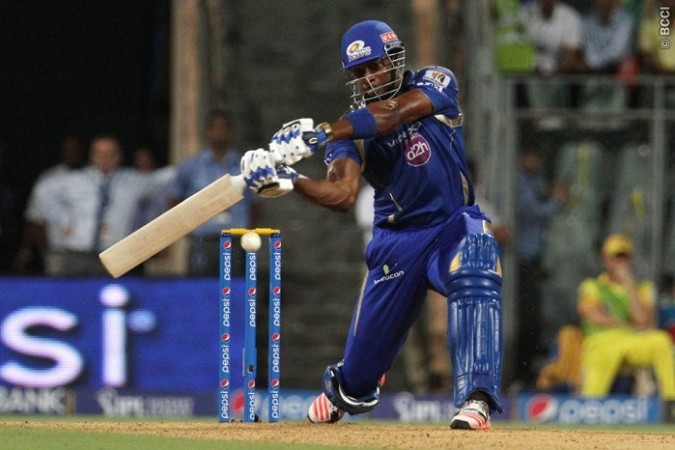 11.55 pm: MI were just too good on the night, and CSK not good enough. Lendl Simmons and Parthiv Patel set the platform and then Pollard went slam-bang like only he can. A target of 188 was always going to be difficult in such a high-profile match, and CSK just kept losing wickets at regular intervals.
The Match Report and Highlights are HERE
MI are in the final of IPL 2015, to be played at Eden Gardens, and if CSK are to meet them there, they will have to beat either RCB or RR in Qualifier 2 in Ranchi. CSK can certainly expect a lot more support in Dhoni-land.
That is it from me and IB Times India, do come back for more coverage on this match and the Eliminator between Royal Challengers Bangalore and Rajasthan Royals tomorrow. Until then, it is bye, bye.
11.53 pm: MS Dhoni: We were soft on out batting. Not to forget Dwayne Smith got a horrible decision by any standards. I was quite happy with the bowling, I think we started off well, the only thing is we could have got one wicket in the first six overs, as it would not have allowed them to go big in the final overs.
"On a wicket like this, 180 is close to par. We needed to bat well, I think at the 10th over, we were in a good position, but after that we lost too many."
11.47 pm: MI are in the IPL 2015 final, win by 25 runs. Malinga gets his third wicket by picking up Ashish Nehra and CSK are bowled out for 162 in 19 overs.
11.45 pm: Wicket, Ashwin (23, 12b, 2x4, 1x6) gone! Toomuch to do for Ashwin, and way too difficult against Malinga. After a couple of decent hits for not enough runs, Ashwin goes for the big heave-ho and only finds Rayudu at deep midwicket. CSK 161/9 in 18.4 overs.
11.41 pm: Two overs to go now before MI are confirmed as one of the IPL 2015 finalists, even if Ashwin adds a few more runs to CSK's kitty with a beautiful six over long-on. Such an elegant player he is. CSK 157/8 in 18 overs, 31 in 12.
11.36 pm: It's just not been McClenaghan's day has it. The New Zealand, after going for 30 runs in his first two overs, come in and Jadeja hits him for a six over Pollard at long-on. Wicket, Jadeja (19, 10b, 1x4, 1x6) gone! McClenaghan does have something to smile about after all. Jadeja throws his bat at a wide delivery, but only finds Suchith in the deep, with the fielder completing a good low catch. CSK 147/8 in 17.2 overs.
11.33 pm: Ah this is when you wish the teams could just shake hands and end the game. Malinga is just cruising in, and the batsmen don't look interested. As I write that, however, Ashwin plays a gorgeous lofted drive over mid-off for a boundary, but all that does is add a little more respectability to the score. Nice shot that, though, really nice from Ashwin, who finishes the over off the an edgy four past short third. CSK 141/7 in 17 overs, 47 in 18 balls.
11.29 pm: Malinga's turn to twist the knife a little further.
11.29 pm: Well, this is turning out to be an absolute rout. Just going through the motions now. CSK 129/7 in 16 overs, 59 in 24.
11.25 pm: Vinay Kumar starts the final five overs, and nothing much to write home about as Negi takes a two and a single, before two wides come CSK's way. Wicket, Negi (3, 3b) gone! Negi slaps a full ball straight to substitute fielder Unmukt Chand at mid-off. CSK 126/7 in 15.3 overs. Ashwin is in.
11.22 pm: That was awful from Bravo. Pawan Negi comes in with the match done, CSK 120/6 in 15 overs, 67 in 30 balls.
11.21 pm: Pollard returns with the game well in control for the Mumbai Indians. Jadeja gets a four past the two fielders behind square and there is a couple taken as well. Another two is run, and Jadeja does well going to the danger end. Bravo is asleep at the other end, and Parthiv gathers the ball from the deep and throws down the stumps at the non-striker's end. Poor running from Bravo, Wicket, Bravo gone! CSK 119/6 in 14.5 overs.
11.13 pm: Bravo comes firing after the strategic timeout, goes down the track and hits Suchith for a big six. Gets a little lucky after that, as an outside edge goes past short third for a four.
Wicket, Du Plessis (45, 34b, 5x4, 1x6) gone! Then Du Plessis goes for a big six as well, doesn't get it anywhere as well as he would have liked and the ball loops high to long-on with Vinay Kumar taking the catch. CSK nearly done at 110/5 in 14 overs. 78 in 6 overs.
11.09 pm: Four singles and Harbhajan's terrific spell of 4-0-26-2 is over. Strategic timeout is taken, CSK 99/4 in 13 overs, 89 in 42.
11.05 pm: With Raina gone, left-armer Suchith comes in. The batsmen are struggling here, as MI look to tighten the noose. And as I write that, Suchith bowls a full toss on leg-stump and Bravo finds the midwicket boundary. CSK 95/4 in 12 overs, 93 in 48.
11 pm: Harbhajan hat-trick ball. On the stumps and Dwayne Bravo flicks it for a single. Terrific over from the offspinner, could be the one that might have won MI the match. It would have been a whole lot better had Harbhajan taken an easy return catch off Bravo who just gifts the ball back to the bowler, but Harbhajan drops it. CSK 88/4 in 11 overs, 100 needed in 54 balls.
10.58 pm: Dhoni is in and Dhoni is out! Wicket, Dhoni gone first ball. My, my this match is unravelling pretty quickly. Dhoni goes for a weird looking sweep first ball, misses it and is struck in front, with Illingworth raising his finger again. Looked out this time, though. CSK 86/4 in 10.3 overs.
10.56 pm: Wicket, Raina gone! After going for13 runs Harbhajan strikes. A soft, soft dismissal as Raina looks to just loft the ball for a single to long-on, but only manages to loop a simple return catch to the bowler. CSK definitely in trouble now at 86/3 in 10.2 overs. Dhoni is in.
10.55 pm: Pollard continues and continues well. No big shots taken by the two CSK batsmen, seven runs off it. CSK 86/2 in 12 overs, 102 in 12 overs.
10.49 pm: Harbhajan looks to motor on his overs, but Raina is having none of it. Dances down the track and plants the ball into the crowd over long-on. Three singles as well, and a four off the last ball as Du Plessis carves one past extra cover. CSK 79/2 in 9 overs. 109 in 11 overs. Strategic timeout.
pm: Kieron Pollard given the ball now. Again "let's not take too many risks batting" is deployed. Five singles off the over, CSK 66/2 in 8 overs. Required rate over 10, 122 from 12 overs.
10.42 pm: Kieron Pollard given the ball now.
10.40 pm: No-risk over from the CSK batsmen, still seven off it. CSK 61/2 in 7 overs.
10.38 pm: Spin for the first time and it is Harbhajan.
10.36 pm: This could be the key partnership. Is Raina and Du Plessis get a partnership, going that platform will be set to go slam-bang in the end. As I say that, Raina says enough of this building nonsense and just tonks Vinay Kumar, like he is a left-arm spinner, for a massive six over cow corner. What a shot that was, right off the middle of the bat. CSK 54/2 in 6 overs.
10.32 pm: Raina now.
10.31 pm: Wicket, Hussey (16, 11b, 1x4, 1x6) gone! Jumps down the track, and goes for the flay outside off, but only gets an outside edge and Parthiv takes a simple catch. Vinay Kumar is pumped and so are the Mumbai Indians fans, CSK 46/2 in 5.1 overs.
10.30 pm: After a man of the match performance last time, it hasn't been McClenaghan's day so far. A thick outside edge from Du Plessis goes for a boundary, before the South African gets that control going a little more with a nice pull for another four. The final ball goes for a four as well, as Du Plessis moves inside and flicks the ball off the stumps over short fine. Thirteen off the over, CSK 46/1 in 5 overs.
10.24 pm: Vinay Kumar comes in, and Hussey greets him with a gorgeous pickup shot for six. Hussey takes a single and then Du Plessis is given a life. A slog from the CSK man goes to Malinga at third man via an outside edge, but the fast bowler drops a simple catch. Vinay Kumar can't believe it and neither can Malinga himself. CSK 33/1 in 4 overs.
10.19 pm: Malinga looks in the mood. Some pace as well this time as he gets the ball zipping past the outside edge of Hussey. A quick single to mid-off is taken next, before Du Plessis does the same with a flick to short fine off a slow yorker. A couple more singles and CSK 23/1 in 3 overs.
10.15 pm: McClenaghan starts with a short ball, which goes way over Hussey's head and is called a wide. Down the legside after that and another wide. Bowls it short and onto the legside again, and this time Hussey latches onto it and helps it along for a four past backward square leg. Hussey takes a single to square-leg next ball, and then Du Plessis, after a dot ball, flows that bat through the line and it goes all the way straight back for a six. A boundary follows as McClenaghan misses his line again, down the legside this time and Du Plessis flicks it off his hip for four. MI 19/1 in 2 overs.
10.10 pm: Keeps it full does Malinga as Faf Du Plessis gets off the mark. Smith is shown pacing in fury in the dressing room, and you can understand why, because that ball would have missed the sixth stump. Ridiculous decision that. Michael Hussey also gets off the mark off a misfield from Mitchell McClenaghan at short fineleg. MI 2/1 in 1 over.
10.06 pm: A gentle out-swinger to start with from Malinga, which Smith pushes away. Another push to mid-on for no run follows, with Smith taking no risks in the first three balls at all, despite length balls, without too much movement being on offer. Then, Wicket, Smith (0, 4b) gone! The former Mumbai Indian cannot make an impression, as Malinga gets a ball on the stumps, Smith misses it a big appeal for lbw is made and umpire Richard Illingworth raises his finger. Going down the legside by an absolute mile, awful, awful decision from Illingworth, that is an absolute shocker from the umpire. CSK already in trouble on 0/1 in 0.4 overs.
10.03 pm: The players are back. Dwayne Smith and Michael Hussey are ready and so is Lasith Malinga.
9.51 pm: Could have been over 200, but could have easily been under 180 as well as CSK threatened to pull it back. It ends at 187, which means CSK need to bat really well to get the target. The wicket is good, and CSK have the batting power, but the MI bowlers are in form as well. So this should be a fun chase.
9.50 pm: Lendl Simmons: We have been doing the job at the top. The wicket is a bit slow, a bit of turn, but we have put the runs on the board. We have a good score and hopefully we can defend it.
9.49 pm: The final two balls only go for two runs, as the long, long final over from Bravo goes for 16 runs. Mumbai Indians finish at 187/6 in 20 overs.
9.45 pm: Bravo to finish it off. The West Indian gets it wrong first couple of balls as it drifts down leg and then off for wides, before another ball outside off is carved over short third for a four. Another ball outside off is called wide after that, before Harbhajan is given a life by Faf Du Plessis, who can't get his fingers under the ball running down from long-on.
That has to be the shot of the match. A mere flick and the ball jets past wide long-on for a flat six, a ridiculous shot that, absolutely ridiculous. Wicket, Pollard (41, 17b, 1x4, 5x6) gone! After being tonked from the stumps, Bravo keeps it wide, Pollard goes for the heave, and the ball only soars to Raina at long-off. Would have been a wide had he just left it. But what an innings from Pollard. MI 185/6 in 19.4 overs.
9.36 pm: With Nehra done at 4-0-28-1, it is Mohit who bowls the penultimate over of the innings. Starts with a wide on the offside, before Rayudu takes a single to get Pollard on strike. The big man fails to connect off a wide delivery, much to the crowd's disappointment. "We want sixer rings around the crowd, and Pollard obliges with a spank past the left of midwicket for a four. It was just hit too hard, and Jadeja could not stop it. A wide follows and then only a single comes as Pollard cannot latch onto a short ball. Wicket, Rayudu (10, 8b, 1x4) gone! MI 164/4 in 18.5 overs.
Goes for the big heave over long-on does Rayudu, does not make a good-enough connection as the pace is taken off and Suresh Raina takes a skier. Harbhajan Singh comes in as Pollard takes the final ball for another six. Hardly timed well, but it still clears long-on comfortably enough. MI 171/5 in 19 overs.
9.30 pm: Two quiet balls and then Pollard launches one. Didn't get it out of the meat, but it still went soaring into the crowd. Bravo loses his line after that, as Rayudu is gifted a boundary down the legside. Big over for MI after just six runs off the last two. MI 156/4 in 18 overs.
9.23 pm: With those two wickets gone, Pollard has to be a little circumspect, while Ambati Rayudu, who has been really good at the tail-end of the innings, cannot quite kick into gear either. Another brilliant over for CSK, this time from Nehra, as just two runs are taken. MI 141/4 in 17 overs.
9.19 pm: Wicket, Hardik Pandya (1, 2b) gone! Wickets are a tumbling here. Pandya goes for the bog shot first ball off the over from Nehra, and he doesn't get it anywhere near his bat. Jadeja runs down again to take another catch. MI 139/4 in 16.1 overs.
9.18 pm: Just two singles off the final two balls and it is an outstanding over from Bravo, just four off it. MI 139/3 in 16 overs.
9.15 pm: Wicket, Rohit (19. 14b, 1x4, 1x6) gone! Tries to clear the long-on boundary off Bravo, but that change of pace does the trick again as Rohit gets it off the bottom of his bat and drags it to midwicket with Jadeja completing a simple catch. MI 137/3 in 15.4 overs.
9.11 pm: Pollard's first ball is a single, his second – a mere flick that sails over cow corner for a six. It's definitely on now as Pollard finished the Negi over off with another six – another effortless one as he uses that willow of his to swat the ball over long-on. MI 135/2 in 15 overs. Strategic timeout is taken.
9.08 pm: The big man Kieron Pollard walks in. it is Rohit, however, who goes into tonk-town with a beautiful six straight back off the final ball of the Jadeja over. MI 119/2 in 14 overs.
9.04 pm: Wicket, Simmons (65, 51b, 3x4, 5x6) gone! Jadeja comes back and he gets the big wicket. Simmons goes for the big heave over covers, does not get it well enough and Negi runs in from deep cover to complete a really good catch low down. Big wicket this for CSK, but Pollard could now come in and do more damage. MI 113/2 in 13.4 overs.
9.04 pm: Wicket, Simmons (65, 51b, 3x4, 5x6) gone! Jadeja comes back and he gets the big wicket. Simmons goes for the big heave over covers, does not get it well enough and Negi runs in from deep cover to complete a really good catch low down. Big wicket this for CSK as Simmons was looking in the mood. MI 113/2 in 13.4 overs.
9.01 pm: Negi comes back, and it is at least a little better to start with, as just two runs comes off the first three balls. Negi then beats Rohit with a ball that turns away, but the skipper gets an outside edge and it is good enough to go past short third for a boundary. a single and a two to complete the over, MI 110/1 in 13 overs.
8.56 pm: Rohit Sharma walks in with nine overs still to play and the MI skipper and Kieron Pollard can certainly do some serious damage. The damage for now, though, continues to be done by Simmons, who hits another six, his fifth, with Mohit getting the treatment as the ball just flies over the long-off boundary. Another decent over for MI, 101/1 in 12 overs.
8.51 pm: Wicket Parthiv (35, 25b, 4x4, 1x6) gone! Dwayne Bravo does the trick again. A slower delivery from the leading wicket-taker in IPL 2015, and Parthiv tries to muscle it past the long-on boundary, only manages to find Jadeja in the deep. MI 91/1 in 11 overs.
8.47 pm: Mohit is greeted by Simmons with a dance down the track and a club past extra cover for a four. A couple of singles after that, and then Simmons gets to his half century in 38 balls with a two. MI 86/0 in 10 overs.
8.42 pm: Pace bowler Mohit Sharma for the first time in this game now.
8.41 pm: It's definitely on now as Parthiv, thinking what Simmons can do I can do as well, smashes Negi first ball for a six between midwicket and long-on, before cutting the next ball to the offside boundary for a four. Ten runs off the first couple of balls and the pressure is on Negi, and it only gets worse as an under-edge goes between the legs of Dhoni and for a four. Parthiv nearly smashes it past Negi next ball for another four, but the left-armer stops it even if he cannot hang on to the catch. The ball was just struck too hard. MI 78/0 in 9 overs.
8.38 pm: Another six for Simmons as he thumps one to wide long-on. Decent over for MI, nine off it, 62/0 in 8 overs.
8.34 pm: With the field opening up, plenty of singles on offer, and Parthiv and Simmons take five of them, MI 53/0 in 7 overs.
8.31 pm: Pawan Negi replaces Ashwin.
8.29 pm: After a sluggish start, that is a pretty good score to end the Powerplay, with Simmons tonking three sixes in the last two overs helping matters plenty.
8.28 pm: MI are definitely getting a move on now, as Parthiv joins the party with a flicked boundary to fine-leg as Nehra strays a little in line. Takes a single next to get Simmons back on strike, and after a waft at thin air, Simmons gets a length ball and deposits it straight back onto the sight screen. A couple to end the over, MI 48/0 at the end of the Powerplay. Strategic timeout time.
8.23 pm: Ashwin into his penultimate over. Plenty of spin here for the offspinner, bowling it nice and slow and Simmons and Parthiv, in particular, haven't been able to get a handle on him so far. As I say that, Simmons steps back, gives himself some room and just flows that bat through the line for a big six straight back. Some sign of aggression finally from the West Indian. Plays a dot ball next and then smashed another six, this time over cow corner, as a heave off a length ball takes it past the boundary line. MI 35/0 in 5 overs.
8.19 pm: MI finally get a proper, convincing boundary as Simmons drives Nehra down the ground for a four. Nothing much after that, in the next four balls though, as Nehra shows a bit of fire with a nice short delivery as well. Nehra loses his length final ball as he bowls a high full toss, which is edged through to Dhoni, who drops it diving to his right. No-ball is called, and nothing comes off the extra delivery. MI 22/0 in 4 overs.
8.13 pm: Ashwin continues and the MI openers continue to look a little iffy. CSK have bowled well, but nerves and that extra bit of caution seems to be playing its part as well. Four singles in the Ashwin over, MI 15/0 in 3 overs.
8.10 pm: Four straight dot balls to Simmons from Nehra, and then a couple of wides ruins it a little. A dot ball follows, and then a French cut fetches Simmons his first boundary. so both fours have been streaky so far for MI 11/0 in 2 overs.
8.04 pm: Parthiv he-scores-plenty-of20s-and-30s-and-gets-out Patel is watchful his first couple of balls, and then the first boundary is scored, albeit via an outside edge to the third man boundary. Turn first over for Ashwin. MI 5/0 in 1 over.
8.01 pm: First ball is full and Simmons taps it to mid-off for a single.
8.00 pm: Spin first up. Ashwin to bowl to Simmons.
7.59 pm: It's almost time as the CSK players get into a huddle and then walk onto the field. Lendl Simmons and Parthiv Patel also look ready.
7.45 pm: Interesting that Dhoni wanted to chase. It is probably down to the fact with the ridiculous ease with which they chased down 180-odd against MI at the Wankhede earlier in the league stages. They could not quite defend a 150-odd total in Chennai against MI either, so Dhoni and the rest probably think "let them put the total on the board and we will chase it down, even without that man McCullum."
7.37 pm: The host broadcaster does not believing in showing the team after the toss, so we must wait for the official confirmation of the teams.
But this is what it should look like: CSK: Dwayne Smith, Michael Hussey, Suresh Raina, Faf Du Plessis, MS Dhoni, Dwayne Bravo, Pawan Negi, Ravindra Jadeja, R Ashwin, Mohit Sharma, Ashish Nehra.
MI: Lendl Simmons, Parthiv Patel, Rohit Sharma, Ambati Rayudu, Kieron Pollard, Hardik Pandya, Harbhajan Singh, Jagadeesha Suchith, Mitchell McClenaghan, R Vinay Kumar, Lasith Malinga.
7.35 pm: Couple of changes for the "home" team CSK, with Ishwar Pandey and Brendon McCullum making way for Mohit Sharma and Dwayne Smith. Same team for MI from the last game.
7.34 pm: It looks a good wicket and we want to put the runs on the board, says Rohit. "We were looking to bowl first, says Dhoni surprisingly. "It is one of the wickets where you can chase first."
So both sides should be happy then.
7.33 pm: Rohit Sharma has won the toss and MI will bat first.
7.33 pm: "Feels great to be back home, we never thought we would be back here, so it is nice," says Rohit. "Our campaign has not just been about one guy, everyone has played well when needed."
7.32 pm: It can't better you know, struggled for close to two months and depending on where you stand, we play against one of the consistent teams, and that is what the points table suggests," says Dhoni. "You get that extra chance for consistency, and I think it is a fair format as it gives a team an opportunity to get back in the tournament if they have a bad game.
"It is a fantastic place to play cricket."
7.30 pm: Toss time folks. The captains are out in the middle along with Ravi man-he-is-way-way-way-way-too-loud Shastri.
7.14 pm: Michael Hussey vs Lasith Malinga, Suresh Raina vs Mitchell McClenaghan, some of the key battles that will decide the match. Get that and more HERE
7.12 pm: Will it be MS Dhoni or Rohit Sharma that comes up trumps, or will Michael Hussey come to the party and put Brendon McCullum's loss in the "no worries zone." All the key players to watch for this mega match is HERE
7.05 pm: Hello all you IPL fans and not-so IPL fans forced to go along with the ride because of your spouse/family member. It is the time for the IPL 2015 playoffs, so just four games to go, after 56 non-stop, take-your-eyes-off-and-there-it-goes action, with the first one being Qualifier 1 between CSK and MI (yes, I'm going to be using the abbreviations, because the full names are just too long; it's not like Arsenal or Chelsea is it).
CSK were pretty good again this season, topping the points table with considerable ease and earning themselves a couple of shots at making the IPL 2015 final at the Eden Gardens.
While CSK's journey in IPL 2015 has looked like a yacht ride on a calm Sunday afternoon, MI's has been more like a rusty boat ride in a storm. But somehow, like those heroic sea movies, they have found their way ashore, and that too by finishing in the top two courtesy seven wins in their last eight matches.
MI have the added advantage of playing at home in this Qualifier 1, one they will no doubt look to take full advantage of, while Chennai Super Kings (just this once) will take heart from the fact that they eased to victory over the Mumbai Indians in their league game at the fortress Wankhede.
With superstars galore in both sides, this really should be an awesome match, or so one hopes.
So sit back, relax, enjoy a mug of beer/coffee/tea/juice/cocktail and let IBTimes India take you through what promises to be one heck of a roller-coaster ride over the next four and something hours.
If you feel the need to watch the match on TV or via online, all the info you require is right HERE