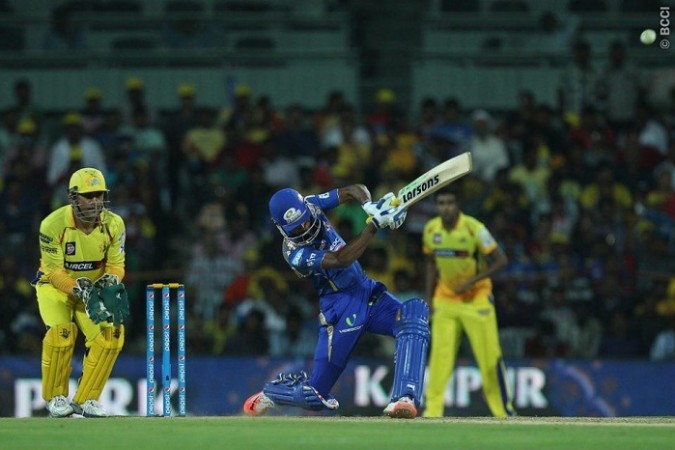 After defending 134 and 148 in their last two games at home, the Chennai Super Kings would have been confident of stopping Mumbai from crossing 158. But then, this MI side are a different beast now in IPL 2015, with their tails up having won four matches in a row coming into the fortress MA Chidambaram.
With those spinners waiting to pounce on the batsmen and slow the game down in more ways than one, Parthiv Patel and Lendl Simmons took the attack to the faster bowlers right from the off, making the most of the first six Powerplay overs, to set the tone for the chase, a chase which went right down to the wire, before MI held their nerves to inflict a first home defeat on CSK.
Simmons and Parthiv raced to 61 runs in the first 36 balls, before settling down a little bit at 84/0 at the halfway mark of the second innings. The match, riddled with drops from both sides, was still very much in control, however, with MI needing a mere 75 runs in the final 60 balls for victory.
However, R Ashwin (4-0-17-2), playing his first match in four, opened the game up just that tad, by picking up both Parthiv (45, 32b, 6x4) and Simmons (38, 31b, 3x4, 2x6) in the same over, with both MI openers unnecessarily holing out in the deep.
The game would open up just that little bit more as Dwayne Bravo, who completely turned CSK's fortunes around with a brilliant run out against RCB, did the same again, sending Kieron can-finish-the-game-off-in-a-couple-of-overs Pollard with a brilliant direct hit.
Just like that from 75 in 60, the equation went up to a steeper, but far from impossible, 73 from 48 balls, with the onus on Rohit Sharma and Ambati Rayudu, the match-winner in the last couple of games for MI, to see their side through.
The Chennai wicket, though, is never one where you can just come in and go slam-bang from ball one, and Rohit and Rayudu took their time to get settled, which meant that required run rate jumping up to 11.60 at 58 from 30 balls.
Rohit should have been walking back in the 16th over, but then came something you never thought you would see – Faf Du Plessis dropping a catch – with MI (ready Rayudu) just riding that small wave of momentum to tonk Ashish Nehra for 17 runs in over number 17.
Thanks to those 17 runs, courtesy a couple of sixes from Rayudu, the equation had been brought down to 34 from 18, but Rohit went for that big six off the first ball from Bravo, and this time Suresh Raina held on to the catch at long-on.
The Rohit wicket proved to be a blessing in disguise for MI, as Hardik Pandya (21 n.o., 8b, 3x6) came in, thumped Pawan Negi for three sixes, with Rayudu (34 n.o., 19b, 1x4, 3x6) also chiming in with one in the penultimate over, to make the final over a foregone conclusion.
Earlier, CSK scratched their way to a decent score, with the batting, yet again, failing to find any kind of impetus once Brendon McCullum fell earlyish. The middle order just seem to be unable to carry on the momentum given by McCullum's usual blazing starts, and that was the case again once the New Zealand star fell 23 (11, 3x4, 1x6) in the fifth over.
Dwayne Smith (27, 34b, 4x4) struggled to find the middle of the bat or those boundaries that usually flow off his bat, while Suresh Raina threw his wicket away, leaving Faf Du Plessis (17, 16b, 1x6) and MS Dhoni (39 n.o., 32b, 2x4, 2x6) to do the repair work.
A 39-run partnership from the two experienced players brought CSK a little back on course, with Negi (36, 17b, 4x4, 1x6) tonking a few towards the end to give CSK a sizeable score.