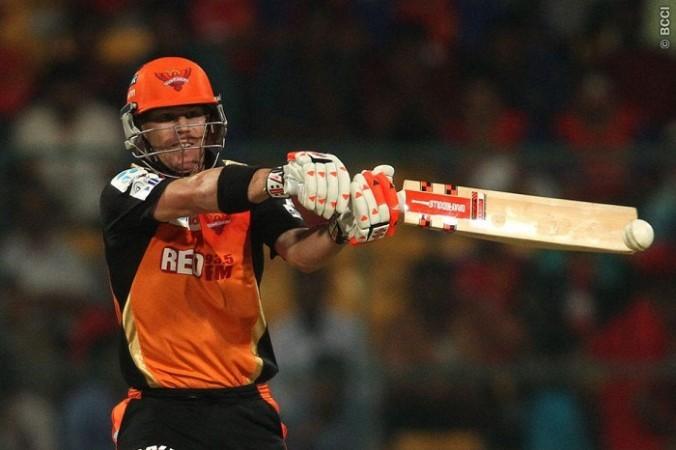 11.47 pm: The first innings score of 166 was always well below par, and once David Warner got off to that rollicking start there was only going to be one result. Only Yuzvendra Chahal impressed with the ball, but the score was too low, once Warner gave SRH that start, with Dhawan and Rahul doing really well to see their side home. An easy win for the Sunrisers, and an impressive one as well after their big loss to CSK. RCB have a lot to improve on, after their sneaky win over KKR and this scathing loss. The batting needs to improve and so does the bowling. Like Kohli said the availability of Milne and Starc will certainly help in that matter.
That is it from me, it's been fun. Have a good night.
11.46 pm: David Warner is the man of the match. "What a performance there by the bowlers. I think the spell from Boult and Bhuvi really got us those wickets there towards the end. We pride ourselves on fielding, if we get the fielding right, bowling batting will take care of itself.
"Credit to the bowlers again, it was a nice total to chase. We know here, anything under 200 is very, very gettable. Winning here in Bangalore is very good, we're in a good space now and bring on the home games."
11.35 pm: "It's just not good enough with the ball, maybe 20 runs short with the bat as well," says RCB captain Kohli. "I should have carried on with the bat, and maybe even AB. Just not good enough in the field either. It wasn't such an easy wicket to bat on, we gave a lot of freebies early on. The bowlers, would know themselves, they should be on the button and just not good enough on the day, I guess.
"Maybe it was a 180-185 wicket, but we have to improve with the ball definitely."
"Adam Milne is going to be fit next game and Mitch Starc is coming to India soon, so that is going to boost our bowling."
11.31 pm: Rahul takes it to a run needed with a swat straight back for four and then he finishes the game with a massive six to the onside. SRH win by eight wickets and 2.4 overs to spare. SRH finish on 172/2 in 17.2 overs. Rahul finishes on 44 (28b, 4x4, 1x6), while Dhawan ends the match with 50 (42b, 4x4, 2x6).
11.29 pm: A couple of quick singles to start with and that brings up the 50-partnership in 42 balls. A two to wide long-on from Rahul follows and then Abu Nechim bowls five wides down the legside with Karthik unable to get enough of a glove on it. Couple more singles taken and to compound matters for RCB, AB De Villiers twists his ankle as he steps on the ball. Soldiers on, though, does the superstar. Abu Nechim, after his five wides, bowls a no-ball of what should have been the last delivery of the over, and the free hit is hit for a huge six to square-leg, which brings up Dhawan's half-century in 41 balls. The torture does not end as Abu Nechim oversteps again, but the second free hit does not go for anything. SRH 162/2 in 17 overs, 5 needed from 18 balls.
11.20 pm: Chahal is back for his final over. No risks taken, well not too much, if you don't count a reverse-sweep from Dhawan which fetched him only a single to short third. Delay as Dhawan gets some grass off his spikes. Five runs from the over, SRH 142/2 in 16 overs, 25 needed from 24 balls.
11.14 pm: Good start to the over for Sunrisers Hyderabad as Rahul takes a two to cow corner with a whip past midwicket, before helping a short ball on legstump along for a boundary to fine-leg. Singles taken after and then Dhawan, who has just got a little stuck, plays a dot ball. Just as I write that, however, Dhawan walks across his stumps and pulls a shortish ball to midwicket for a fabulous six. SRH 137/2 in 15 overs, 30 needed from 30.
11.08 pm: Sean Abbott returns as Kohli looks for a wicket or three. Just not been at his game has the Australian as he bowls a couple wides down the legside. A few singles taken as well, three of them. SRH 124/2 in 14 overs. 43 needed from 36 balls. Strategic timeout.
11.02 pm: Varun Aaron now and he continues to fiddle with that popping crease. Just get on with it already man. Two singles a short ball wide and then Rahul again nearly plays one onto his stumps. He needs to be wary of that open face. SRH 119/2 in 13 overs.
10.56 pm: Chahal continues. Needs to pick up another wicket or two here. Dhawan takes a single and then Rahul comes down the track and hits the ball straight back for a four. After looking out of sorts against CSK, Rahul has started much better here, needs to carry on though. Three more singles. SRH 113/2 in 12 overs.
10.53 pm: Sammy returns and there is a slip in place for Rahul. A ball on the stumps is whipped to the onside for a two and then Rahul nearly plays on as an inside edge just misses the stumps. Was that a catch? Dhawan drives straight back at Sammy and the ball drops low, probably just short of the bowler. Rahul then takes the last ball of the over for a four with a nice pull. SRH 105/2 in 11 overs.
10.47 pm: All on Dhawan now, who needs to take the game deep. KL Rahul, at his home ground, is in and he takes a single to long-on. SRH 95/2 in 10 overs.
10.45 pm: About the singles now for the Sunrisers, who are happy not to take any risks. RCB need wickets, a lot more of them. Four straight singles and then Williamson gone! Goes for the paddle sweep, misses the ball and Dinesh Karthik whips off the bails in a flash with his foot just out of the crease. RCB getting back in the game here, SRH 94/2 in 9.5 overs.
10.41 pm: Harshal Patel, who went for 20 in his first over, is back. Good time to put the squeeze in for RCB after the Warner wicket and as Williamson tries to play himself in. Harshal Patel errs in line off the second ball and Williamson gets a thigh pad four down leg. Three singles after that. SRH 90/1 in 9 overs.
10.35 pm: Finally spin as Yuzvendra Chahal is brought in. Remains to be seen if he can grip the wet ball well and get any kind of spin, though. Doesn't matter to Warner, as a shortish ball on leg-stump is helped along to backward square for a six. Wicket, Warner (57, 27b, 6x4, 4x6) gone! SRH 82/1 in 7.5 overs. Theleg-spinner does make the breakthrough. Warner goes for the slog sweep, misses and the umpire raises his finger as the ball strikes him in front. Kane Williamson comes in and gets off the mark with a single. SRH 83/1 in 8 overs.
10.31 pm: Still no spin as Sammy comes on. A single first up to deep point from Warner, followed by a single in the third delivery to long-on from Dhawan. Warner gets to his half-century in 24 balls with a single to long-off. Dhawan then plays the shot of the match with an as-good-as-they-come extra cover drive – gorgeous, gorgeous shot that. SRH 73/0 in 7 overs.
10.24 pm: A couple of dots as Warner fails to find the gaps and then the Australian gets that short-arm jab out and pumps the ball to long-on for a six. Man, that was good. A single and a dot off the final two balls. SRH 65/0 in 6 overs. Strategic timeout.
10.20 pm: After a two-run over, Warner decides to get back into attacking mode again, flowing that bat of his straight back past Aaron for a four. Aaron replies with a short ball and Warner pulls it for a boundary to midwicket. After two consecutive fours, it is the time for a six as Warner moves outside leg and just uppercuts it for a six over the third man boundary. Fuller from Aaron and Warner finds De Villiers in the covers, before pulling to the onside for a single. Dhawan plays and misses the final ball. SRH 58/0 in 5 overs.
10.15 pm: Abu Nechim replaces Harshal Patel and he starts with a dot as Dhawan finds the fielder at point with a cut. Flicks it to deep square-leg for a single, and then Warner cannot find the middle of the bat to a short delivery. Takes a single to mid-on next and Dhawan blocks a couple, good over from Nechim. SRH 43/0 in 4 overs.
10.11 pm: Varun Aaron comes in and he starts with a dot ball as Dhawan defends a straight delivery. The poor bowling continues and so does the carnage as another full toss, outside off, is guided past point and cover by Dhawan for a four. Aaron is not happy with the popping crease and sawdust is brought out. Need to somehow get a grip do RCB, or this match could go away from them in a hurry.
The sawdust does give Aaron a bit of confidence and he produces an in-swinging yorker that has Dhawan off balance and just digging out. He follows it up with a full toss, though, but Dhawan can't find the gap as De Villiers makes a diving stop. Aaron is really taking his time here with the landing area, with one ball to go. SRH 41/0 in 3 overs.
10.03 pm: Harshal Patel starts from the other end. Single to square leg from Dhawan to start the over and then a ball to the hip of Warner is wonderfully flicked over short fine for a four. Harshal Patel bowls outside off after that boundary, and what does Warner do – he clubs the ball straight back for a second consecutive four. The line is gone now as he comes over the wicket and bowls a wide. The fourth ball is a dot, the first of the innings as Warner flicks the ball straight to Kohli at midwicket. He follows that up with a full toss on offstump and Warner just places it in the gap for another boundary. Warner takes the final ball for a big six with a trademark pull to midwicket. SRH 36/0 in 2 overs.
9.57 pm: Sean Abbott first up to David Warner and the left-hander gets a full toss outside off which he crunches through the covers for a four. Gets a two to midwicket next ball and then takes a single to mid-off. What Warner can do, Dhawan can do just as well. An in-swinger from Abbott, but Dhawan just uses those glorious hands of his and pushes the ball through the gap in the offside for a four. Abbott arrows in a full delivery onto Dhawan's pads and the let-hander just flicks it to midwicket for a four. A single to square-leg off the final ball. SRH 16/0 in 1 over.
9.43 pm: Good bowling effort from the Sunrisers, pulling things back in the second half of the innings after the Royal Challengers were threatening to take the game away from them. Everyone did their jobs pretty well, and there was a flurry of wickets towards the end as Boult took three in one over and Bhuvneshwar finished the innings off with two. Should be a fun chase soon.
9.41 pm: Orange cap for Gayle "Hope I can keep it for as long as possible, if not the entire tournament. It's a good wicket, you just try and play through the line, the new ball also moves a little bit."
"I actually don't enjoy bowling in T20s," says Ravi Bopara. "Wickets is big, especially this game, so it is nice to get that. Warner took a great catch, I didn't expect him to get there. We're happy with 166. The ball is really wet out there, slipping out of the hands. But, 166 is not just a breeze. We want to keep wickets in hand, and with a flier in the first six overs.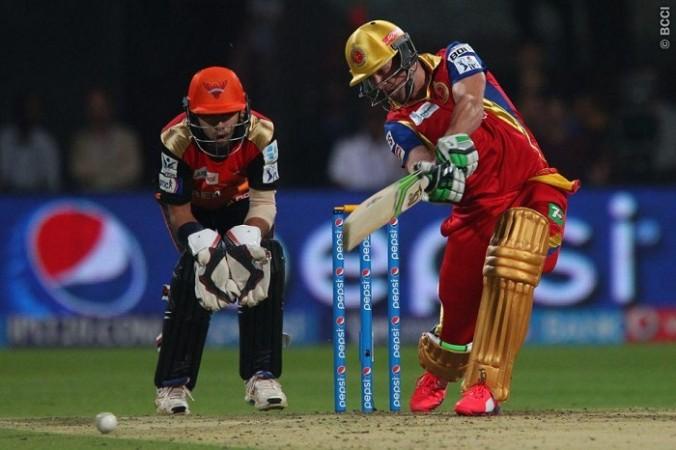 9.38 pm: Wicket, Abu Nechim gone! RCB all out for 166 in 19.5 overs. Another yorker from Bhuvneshwar and another smash into the stumps just as a wee bit of rain comes down.
9.36 pm: Wide yorker to start with from Bhuvi and Varun Aaron cannot make contact. However, Aaron picks a slower ball next from Bhuvneshwar and he smashes it over long-off for a six. Wicket, Aaron gone! A perfect yorker from Bhuvneshwar and Aaron cannot do anything. RCB 165/9 in 19.3 overs.
9.28 pm: Wicket, Abbott (14, 9b, 1x4, 1x6) gone! Boult has come back well. Again a big heave, Abbott cannot make enough contact, slices it and Karn takes a simple catch in the covers. Boult does not get the hat-trick, though, as Harshal Patel takes a two to wide third man. But, Wicket, Harshal Patel gone! RCB 155/8 in 18.5 overs. What an over from Boult. A third big heave and this time the ball loops to Williamson at midwicket. Abu Nechim getsaboundary to finish the over, carving one over short third. RCB 159/8 in 19 overs.
9.27 pm: Trent Boult now. AB moves outside off and pumps the ball to cow corner. Williamson and Rahul are unable to cut it out. Wicket, AB De Villiers (46, 28b, 5x4, 2x6) gone! Goes for the big heave, skews it and Dhawan takes a simple catch at deep extra cover. So, no final fireworks from De Villiers. RCB 152/6 in 18.2 overs.
9.25 pm: Praveen Kumar returns for his final over. Leg-bye first ball, and then De Villiers fails to make contact to a legside delivery, with the batsmen scampering through for a single. Praveen completely misses his length next ball with a full toss on legstump and Abbott helps it along for a six. Thumps straight for a two after, and then swings and misses, with Praveen now doing his customary "give me the ball back" to the wicketkeeper. Full and wide from Praveen final ball, and Abbott slaps it through point for a four. RCB 148/6 in 18 overs.
9.19 pm: Sean Abbott is in and Bhuvneshwar returns with the ball. Single taken by AB first ball, and then Abbott swings and misses. Does get a bat off the third ball, and takes a single to square-leg, which brings De Villiers back on strike. AB can only dig out a single off a good full delivery from Bhuvi, before Abbott takes another single to square-leg. A wide follows, before AB De Villiers thumps a ball to the offside for a four. Bhuvi bowling it full and wide when there are no fielders there in the deep, strange. RCB 134/5 in 17 overs.
9.10 pm: Ashish Reddy comes in now, gets away with a couple of legside deliveries, with De Villiers only managing a couple of twos, but he keeps bowling them and AB says enough of that and slog-sweeps one over the fine-leg boundary for a big six. Wicket, Sammy gone! Sammy can't get the pyrotechnics out as he gets castled by Ashish Reddy, who bowls it full and straight and hits the timber after the West Indian misses. RCB 125/5 in 16 overs. Strategic timeout.
9.06 pm: Good over again from Karn, as Sammy looks uncomfortable against the leg-spin. Remains at the crease, however. Karn finishes his brilliant spell with 4-0-20-1. RCB 114/4 in 15 overs.
9.03 pm: De Villiers then gets into the groove with a typically AB boundary, paddle sweep past short fine for a four. Two singles after that, and De Villiers gets lucky. Miscues a whack to long-on and Dhawan takes the catch, but he can't stay inside the ropes and instead of a wicket, it is a six. RCB 110/4 in 14 overs.
9 pm: Hat-trick ball for Bopara comes to naught as Sammy flicks it to the onside for a single.
8.59 pm: Sammy and De Villiers, two destructive batsmen in the crease now, but they cannot afford to get out. Just four off the Karn over, as the two batsmen play straight, RCB 97/4 in 13 overs.
8.54 pm: Bopara returns, and a nice slow half tracker is treated with disdain by De Villiers who finds the offside boundary. AB does get lucky, though, next ball as an outside edge flies past where first slip would have been for a four. Wicket, Kohli (41, 37b) gone! Ah Kohli, what have you done. An innocuous ball on offstump, Kohli goes for the cut and just misses the ball and timber is struck.
Wicket, Mandeep Singh gone! RCB 93/4 in 12 overs. Bopara on a hat-trick. Mandeep Singh looks to flick to the onside for a single, but only gets a leading edge and Warner flies like Superman to his right to take an amazing catch.
8.50 pm: Good four balls follow from Karn, but Kohli then spoils his over with a beautiful inside out drive for four. RCB 84/2 in 11 overs.
8.47 pm: Wicket, Dinesh Karthik (9, 11b, 1x4) gone! Goes for the big sweep to Karn first ball, top-edge and a simple catch for Kane Williamson, who runs in from backward point. RCB 77/2 in 10.1 overs. AB De Villiers is in.
8.46 pm: SRH are already ruing that drop as Kohli welcomes Praveen, in his third over, with a perfect inside-out loft for a boundary. Praveen then bowls a slower one, and Kohli picks it and whips it to wide long-on for a six. Single to third man taken third ball, and Karthik blocks the next, before taking a single to the onside, with Kohli finishing the over off with a play and a miss after failing to read a slower one from Praveen. RCB 77/1 in 10 overs.
8.42 pm: Big drop. Kohli hits it straight back to leg-spinner Karn Sharma, and the bowler cannot hang on to a simple return catch. Should have caught that and SRH will probably end up ruing that miss. Six runs off the over, RCB 65/1 in 9 overs.
8.36 pm: Two singles, one a really well-judged quick one from Kohli, to start the Praveen over. Gets four dots in does Praveen as Dale Steyn earns some of his money as a cameraman – doing it pretty well too is he. RCB 59/1 in 8 overs. Strategic timeout.
8.31 pm: Bad start for Ravi Bopara as he slides down the leg first ball and Naman Ojha makes a hash of it, letting it through, which means five wides. Singles after those five wides, RCB 57/1 in 7 overs.
8.28 pm: Dinesh Karthik comes in and he gets off the mark with a flick past short fine for a boundary. RCB 47/1 in 6 overs.
8.25 pm: Praveen Kumar now and the wicketkeeper Naman Ojha is up to the wickets for him. Second ball, Gayle just swats it through wide mid-on for a four and then Wicket, Gayle (21, 16b, 3x4, 1x6) gone! Goes for another swat, gets it a little to square, and Ashish Reddy at deep-square leg takes a nice catch, Praveen strikes in the first over and it is the big man. RCB 43/1 in 5.3 overs.
8.22 pm: Boult into his third over, bowls in the slot to Kohli first up and man does he cream this straight for a magnificent six. Boult has been a little wayward here, not his usual keyed-in self. After an offside wide, Boult overcorrects and bowls into Kohli's pads and there aren't too many of their pads than Kohli, who flicks it through midwicket for an easy boundary. RCB 39/0 in 5 overs.
8.17 pm: Decent first three from Bhuvneshwar, and then Gayle throws his hands at a wide ball and it races away for a four through extra cover. Happy to leave the really wide ones, though, a couple of them in this over. RCB 28/0 in 4 overs.
8.14 pm: Boult is getting the ball to swing in to the right-hander, and Kohli is lucky that an inside edge only goes onto his pad. Another wide follows as Boult looks to get that perfect ball in. after a couple of quite deliveries, Boult cuts Kohli in half as the RCB batsman goes for an awkward across-the-line shot and then a huge appeal for an lbw/inside edge into pad caught in the slips. There is no inside edge, but that looks dead on for an lbw, and the umpire Rajesh Deshpande looks like a deer caught in headlights really, he looks a little clueless. RCB 23/0 in 3 overs.
8.09 pm: Bhuvneshwar at the other end. First ball is right on off, and Kohli defends, and then the RCB skipper gets that drive going, with a gorgeous shot through the covers on the up for his first boundary. Finds point with a square drive next ball, before a single is taken down to third man, bringing Gayle back on strike. A nice yorker from Bhuvneshwar greets him and Gayle somehow digs it out, and not just that, he guides it past forward midwicket for a four. Good start for RCB 20/0 in 2 overs.
8.05 pm: Second ball is a wide, way down legside and RCB get an extra run as well bringing Gayle back on strike. A peach of an outswinger has Gayle playing and missing next, but then he gets that swing out and thumps the ball straight back for a six, his 200th in IPL cricket. Gets a couple next ball as another ball is pitched up and Gayle throws his hands at it with the ball hitting the outer half of his bat and going over the covers. With the rain, the ball does not run away, and plugs like a nice golf shot. Dot ball after that then Gayle just digs out a yorker. RCB 11/0 in 1 over.
8.02 pm: First ball, Boult induces a thick outside from Gayle and the ball run down the third man.
8 pm: Gayle and Kohli are ready, so are SRH. Boult first up to bowl to Gayle. Here we go.
7.57 pm: Much will depend, as it always does, on how Gayle and Kohli start against Bhuvneshwar Kumar and Trent Boult. If the SRH duo get the ball swinging, there could be a few wickets, but if it doesn't and with the Chinnaswamy being a small ground, there will be a few sixes. Gayle is coming off a stunning knock, so he is in terrific mood, which is never a good sign for the opposition.
7.53 pm: It's nice and cool here in Bangalore because of the rain a couple of hours back. Now I am no Meteorologist, so let's just hope that coolness does not mean it will rain again, because after such weather it did later in the night last night. There I've jinxed it, so it won't rain!
7.42 pm: Here are the lineups: RCB: Chris Gayle, Virat Kohli, Dinesh Karthik, Mandeep Singh, AB De Villiers, Darren Sammy, Sean Abbott, Harshal Patel, Abu Nechim, Yuzvendra Chahal, Varun Aaron.
SRH: David Warner, Shikhar Dhawan, Kane Williamson, L Rahul, Naman Ojha, Ravi Bopara, Karn Sharma, Parveez Rasool, Bhuvneshwar Kumar, Ishant Sharma, Trent Boult.
Ashish Reddy and Praveen Kumar come in for Parveez Rasool and Ishant Sharma, who had a nightmare against CSK.
7.34 pm: Same XI for RCB, and it looks like Dale Steyn is not playing again for SRH. Make what you will of that.
7.33 pm: Heads is the call and SRH win the toss and they will bowl.
7.32 pm: "It was the right for us as a team, we would like to make some improvements as a batting unit," says Virat Kohli. "Come to a venue like this we've seen high totals get chased," says David Warner.
7.28 pm: Couple of minutes to go for the toss, the teams will probably want to field first with a bit of rain possible.
7.12 pm: Rain, rain go away will probably be one of the key songs of the day as Royal Challengers Bangalore and Sunrisers Hyderabad go into battle at the Chinnaswamy.
Having already tasted a bit of a thundershower in the afternoon, there is possibility of more rain in Bengaluru, but let's hope the Rain Gods decide to hold back until about midnight so that we can get that Dale Steyn vs Chris Gayle contest in.
Welcome everyone to this majestically, fantastically, outstandingly (no, I have not been drinking) magnificent live blog of RCB vs SRH as IPL 2015 promises to throw up another edge-of-your-seats contest.
RCB, of course, are coming off that cracking win against KKR, where Chris Gayle made the white ball look like a table tennis ball to be smashed time and again, while SRH were thumped in Chennai by CSK, where Brendon McCullum made the white ball look like a table tennis ball to be smashed time and again.
Without Dale Steyn in that game, the Sunrisers were just not up to the mark with the ball, and the South African should surely make his way back into the playing XI in a few minutes' time. The main question, though, will be for which player? Will Trent Boult make way, making it a straight swap between the two fast bowlers, or will one of Ravi Bopara and Kane Williamson sit on the bench?
I, and no doubt most cricket fans, would like to see Steyn and Boult open the bowling, having a real old go at Gayle and Virat Kohli – what a contest that would be! – but then there have been some extremely unusual decisions made in this season already.
Either ways here's to, hopefully, another close match and the rain staying away, so the likes of Gayle, Steyn and AB De Villiers can play.
In case you feel the need to catch the match on TV or via live streaming online, fear not all the information required is right HERE, regardless or where you are.