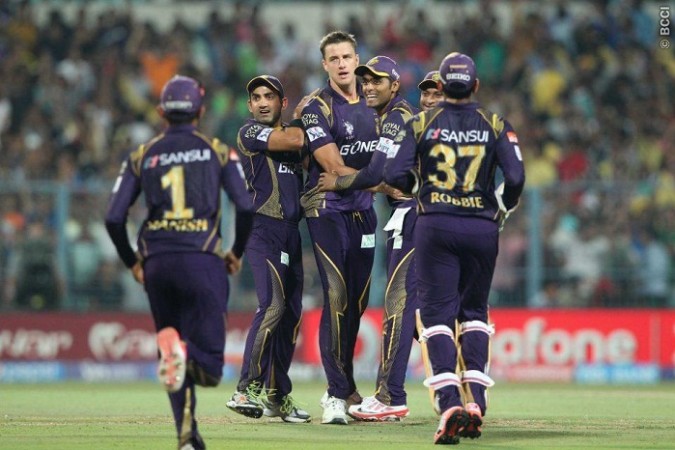 The opening match of IPL 2015 between the Kolkata Knight Riders and the Mumbai Indians was quite a spectacle – with big hits galore, a ridiculously noisy Eden Gardens crowd and some outstanding bowling, particularly from one bowler.
In the batsman-dominated game, it was that particular bowler who walked away with the man of the match honours, and rightly so after a terrific four-over spell which had Mumbai Indians on the back foot, literally and otherwise.
Morne Morkel showed he has moved on from that near un-move-on-able semifinal loss to New Zealand in the ICC Cricket World Cup 2015, with a beautiful spell of hostile, effective and just plain good fast bowling.
"The past couple of months were mentally testing and trying," Morkel told IPL's official website. "We have moved on now and my focus is now with the Kolkata Knight Riders and I want to deliver my best for this team.
"I know it is not going to always go my way and I realise it is a part of T20 cricket. But if it is my day, I am going to make sure that I cash in and take wickets for the team."
He certainly made the most of a wicket which had a bit of grass on it and plenty of carry, with his second wicket, that of Ambati Rayudu, showing just why he is such a dangerous bowler on an even slightly helpful wicket. After picking up Aaron Finch in his first over, Morkel gave a hostile welcome to Rayudu with a corker of a short ball, before using his height to great effect via a back-of-a-length delivery which the Mumbai Indians batsman could only edge to the slips.
"It feels great after arriving here two days ago and getting to training," added the KKR fast bowler. "Coming out, there were a few butterflies in my stomach and a bit of nerves and tension. As an individual there will always be butterflies.
"Some butterflies are a good sign. It is a sign that you care and if you don't have butterflies you need to start worrying. It is just a matter of getting them flying and not panicking too much.
"It was a good all-round wicket. I knew with the new ball there is always going to be something on offer in the wicket. The key for me was to just stick to my basics and my game plan. A dot ball in T20 cricket is almost like taking a wicket. I tried and let the Mumbai Indians batsmen take me on and it worked for me."
Morkel, no doubt, was also helped by a partisan Eden Gardens crowd, who took the noise levels to another planet. "It is a special feeling to be playing here at the Eden Gardens," said Morkel. "There is just something about this ground.
"It is just amazing. I thought it was great entertainment for the spectators who came out to support us."
With Morkel firing on all cylinders and Narine showing signs that he could eventually get back to his old self, KKR have an envious bowling lineup, and as they showed against MI on Wednesday, making a chase of 169 look ridiculously easy, their batting is in pretty good shape as well, which only bodes well as they look to try and defend their IPL crown.