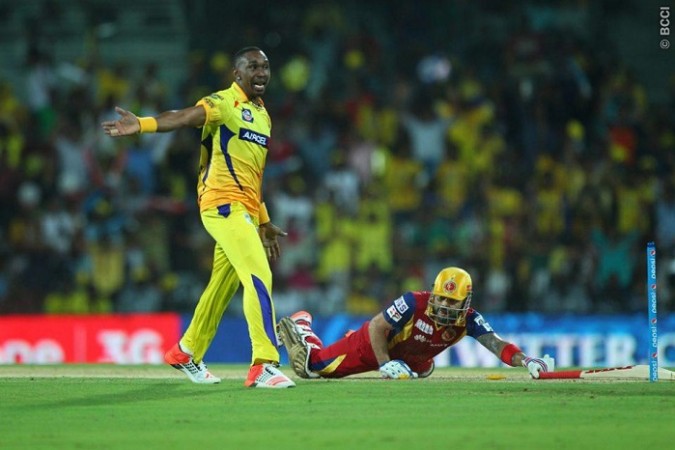 Chennai Super Kings have a new template of picking up victories at the Chidambaram Stadium – make hard work with the bat, post a lowish score and then bowl and field brilliantly to topple the opposition.
Royal Challengers Bangalore were the latest side to fall to that template, as their much-vaunted batting lineup, bowed to the pressure created by the excellent CSK bowlers, led by the ageless Ashish Nehra, to fall short of their target by 24 runs.
Choosing to bat first, CSK could not get that opening partnership going between Dwayne Smith and Brendon McCullum, and from there it was always a struggle on a slow wicket, with the home team only managing 148/9 in their 20 overs.
The reply from RCB, sans Chris Gayle, who was dropped for the second time against CSK in IPL 2015, was bumpy, at best, and it showed in the fact that they were bowled out for 124 in 19.4 overs.
CSK pride themselves on making a game of it, irrespective of the score, and having defended a total below 140 against KKR in their last home game, you wouldn't have bet against them to do it again.
They went about defending their total in brilliant style, with Nic Maddinson bowled by Ishwar Pandey, returning to the team for Ronit More, after the Australian, the replacement for Gayle, missed a full toss in the first ball of the third over.
A couple of overs later, Pandey (4-0-28-2) would scalp the biggest wicket of them all, as AB De Villiers (21, 14b, 5x4), looking quite good in the middle, hit a full toss straight to Faf Du Plessis at mid-off. De Villiers could not believe his misfortune, but fortune certainly favoured Kohli during his 44-ball 48-run (2x4, 1x6) stay at the crease.
The RCB captain has sparkled only in patches in this IPL, and in this particular game he was far from his best, unable to find the middle of the bat often enough, and when he did, hitting the fielders more often than not.
Kohli, on 25, should have been gone as well in the fifth ball of the 11th over when he hit a drive straight back to Jadeja, who dropped a sitter. That should have been the skipper's cue to take full advantage, and it looked like he just might do that as those sixes and fours flowed a little easier, even if not as convincingly as he would have liked.
But, that luck for Kohli would not last long enough, as a moment of brilliance from Bravo sent him back to the pavilion. A straight drive which bounced high at Bravo was gathered by the CSK bowler and in barely the blink of an eye he fired the ball back at the stumps at the striker's end, with Kohli caught out of his crease.
It only got better for CSK after that as Dinesh Karthik, off the very next ball, played a pathetic shot to give Ashish Nehra his first wicket of the match, leaving RCB in serious trouble on 97/5.
Needing another 52 runs in 35 balls, the game was RCB's to win of David Wiese and the exciting Sarfaraz Khan kept their heads, but Nehra (4-0-19-3) had other plans and finished the match off brilliantly.
Earlier, CSK scratched their way to 148, with plenty of their batsmen getting starts but finding it difficult to make full use of those starts. Smith was sent back via a perfect yorker from Starc (4-1-24-3) in the first over, after he had bowled five dot deliveries, before McCullum and Suresh Raina got down to their boundary-hitting business.
However, those fours and sixes wouldn't come as easily as they would have liked, and once McCullum (20, 15b, 4x4) holed out in the deep to Wiese, Raina (52, 46b, 5x4, 1x6) and Du Plessis (24, 20b, 1x6) tried to get the innings back on track.
It looked like they had done just that with a 64-run partnership, but two wickets in the same over from Harshal Patel (4-0-19-2), of the two settled batsmen, curbed the momentum again, with MS Dhoni (29, 18b, 2x4, 2x6) also unable to get enough boundaries going to get CSK over the 160-mark, which mattered little in the end.