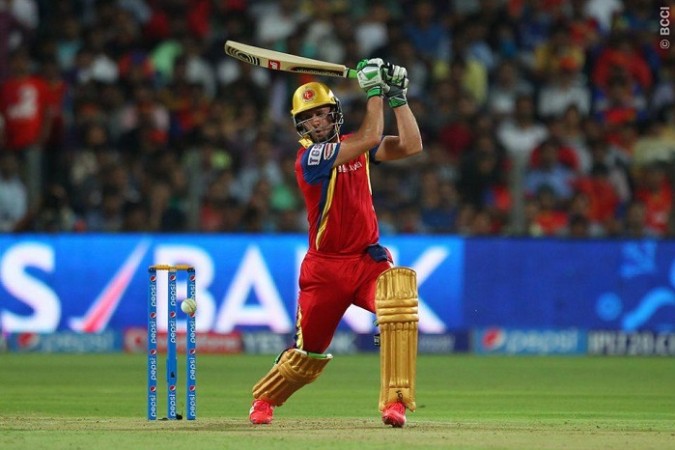 11.32 pm: Well,that was a pretty disappointing chase. Never really got going did they the Royals. Once Watson got out, RR just seemed to lose their belief in the chase, with the RCB bowlers, yet again, bowling quite well.
Get the Report and Highlights of the Match HERE
The match was taken away in the first innings by Mandeep Singh and AB De Villiers with their partnership of 13 in 70 balls. The target of 181 was just too much for RR in the end , and now it is CSK vs RCB for a place in the IPL 2015 final against MI.
That's it from me guys, catch you on Friday for Qualifier 2.
11.30 pm: Steve Smith: "I think a fair bit went wrong for us tonight. We went wrong with our bowling towards the end. And people like AB are going to hurt you. It was always going to be a hard chase for us. We got off to a good start in IPL 2015, but we just did not have enough tonight. Credit to RCB."
11.26 pm: Four runs off the Chahal over and then Wicket, Kulkarni gone! Chahalstrikes timber and it is all done. RR all out for 109 in 19 overs. RCB win by a massive 71 runs.
11.21 pm: Just two runs from the over from Starc as Kulkarni refuses to get out. RR 105/9 in 18 overs, 76 off 12.
11.16 pm: Even Hooda,who can hit the ball a long way, had hardly made proper contact. Wicket, Hooda (11, 14b) gone! A mistimed pull shot goes straight to Starc and Wiese gets another wicket. RR 99/9 in 16.5 overs. AnkitSharmagets a consolation four to end the Wiese over. RR 103/9 in 17 overs, 78 off 18.
11.13 pm: Just a matter of time now as Starc, who has been struggling with a back injury, returns. Hooda and Morris can't do too much. Wicket, Morris (0, 3b) gone! Morris hits a full ball straight to Chahal at mid-on. RR 95/8 in 16 overs, 86 in 24 balls.
11.07 pm: Wicket, Binny gone! Absolute train-wreck now. Aravind goes for a big appeal as the ball hits Binny's pads, and while the appeal is made Binny scampers for a quick single for reasons only known to him. He is sent back, but much too late with Karthik whipping off the bails. Chris Morris in. RR 92/7 in 15 overs, 89 in 30 balls.
11.05 pm: James Faulkner is in. Smashes his second ball for a four to square-leg, but not much after that and the Royals need a lot, lot, lot more boundaries if they are to even come close.
Wicket, Faulkner (4, 4b, 1x4) gone! Nothing's gone right for the Royals for a while, and this just might be the unluckiest dismissal of them all. A full toss is inside-edged onto his toe by Faulkner and the ball pops up straight to Aravind, who goes up in delight. The umpire goes to the third umpire and the replays show it is clearly off the foot. So unfortunate. RR 92/6 in 14.4 overs.
10.59 pm: Getting near the impossible mark now, as Chahal bowls another tidy over. Royals will need to better RCB's 86 from the final six overs to win this match. Not happening is it.
Wicket, Rahane (42, 39b, 4x4) gone! His timing's been gone for a while, and a slog-sweep is mistimes off Chahal with De Villiers taking another simple catch. RR 87/5 in 14 overs. 94 in 36 balls.
10.53 pm: Bowling at a fair clip is Harshal, while mixing up his pace really well as well. And it is yet another outstanding over from the medium-pacer. RR 83/4 in 13 overs. 98 in 42 balls. Strategic timeout time.
10.48 pm: Wicket, Karun Nair (12, 13b, 2x4) gone! Harshal Patel strikes again. A ball outside off, an outside edge, simple really. RR 79/4 in 12.1 overs.
10.47 pm: Rahane is trying to hit the ball too hard here and he is completely losing his timing. Gets a lucky four as an outside edge flies past the right of Karthik for a four first ball off the Wiese over. Rahane's batting is all about timing, but he is just throwing his hands too hard at the ball at the moment. Nair's hit a couple of nice shots, but he is playing a little too many dot balls. Good enough over for RCB again, RR 79/1 in 12 overs, 102 in 48 balls.
10.42 pm: Aravind is back and he starts with three dot balls to frustrate Rahane. That timing seems to have deserted the opener after the fall of Smith. Most of them coming off the toe end. Really good over from the left-arm medium pacer. RR 71/3 in 11 overs. 110 in 54 balls.
10.38 pm: Chahal continues and nearly picks up a wicket as well, as Nair drives one to the covers with the ball falling just short of Wiese. A good over is spoilt a little via an edgy four for Nair, which takes a flick off Karthik's gloves and goes to the third man boundary. RR 68/3 in 10 overs. 113 needed in 10 overs.
10.33 pm: Karun Nair is in andWiese is getting the ball to zip through off the grass a little, while also getting a little shape. Nice stuff from the South African. I obviously put the jinx on him as I write that, because next ball, Nair gets the pull shot working for a four to midwicket. RR 61/3 in 9 overs.
10.30 pm: Wicket, Smith (12, 13b, 1x4) gone! Is that the end of the match? Smith goes for a big extra cover loft off Wiese, but gets it off the outer edge of his bat and De Villiers takes a simple catch at deep cover. RR 55/3 in 8.1 overs.
10.29 pm: Spin for the first time and it is Yuzvendra Chahal. Just three singles and a two off it, RR 55/2 in 8 overs.
10.23 pm: David Wiese now. A two, four singles and a cultured outside edge for four from Rahane means ten off the over, RR 50/2 in 7 overs. Strategic timeout.
10.19 pm: Starc is brought back to try and get Smith out. Keeps it a lot fuller this time does the left-arm paceman and the result is a tidy over, despite Smith's gorgeous lofted drive for a four. RCB turning the screws here, RR 40/2 in 6 overs. Powerplay done.
10.15 pm: Steve Smith walks in. Gets off the mark with a single to the offside. RR 34/1 in 5 overs.
10.13 pm: Harshal Patel has been one of the most impressive bowlers for RCB in the second half of IPL 2015, and he keeps impressing. Wicket, Sanju Samson (5, 8b) gone! RR 33/2 in 4.5 overs. A quick short delivery at the body, Samson tries to help it along over the wicketkeeper, but only gets a feather through to Karthik.
10.09 pm: Aravind keeps bowling too short and Rahane picks up a four with a cross-court forehand. RR 30/1 in 4 overs.
10.05 pm: Just the one over for Starc as Harshal Patel is given the ball. Sanju Samson is the new man in, not Steve Smith. Rahane gets his first boundary of the innings with a nice flick off the stumps to the forward square boundary. RR 21/1 in 3 overs.
9.59 pm: Sreenath Arvind starts off at the other end. Nice and tidy to begin with from the left-armer, who returns from a finger injury for this crucial match. And then, Wicket, Watson (10, 5b, 2x4) gone! A ball angling away, Watson throws his bat at it and gets a thin edge through to Karthik. There was a big appeal from the wicketkeeper, but not much from everyone else. There was a sound, though, and the umpire raises his finger. RR 14/1 in 2 overs.
9.54 pm: A singleistaken by Rahane first ball, and then Watson carves his Australia teammate for a boundary over the covers, before flicking another to the square-leg boundary. RR 11/0 in 1 over.
9.49 pm: The RR openers – Rahane and Watson – are out. Starc to begin.
9.38 pm: Well, RCB certainly caught fire in the end didn't they. From a score of around 140ish they have gone all the way to 180. De Villiers took a while to get going, but when he did what fun it was. ABD was given time to settle down by Mandeep Singh who played a real gem. A total of 86 runs came in the final six overs, and that has left with Rajasthan Royals with a lot to do.
In a knockout game, chasing down 181 is not easy, but chase down 181 they must to stay alive in IPL 2015.
9.35 pm: Karthik's first ball is a six, flicked to backward square. A two follows and then Wicket, Karthik (8, 3b, 1x6) gone! Karthik holes out at long-off off a short ball from Morris with Rahane taking an easy catch. Sarfaraz comes in, but only three runs come off the final three balls. RCB finish on 180/4 in 20 overs.
9.33 pm: Karthik's first ball is a six, flicked to backward square. A two follows and then Wicket, Karthik gone!
9.31 pm: ABD might be gone, but Mandeep ain't. The right-hander gets to his half-century in style – with a club over midwicket for a six and a glide down to third man for a four. RCB 169/3 in 19 overs.
9.28 pm: Wicket, De Villiers (66, 38b, 4x4, 4x6) gone! A special innings from the special man is over, and that too via a run out. Mandeep drives to long-on and De Villiers returns for the two, but Binny throws it low and hard to Faulkner and ABD is well out of his crease. RCB 159/3 in 18.4 overs.
9.25 pm: De Villiers gets his half-century with a top-edge six over fine-leg. RCB gunning for a big score now, especially with this special batsman in this kind of mood. As I write that, Morris bowls a length ball and De Villiers tees off to wide-long on for a 91-metre six. RCB 154/2 in 18 overs.
9.20 pm: This is De Villiers time now. A sumptuous four to start the 17th over as Watson is spanked through the covers. Cannot bowl length and Watson corrects that with a full delivery which ends up being a dot. De Villiers gets a little lucky next ball as a top-edge flies over Samson for a four. Watson continues to bowl wides, though, to keep the pressure on himself, before another edge, a leading one, fetches him a couple. Thirteen off the over, RCB 137/2 in 17 overs.
9.15 pm: Couple of quiet balls to start the Faulkner over, and then Mandeep plays a brilliant lofted extra cover drive for a four. Faulkner is unlucky to not bowl the batsman out next ball as the skims past the bails, and then Mandeep rubs salt into the wounds with an easy uppercut for a four. RCB 124/2 in 16 overs.
9.09 pm: Said it was a matter of time, and that time is now as De Villiers hits his 100th IPL six with a slow-sweep over midwicket. The maximum also brings up the 50-run partnership between ABD and Mandeep. Another six comes calling, and, yet again, via a slog-sweep as Ankit Sharma gets a little bit of a spanking from the great man, with the best shot of the over, coming via a crushing, searing four past extra cover. Big over for ABD and RCB 113/2 in 15 overs. Strategic timeout is taken.
9.05 pm: De Villiers is swinging aplenty, but not quite found his proper range yet. He will, though, just a matter of time. Decent over from Watson, six off it. RCB 93/2 in 14 overs.
8.59 pm: Mandeep playing a little gem here, as he gets another boundary via a clever paddle sweep past short fine off Ankit Sharma. Only six off the over, though, RCB 88/2 in 13 overs.
8.56 pm: Mandeep Singh is looking good, as he flays one over point to welcome Faulkner back with a four. More of the aggressor that De Villiers so far, as he finishes off the over well, with a pull over midwicket for another four. RCB 82/2 in 12 overs.
8.52 pm: De Villiers slowly getting into his groove. A couple of twos, one a little lucky that just cleared mid-off, starts the Watson over and then he gets his first boundary with a delightful glide to the third man boundary, that is despite there being a slip in place. A couple of good overs for RCB 70/2 in 11 overs.
8.48 pm: Kulkarni into his last over. Wicket of De Villiers here and the game could be done you know. But AB ain't getting out now, even if Kulkarni ends with brilliant figures of 4-0-28-2, that is because he concedes a boundary and a six to Mandeep Singh off the last couple of balls, first a muscles past midwicket and the second a gorgeous lofted drive over long-off. RCB 60/2 in 10 overs.
8.43 pm: Stuart Binny gets a bowl. Good time to come in, with RCB rebuilding after the two big blows. Even De Villiers looks a little circumspect. RCB 47/2 in 9 overs.
8.39 pm: Mandeep Singh is in. Another terrific over from Kulkarni and RR, two off it with a wicket, RCB 46/2 in 8 overs.
8.36 pm: Wicket, Kohli (12, 18b) gone! Kulkarni is on fire. A good length ball that probably just moves away a touch, Kohli goes for the flick from outside off, but only manages to loop a simple return catch to the bowler. Two of the big three are out, RCB 46/2 in 7.3 overs.
8.34 pm: AB De Villiers is in now. Not a bad replacement for Gayle is it. Good tidy over from left-arm spinner Ankit Sharma, RCB 44/1 in 7 overs.
8.28 pm: Good over from Dhawal Kulkarni. RR have bowled well in the first six overs, and Wicket, Gayle (27, 26b, 4x4, 1x6) gone! What a big wicket that is. A simple you miss I hit from Kulkarni, who bowls it dead straight, Gayle steps out and goes for the big slog and misses.
RCB 41/1 in 6 overs at the end of the Powerplay. Strategic timeout.
8.24 pm: Woah, unlucky is Morris. An outstanding yorker, Gayle gets his bat down just in time and it flies past short fine-leg for a boundary. RCB 38/0 in 5 overs.
8.21 pm: Morris is back and Gayle continues to thwack, this time via a pull shot. Such was the power of the stroke, that the ball has gone out of shape. Just 4.2 overs and 33 runs in and we have a ball change.
8.18 pm: Four overs, four different bowlers. Shane Watson now. Gets a bit of out-swing going first up and beats Kohli's bat. Single taken to mid-on next and Gayle is watchful as Watson gets a ball to tail-in, albeit at a gentle pace. A couple of singles follow. RCB 28/0 in 4 overs.
8.12 pm: Just the one over for Morris as Dhawal Kulkarni gets a look-in and Gayle welcomes him with a slam past the right of mid-off for a boundary. Already regretting that run out miss are RR.
Took long enough. Gayle gets his first six of the night in the fifth ball of the Kulkarni over, making room and then tapping the ball over mid-on. That is followed by four byes, as RCB get a move on with 24/0 in 3 overs.
8.08 pm: James Faulkner to open the bowling at the other end. First ball nearly goes for a boundary as Gayle thumps it straight back, with Smith making a nice save at mid-off. The second ball is a thick outside edge which flies one-bounce down to Morris at third man. That single brings Kohli to the crease for the first time, and he gets off the mark first ball with an edgy guide to third man.
Oh, big opportunity gone! Gayle should have been run out. The big man foes for a two, but Kohli is having none of it. Samson gathers the ball at the striker's end and takes aim at the other end with Gayle well off his crease, but just misses. Big life for Gayle, RCB 10/0 in 2 overs.
8.04 pm: Morris bowls outside off next ball and Gayle spanks it through extra cover for a boundary. Only took him two balls then. Fasten that seat belt folks!
The ball is certainly finding the middle of Gayle's bat, even if not the gaps yet, apart from that second-ball four. RCB 5/0 in 1 over.
8.01 pm: Chris Morris to bowl to Chris Gayle. On the pads, Gayle flicks it to midwicket, and Karun Nair makes a terrific stop diving down.
7.59 pm: The players are out in the field. It's go time!
7.56 pm: Four minutes to go as I state the bleeping obvious. Early wickets or a Gaylestorm? Wonder what we will get in the first six overs.
7.40 pm: RR's weak link is their bowling, so it might be a good thing that they are batting first. Restrict RCB as much as possible and then unleash that Smith power (surely he is dues a big innings).
7.38 pm: Kohli has usually tilted towards chasing. So, it will be interesting to see how RCB fare batting first, not forgetting, of course, those couple of times Chris Gayle and AB De Villiers scored hundreds bating first. If either of them fire anything like that again, it's going to be CSK vs RCB on Friday.
7.35 pm: Here are the teams: RCB: Chris Gayle, Virat Kohli (capt), AB De Villiers, Mandeep Singh, Dinesh Karthik, Sarfaraz Khan, David Wiese, Harshal Patel, Mitchell Starc, Srinath Aravind, Yuzvendra Chahal.
RR: Ajinkya Rahane, Shane Watson, Steve Smith (capt), Sanju Samson, Karun Nair, Deepak Hooda, James Faulkner, Chris Morris, Stuart Binny, Dhawal Kulkarni, Ankit Sharma.
7.32 pm: RCB win the toss and will bat first. "Big game, put a big total on the board," says Kohli. Aravind is back in for Dinda for RCB. Ankit Sharma replaces Sran for RR.
7.32 pm: Steve Smith: We're in the Eliminator, so we have to play our best cricket tonight. There is a bit of grass here, so it should be interesting.
7.30 pm: Virat Kohli talking to the always-loud Danny Morrison: "We're more privileged to be in this position. The team that is more composed will win the match. It's been a mixed bag of frustration and delight with the rain. Now we've got a game of cricket to play."
7.28 pm: Almost time for the toss. With that bit of green on the surface, wonder what the two captains will want to do if they win the toss. Bowl first is my guess, but then they might want to bat first in this big do-or-die game as well.
7.25 pm: Want to read about some of the players that could make a difference, or how about the key battelss that could decide the game. Everything and more is right HERE or HERE. And HERE is Dravid talking about what makes his Rajasthan Royals team so special. You always want to listen to Dravid speak, dont't you.
7.17 pm: An Ian Bishop tweet. No rain thankfully. The fast bowler that he is, Bishop would have loved to see that "tinge of green." Remains to be seen, if it will help the fast bowlers or if it will just come along nicely for the batsmen.
7.02 pm: Mumbai Indians are in the IPL 2015 final, and RCB and Rajasthan Royals will eye a tilt at that showpiece match as well, but to do that they will need to first get past each other in the Eliminator before negotiating the Chennai Super Kings.
While yesterday's game turned out to be a bit of a damp squib in terms of a contest, with CSK surrendering rather meekly in the end, RCB vs RR in Pune will hopefully provide us with some "Oh wow man, now I wish I was there to watch this match live" moments.
Welcome to IBTimes India's Live Coverage of this "If you're not watching it yet, or reading this live blog, better get to it" IPL 2015 Eliminator. Sit back, relax, tune your mind completely out, let that stress go and take in all the fun and joy that will be provided right here.
It is impossible not to like any side that has Chris Gayle in it, such is the charm of the man in cricketing terms. Add AB De Villiers to it – the man who makes batting look like an art brought from outer space – and Virat Kohli – might-be-a-pain-sometimes-with-his-attitude-but-what-a-glorious-batsman-to-watch-he-is – to the side and you have a nailed-on second favourite side for most fans.
Rajasthan Royals also are a team that most fans will like, what with Rahul impossible-not-to-like Dravid still a part of the team. How ironic it would be if the man from Bangalore helps in toppling the team from Bangalore in the IPL 2015 Eliminator on Wednesday.
All the ingredients are there then for a humdinger, cracker, mouthwatering clash (Am I starting to sound like Ravi Shastri yet?), and hopefully some of those superstars – don't forget Steve Smith, Shane Watson, Ajinkya Rahane and Mitchell Starc – provide an Eliminator to remember (not quite rhyming, but close enough).
If you feel the need to watch the Match Live online or on TV, all the info (and I mean all the info) you required/demand/expect/want is right HERE