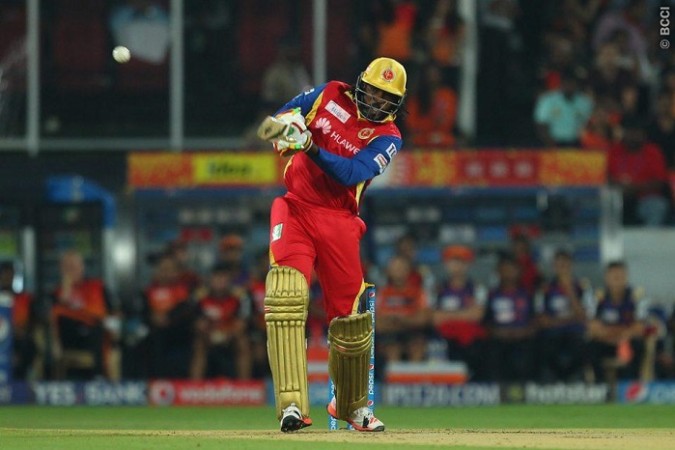 In a game where rain refused to relent, the match was first reduced to 11 overs a side, of which Sunrisers Hyderabad tonked away for 135 runs, and then rain came down again, giving RCB a target of 81 to chase down in 6 overs. Chris Gayle started the assault with a ridiculous 10-ball 35, before Virat Kohli made little of consecutive wickets of Gayle and AB De Villiers to guide RCB home in the final over in some style.
RCB knew they had to win to realistically keep their hopes of making the playoffs alive, and when it mattered most, Gayle (35, 10b, 4x4, 3x6) and Kohli (44 n.o., 19b, 4x4, 3x6) delivered in some style.
Earlier, it was Moises Henriques (57, 22b, 5x4, 4x6) it was who took over for SRH, after rain delayed the IPL 2015 match for two hours and 40 minutes and took away nine overs from each side, with the Australian playing an innings which made David Warner (52, 32b, 5x4, 1x6) look like a mere mortal at the other end, and that is saying something.
You are always going to get big hits in a 11 overs-a-side match, and big hits certainly rained at the Rajiv Gandhi International stadium, with Henriques and Warner providing most of those in their brilliant 103-run partnership for the second wicket, which helped SRH post a big 135/3 in 11 overs..
SRH chose to bat first before the rain came pelting down, pushing the match start all the way to 10.40 pm, but once the batsmen finally walked out into the middle, it was absolute carnage, much to the delight of the big crowd that had patiently waited for the rain to abate.
Shikhar Dhawan fell early in the piece, mistiming a slap to mid-on off David Wiese, but that proved to be a blessing in disguise for SRH, as it allowed Henriques to just knock his first few balls around, take the singles, assess the conditions and the pitch, and then go for those big shots.
The first four overs produced only 33 runs, but once Kohli brought leg-spinner Yuzvendra Chahal on, it was slam-bang time, with Henriques hitting the first of his four sixes in the over, and a massive one at that which went all of 99 metres.
Henriques and Warner took Chahal for 17 runs in that over, and it only got worse for RCB from there, as Ashoke Dinda and Harshal Patel were spanked for quite a few as well. RCB, though, had only themselves to blame for allowing Henriques to take charge, dropping him twice and also missing a simple run out.
Warner would later come to the party as well, bringing out that switch hit into play to stunning effect, hitting Chahal for a six over third man for the left-hander and fine-leg for the right-hander.
David Wiese and Mitchell Starc pulled things back a little in the final couple of overs, but the damage was done, even if plenty more damage followed.