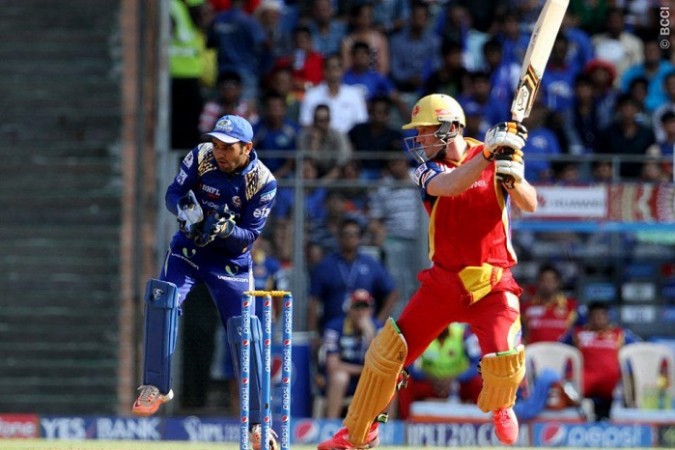 Last game it was Chris Gayle; this time AB De Villiers, just a little more destructive, just that tad more awe-inspiring, equally and wonderfully entertaining. The Royal Challengers Bangalore are certainly strutting their batting power, with De Villiers scoring a ridiculous 133 (59b, 19x4, 4x6) to absolutely smash the Mumbai Indians to smithereens.
A match after Gayle stormed to a stunning century, De Villiers punished the bowlers of MI to pulp to help RCB to 235 for one in their 20 overs. While De Villiers scored 133 in 59 balls, Virat Kohli was quite slow in comparison -- I mean how bad is 82 in 50 balls! -- It paled in comparison to the best batsman in the world, but on any other night it would have been an innings-and-a-half on its own. Kohli and De Villiers also allied for 215 runs, the highest partnership for any wicket in T20 cricket.
With De Villiers producing that magic like only he can, the Wankhede Stadium and everyone watching on TV, even those not supporting RCB, could do nothing but shake their heads in disbelief and acknowledge they were witnessing a freak of nature in jaw-dropping touch.
Try as they might, MI just could not produce that moment of bowling and catching necessary to stop De Villiers from scoring runs with some ease, while that luck, so necessary when a batsman like ABD is marauding, deserted them as well.
To MI's credit, they made a fist of the run chase – well, if you can call it that -- getting to 196/7, but such was RCB's dominance that it still meant a 39-run victory for them, huge in T20 cricket.
The win for RCB means they are now in pole position to finish at least fourth, with 13 points in 11 matches two more than SRH and MI, who have played a game more.
If the Royal Challengers Bangalore stumble from here, they will only have themselves to blame, but the manner in which De Villiers, Gayle and Kohli have taken responsibility, IPL 2015 might just be their tournament.
One thing is for sure, if RCB qualify for the playoffs, no team will want to face them at any juncture of the knockout stages; because when Gayle, De Villiers and Kohli are in this mood, and you add a lethal Mitchell Starc to the mix, there ain't no stopping them.