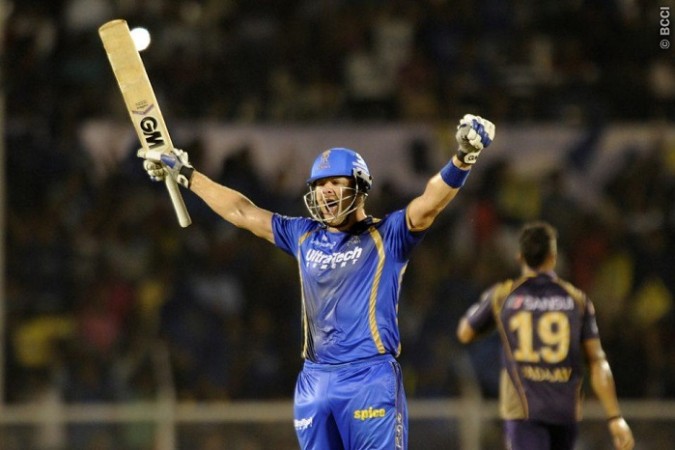 Shane Watson relinquished his role as captain for the Rajasthan Royals in order to concentrate on his batting and bowling. Well, in a match that RR had to win in order to extend their IPL 2015 season, Watson's batting certainly came to the fore, smashing a brilliant hundred to help his team to a big total, before then chipping in with the crucial wicket of Yusuf Pathan, who was threatening to take the game away from RR for KKR.
It looks like we are going to have a new champion in the IPL after the holders were as good as knocked out of IPL 2015 with a 9-run loss to the Rajasthan Royals – the only way Kolkata Knight Riders can sneak into the playoffs is if RCB lose so badly against DD that their net run rate goes below them or if Sunday's match between SRH and MI is washed out.
What is certain is that a seat in the playoffs is now definitely out of their hands after the KKR bowlers failed to rein in Watson, who fired his way to an unbeaten 104 (59b, 9x4, 5x6) to help his team to 199/6.
KKR looked like they would haul down the target, with Yusuf ensuring that required run rate was always hovering around the 10-11 mark, but once Watson dismissed him in the 16th over, it was curtains for KKR, who could not sneak home, finishing on 190 for nine in their 20 overs.
The win for RR means they are definitely now in the IPL 2015 playoffs, which will be a huge sigh of relief after they nearly blew it following a stunning start to the tournament, where they won their first five games.
Watson and Ajinkya Rahane set the game up, with a brilliant opening partnership of 80 in just seven overs. Both looked like they were going to strike hundreds, such was the ease with which they were thumping and caressing the bowlers on a wicket which looked like it might help the bowlers owing to the green nature, but only came on nicely much to the delight of the batsmen.
Keep it going the openers could not, though, as Rahane was unfortunately run out in the final ball of the seventh over. Steve Smith's underwhelming season continued as he gifted his wicket after a decent start, before that wicket-train came into play as Sanju Samson, James Faulkner and Karun Nair all fell without troubling the bowlers too much.
Watson was the key, and the RR veteran ensured he stayed until the end, which helped his team to get to that massive total.
The reply was always going to revolve around a solid start for KKR, but it was not to be as Gautam Gambhir and Robin Uthappa fell early, to Chris Morris and Dhawal Kulkarni respectively.
Yusuf, though, came in and looked sure of his skills again, even if Manish Pandey at the other end was far from convincing.
Following Pandey's wicket in the ninth over, Yusuf and Andre Russell struck up a nice partnership of 55 in 5.1 overs which seemed to be taking KKR into the playoffs and RR out of IPL 2015.
However, a tremendous 14th over from Morris (4-0-23-4) turned the game around completely, with the South African all-rounder picking up Russell (37, 20b, 4x4, 2x6) and Suryakumar Yadav. That meant too much pressure was now on Yusuf, and one mistimed shot ended his innings of 44 (35b, 5x4, 1x6), and with it KKR's hopes of defending their title.
Get Rajasthan Royals vs Kolkata Knight Riders Highlights HERE and HERE