12.40 pm: This was MI's final all the way. The only time CSK were smiling was when Du Plessis produced that brilliant run out. Rohit was ridiculous, Simmons outstanding, Pollard bashing and Rayudu cool. And when it come to the chase, CSK floundered and could not stay above water, with the MI bowlers doing a really good job as well.
What an IPL season it has been. It's been a pleasure bringing it to you, but that is it from me and IBTimes India. Catch you soon.
12.37 pm: Jagmohan Dalmiya presents Rohit the IPL trophy and the party is on!
12.35 pm: Rohit Sharma: "It's always been good here, whenever I've come here and played, I take a lot of memories back. It has been a very good journey for us, we played like a true champion. To bounce back the way we did, is something In have seen very rarely. Mumbai Indians showed a lot of character. I couldn't ask for anything more."
12.32 pm: MS Dhoni: They got too many on the board. The second over was not good, and I think that was what made the difference. I think the kind of momentum, they built up, we never got back in the game. The start with the bat was also not good enough, and it was really tough to come back. If we had been able to get them out for 180-185, it would have really mad a difference.
"When it comes to the team effort, I felt this was more of a team effort you know coming into the final. I don't think we reached 100 percent efficiency. As a team we have done really well. What is important, when the stakes are high it is important for individuals to play well, which did not happen. Also losing Brendon McCullum was a blow, because he gives us such quick starts."
12.27 pm: Andre Russell is the Most Valuable Player of IPL 2015.
12.25 pm: David Warner is the Orange Cap Winner, while the Purple Cap goes to Dwayne Bravo.
"Congratulations to the Mumbai Indians," says Bravo. "I would rather lose the Purple Cap than win the title."
12.22 pm: Shreyas Iyer is the Emerging Player Award Winner
12.20 pm: Dwayne Bravo wins the catch of the season award for his one-handed grab on the boundary line to dismiss Shane Watson.
12.17 am: Rohit Sharma is the man of the match for his 26-ball 50.
12.07 am: Sachin Tendulkar: I wasn't so nervous, because we have been playing good cricket, and it was just another match for us. The support staff was doing a good job, but if needed I would chip in. As and when my input was needed, I was there. Overall, the start was not great, but the finish was very strong. We stuck together, and from there on we started playing good cricket. The bowlers really executed their plans well, and then our batters also picked it up. We got confidence, we got some victories and then it is a completely different ball game.
12.04 am: Ricky Ponting: It's been extremely satisfying, it has been one of the most memorable couple of months of my life. The first six games were quite stressful, but the last part was great. It's been great to see the tam grow, and we probably played our best game today, which is what you want in a final. Rohit is a class player, and we have been asking him to play different roles. He showed tonight just how good a player he is.
Jonty Rhodes: Best ground fielding for the finals, which is good to see.
12.01 am: Kieron Pollard: No-one would have believed we would have been here, but for the non-believers, we are here. Players and the management staff, it has been a total team effort. Thank everyone for supporting us. Experienced players came to the party, especially in the couple of games in the back end of the tournament. The youngsters as well, they contributed, and I think it was a total team effort. I will definitely enjoy the celebrations.
11.58 pm: Hardik Pandya: My life will change after this and the experience I got from this, so life will change after this.
Vinay Kumar: It was not that easy top bat on this wicket, if you bowl in the right areas. The plan was not to bowl to their strength. The wicket was seaming if you bowled in the right areas.
Lasith Malinga: Really good feeling to win the IPL title, everyone is really happy. Everyone thinks, T20 is about batting, but I think the bowlers can do something as well. Everyone's done really well, and I think that is why Mumbai Indians won today.
Anil Kumble: This win means a lot. Credit to the boys the way they played, I thought Rohit led from the front, he made it look easy. Fantastic team effort.
Shane Bond: It was a rough start for us, there was certainly a lot of pressure, the message from Ricky was we've got the team to win it, and it was great to do that.
11.51 pm: Lendl Simmons: We assessed the wicket pretty well and got a good score. Honestly I didn't think we would get to the final after our slow start. But we did a good job.
Harbhajan Singh: We didn't start well in this IPL, but the way we finished really proud. I'm glad I could do well with the ball and help the team. I would like to say to each and every MI fan from the bottom of my heart, I love you all.
Parthiv Patel: We obviously didn't start well, but it is great to be a part of the winning side. 100 percent we believed we could reach the final and win the title, that's why we won the tournament.
11.49 pm: The celebrations start in earnest as the entire MI staff pour onto the field. No over-the-top celebrations, though, as the players form a huddle of glee.
11.48 pm: Vinay Kumar to bowl the last over of the IPL 2015 final. Twenty-One runs off it, but it matters little as Mumbai Indians are crowned the IPL 2015 champions, with CSK finishing on 161/8 in their 20 overs, falling 41 runs short.
11.44 pm: CSK manage to keep the remaining four balls wicketless as McClenaghan (4-0-25-3) ends his spell. CSK 140/8 in 19 overs, 63 in 6 balls.
11.39 pm: Wicket, Ashwin (2, 4b) gone! Goes for the slog of McClenaghan, only manages to give a catch to Suchith in the deep. CSK 137/8 in 18.2 overs.
11.38 pm: Malinga's spell is done with his figures reading 4-0-25-2. CSK 137/7 in 18 overs, 66 in 12 balls.
11.34 pm: Wicket, Negi (3, 5b) gone! The left-hander is the latest casualty, and it is to Malinga again. Cannot read the change of pace from the slinger and edges one to Hardik Pandya at point. CSK 134/7 in 17.3 overs.
11.32 pm: Jadeja finally comes in, flicks a four first ball, but it hardly matters now does it. CSK 132/6 in 17 overs, 71 in 18 balls.
11.28 pm: The going through the motions continues, and so do the wickets. Wicket, Du Plessis (1, 3b) gone! This is getting sorry now for CSK, as Du Plessis smashes one straight to Rohit in the covers to give Vinay Kumar a wicket. CSK 125/6 in 16.2 overs.
11.26 pm: Over 18 runs an over needed and who comes in to bowl – Malinga. This IPL 2015 final is just about going through the motions now. One of those motions is a typical Dhoni thump off a length ball for a six. However, fifth ball Wicket, Dhoni (18, 13b, 1x4, 1x6) gone! Dhoni plays one off his pads onto the stumps as Malinga, via a slow yorker, gets a wicket.
Du Plessis comes in and takes a single. CSK125/5 in 16 overs, 78 in 24 balls.
11.19 pm: This is now getting into painful-to-watch-for-the-CSK-fans mode. Dhoni gets some of the required runs needed with a four to square-leg via a pull, but this just isn't enough. CSK 112/4 in 15 overs, 91 in 30 balls.
11.15 pm: Just a matter of when rather than if now it seems, as MI get closer to joining CSK and KKR as the only two two-time IPL champions. McClenaghan returns and Bravo welcomes him with a straight six. And then a dot ball, followed by Wicket, Bravo (9, 6b, 1x6) gone! Wide outside off from McClenaghan, Bravo throws his bat at it and the ball carries to Simmons at third man. CSK108/4 in 14.3 overs.
11.13 pm: Harbhajan finishes his spell with figures of 4-0-34-2. CSK in an almost impossible situation at 102/3 in 14 overs, 101 needed in 36 balls.
11.10 pm: Wicket, Raina (28, 19b, 3x4, 1x6) gone! Simple really. A dot ball, pressure on, Raina goes down the pitch, Harbhajan anticipates it and bowls it full, wide and quick and Parthiv Patel does the rest. CSK 99/3 in 13.3 overs.
11.06 pm: Hardik Pandya into his final over, which probably means Jagadeesha Suchith will not bowl today. Gets a couple of dots in to Dhoni to start, a two, a single and a two follows, before Raina plays his patented extra cover drive for a four. CSK 98/2 in 13 overs, 105 in 42 balls, required rate at 15. Strategic timeout.
11.02 pm: MS Dhoni walks in with the run rate at a near impossible 14. CSK 89/2 in 12 overs, 114 in 8 overs.
10.59 pm: Wicket, Smith (57, 48b, 9x4, 1x6) gone! Smith's iffy stay comes to an end. A ball after slapping Harbhajan for a four to the wide-long-on boundary, Smith goes for a sweep shot, but the bowler pushes it through and he is struck right smack in the middle of the stumps. CSK 88/2 in 11.5 overs.
10.56 pm: The intent is coming slowly. Smith gets a boundary first ball with a hoick to midwicket, before taking a single as an outer edge goes through to Malinga at third man. Raina then gets a four off a short ball from Pandya with a nice pull to the fine-leg boundary. Raps Raina on the pads next, a big appeal is made and Raina scampers for a single, is sent back, and is well off his crease, but Harbhajan misses the stumps from short third man. Smith finishes the over, a good one, with a nice shot past backward point for a four. CSK 81/1 in 12 overs, 122 in 9 overs.
10.51 pm: Smith can't seem to hit the middle of the bat often enough to save his life. Harbhajan and the MI bowlers enjoying themselves here as CSK's limp chase continues. Gets some impetus from Raina, who plants one over cow corner for a six. CSK 67/1 in 10 overs. 136 in 10 overs.
10.47 pm: MI are persisting with the short delivery to Raina, who mistimes another pull, but Hardik Pandya cannot get his wicket as the ball falls short of Simmons, who did not seem to pick it up early at deep square-leg. The offside field in front of point is up for Smith, and after missing one ball, he takes control of the second, smashing it through the covers for a four. Too many dot balls still for CSK, who are going absolutely nowhere at 57/1 in 9 overs. 146 in 11 overs.
10.42 pm: First ball from the offspinner, Smith reverse-sweeps one for four with third man up in the ring. Raina has not been able to get away at all so far, and he hasn't been helped either by the strike-hogging of Smith. Looks to go for the big shot off Harbhajan a couple of times, but doesn't get it anywhere near the middle. Smith, though, ends the over with a slap to cow corner for a much-needed four, also brings up the 50. CSK 50/1 in 8 overs. 153 needed in 12 overs.
10.39 pm: Can't quite understand CSK's plan here. No real intent being shown, and Smith has played a strange innings so far. it could all change in a hurry, of course. Harbhajan Singh now.
10.37 pm: Hardik Pandya given the ball, as Rohit holds back on the spinners. Starts with a short ball, which Smith helps past short fine for a four. Good five balls after that, however, and it is another good over for MI here. CSK 38/1 in 7 overs.
10.32 pm: Finally some intent from the batsmen as Smith throws his bat at a Vinay Kumar delivery and skews one over the offside infield for a four. God comeback from Vinay after that with three dot balls, couple of them which has Smith in trouble as the ball nips back and cramps him for room. Can only take a single off the fifth ball, before Raina plays and misses the final ball. CSK 31/1 in 6 overs. Powerplay done and dusted but the Strategic Timeout is just beginning.
10.27 pm: Not Du Plessis, Rain walks in. CSK are going to need an IPL 2014 Qualifier 2 kinda knock from the left-hander to even get close here. Raina is welcomed with a nice short delivery from McClenaghan, which the batsman just about ducks under. Raina then gets an outside edge which flies past first slip for a four. CSK 26/1 in 5 overs.
10.25 pm: Change of ends for McClenaghan. No real intent shown by CSK so far, which is a little surprising considering they are chasing 203. Wicket, Hussey (4, 9b, 1x4) gone! Hussey smashes a full delivery from McClenaghan to the offside, goes straight to Suchith in the covers. He fields/catches it and is not sure if it is on the full. Umpires go upstairs for the review and the replays show that the catch is clean, just. CSK 22/1 in 4.4 overs.
10.20 pm: Vinay Kumar replaces McClenaghan. Smith has been taking up way too much of the strike, without enough of an effect. Plenty of shot attempts in the Vinay Kumar over from both Smith and Hussey, but not enough contact. The final ball, Hussey finally makes good contact and the ball just goes over the fingertips of the cover fielder Simmons for four. Brilliant start this from MI. CSK 21/0 in 4 overs.
10.14 pm: Ten of 18 balls have been dots so far, and that is way too many. Tidy over from Malinga. CSK 15/0 in 3 overs.
10.09 pm: Mitchell McClenaghan at the other end. First ball is angled across Smith, who plays and misses. A couple more dots follow, thanks to some outstanding fielding from Pollard at point, before Smith gets lucky with a top-edge off a short ball going straight over the wicketkeeper for a six. Hussey finally gets to face his first ball of the IPL 2015 final as Smith takes a single to mid-off, and it is a play and a miss off a short one from McClenaghan. CSK 12/0 in 2 overs.
10.04 pm: First ball from Malinga is full and swinging away from Smith, who defends it well enough. Wafts at a wide one next but misses, before playing another dot to the onside. Smith has been really slow to get off the blocks of late, which has also hurt his case a little. Maybe he should just try to go from ball one. No? Don't think so? Right after I write that, Smith flays at a ball outside off and gets a four through the covers. CSK 5/0 in 1 over.
9.59 pm: The MI players are back on the field, and Michael Hussey and Dwayne Smith also walk in. bi Big, big chase this. Need a good start to stand any chance of getting to 203. Lasith Malinga to bowl to Dwayne Smith.
9.49 pm: all about the 119-run partnership between Simmons and Rohit this innings. It ensured MI were always on course for a score over 200, and even if the two batsmen lost their wickets off consecutive balls, Pollard and Rayudu (36 n.o., 24b, 3x6) ensured the 200-run mark would be scaled. Big, big chase for CSK, can they do it? They definitely have the firepower, it is just about producing it under this high-pressure situation.
9.46 pm: Ambati Rayudu: It is a good wicket, but not as good as the one in Wankhede. Our target was 200 after 10 overs, and I'm happy we got there. It is a good score on the board, but they have a brilliant batting lineup, I just hope it will be enough."
9.44 pm: Just one run off the first three deliveries, but the next two produces ten. Bravo bowls length outside off to Harbhajan, who just lays into it with his willow to clear the boundary over covers for a six. Next ball is a lucky four as the ball cannons off Harbhajan's pads and goes past Dhoni's right for a four. Final ball from Bravo is a dot, which means MI finish their 20 overs on 202/5.
9.40 pm: Wicket, Hardik Pandya (0, 2b) gone! What a catch that is from Raina. Hardik fails to connect a full toss from Bravo and only shovels it to the legside. Raina runs in full throttle and takes a brilliant catch low down. MI 191/5 in 19.2 overs.
9.38 pm: Mohit to bowl his final over, the penultimate one of the innings. A full ball gets Pollard off strike, but Rayudu produces an outrageous six to square-leg, falling down and somehow managing to help it over the boundary. Wicket, Pollard (36, 18b, 2x4, 3x6) gone! The six-hitter is gonzo, as Pollard fails to clear the boundary on the offside, with Suresh Raina taking a nice catch at wide long-off. MI 191/4 in 19 overs.
9.31 pm: Wide is the mantra for CSK, but it does not seem to be working, with Rayudu also joining the six-hitting fun, with a swat over the covers off a wide one from Bravo. A decent over from Bravo, actually, apart from that six, and should have been a wicket-taking one as well, but Smith drops a simple catch at long-off as Rayudu mistimes a big-shot attempt. MI 183/3 in 18 overs.
9.26 pm: Nehra now. Donot bowl length to Pollard, Nehra ji, it is the cardinal sin to the West Indian, as the big man smashes a 93-metre six over wide midwicket. Much fuller from Nehra next, and after a dot ball, Pollard just flicks one to the onside for a four. The field is set to bowl wide and outside off, but Nehra just can't seem to get it right. Bowls a full toss on off, and Pollard just drags it over long-on for another six. The big man is on the move as he smashes another, this time over extra cover. All of 23 runs from the Nehra over, MI 173/3 in 17 overs.
9.20 pm: Mohit returns. Two dot balls, a two, a dot ball and a couple of singles. MI 150/3 in 16 overs.
9.13 pm: Smith bowls three decent balls, and then Rayudu says enough of that and slog sweeps one over midwicket for a big six. MI well on course for a score over 200.Might havebeen less had Bravo judged his catch well as Rayudu fails to connect on a short delivery. Bravo runs back from midwicket, but just pulls out midway and the catch is gone. MI 146/3 in 15 overs. Strategic timeout now.
9.08 pm: Another quiet over passes by from Bravo, Pollard and Rayudu just taking their time or do they, as they should, after those two wickets. As I write that, Pollard survives a poor shot. Short ball from Bravo, and Pollard goes for the pull, gets atop-edge but falls short of Ashwin at deep square-leg. Next ball, Pollard guides one through the two fielders behind point for a four. MI 134/3 in 14 overs.
9.03 pm: KieronPollard and Ambati Rayudu need to shore up the ship after the wobble, and it is a good over from Smith, MI 125/3 in 13 overs.
9 pm: Wicket, Simmons (68, 45b, 8x4, 3x6) gone! Oh my, two wickets in two balls. Dhoni goes left-field and gives the ball to Dwayne Smith, who bowls a full-length delivery and Simmons cannot dig it out and loses his off-stump. MI 120/3 in 12.1 overs.
8.57 pm: Dhoni's death over specialist Dwayne Bravo comes on and his first ball is sent to the wide third man boundary by Rohit Sharma with a typically elegant cut. Rohit also brings up his half-century with another gorgeous square drive off just 25 balls, but then, next ball, Wicket, Rohit (50, 26b, 6x4, 2x6) gone! Goes for a six over long-on, but only finds Jadeja as Bravo picks up another wicket. MI 120/2 in 12 overs.
8.52 pm: MI get to their hundred courtesy an absolute gift – a waist-high full toss from Jadeja – which is thumped to the fine-leg boundary by Simmons, who then finished the over off with a nice late cut for a four through the vacant third man area. MI110/1 in 11 overs.
8.47 pm: Spin isn't working, so Dhoni brings back Mohit Sharma. At least there is no six in this over, which means a decent one overall. Could have been a wicket-taking one as well, as Negi misses a catch diving to his right from backward point. Simmons gets a leading edge, but that ball just does not stick. The next ball is short and wide and Simmons smashes it to the point boundary for a four. MI 98/1 in 10 overs.
8.42 pm: It seems to be a six ab over from MI, with Simmons this time just flowing that bat through to get one well over midwicket and into the crowd.Negi also cannot stop the run glut, MI 88/1 in 9 overs. Rohit on 38 (18b, 4x4, 2x6), Simmons 48 (34, 5x4, 3x6).
8.38 pm: Ashwin returns after a poor first over in the Powerplay. Much better from the offspinner for the first four deliveries, before Rohit decides to use the long handle courtesy a jump down the track and a pummel over the midwicket boundary for a six. MI 78/1 in 8 overs.
8.35 pm: More spin for CSK courtesy Pawan Negi. And after three singles, it is another boundary as Simmons late cuts one to the point boundary. MI 69/1 in 7 overs.
8.30 pm: After Ashwin's rather poor over, Dhoni asks Ravindra Jadeja to bowl a good over, with a breakthrough. But Simmons latches onto the left-armer first ball with a slog over midwicket for a four. Three dots follow and then Simmons jumps down the track and flat bats one straight back for a big six. Next ball is a juicy full toss and Simmons latches onto that one as well, by getting a one-bounce four straight back. MI 61/1 in 6 overs. Powerplay done and it is a Strategic Timeout.
8.26 pm: Third over for Nehra. Cramps both batsmen for room with some darted-in deliveries to start with, but Simmons makes full use of a short ball on leg-stump, with a shovel shot that goes past short fine for a four. MI 47/1 in 5 overs.
8.21 pm: Spin on already via R Ashwin, and first ball, on the pads is paddle-swept by Simmons for a four to the fine-leg boundary. Second ball from Ashwin is a no-ball, which means a Free Hit. That free hit delivery from Ashwin is awful as well, a full toss and Simmons lambasts it straight back for a six. Another big over for MI 40/1 in 4 overs.
8.17 pm: All about Rohit this Nehra over as well. Gets a boundary to midwicket off a hoick that just, and I mean just, goes past Pawan Negi, before a gorgeous cover drive fetches him another four. MI 28/1 in 3 overs.
8.12 pm: Rohit Sharma comes in earlier than he would have liked. Mohit Sharma gets to bowl the second over. Rohit's first runs are extremely lucky as a top-edge goes all the way past the third man boundary for a six. Next ball Rohit guides it fine for a boundary and he is well on his way on one of his most favourite grounds. As I write that, Rohit is lucky again as an inside-edge just goes beyond the leg-stump for a couple to fine-leg, before a patented Rohit square drive fetches him another four. It is all of 16 off the over, MI 17/1 in 2 overs.
8.05 pm: Bit of shape away to the left-hander for Nehra, and it is a really solid over to start with for Nehra, made nice and juicy by a brilliant bit of fielding from Faf Du Plessis. Wicket, Parthiv Patel gone! MI 1/1 in 1 over. What abrilliant piece of fielding from Du Plessis. Parthiv takes him on with a quick single to mid-on and Du Plessis backhands a throw directly onto the stumps, with the Parthiv well off his crease.
8.01 pm: Ashish Nehra to bowl to Simmons. On target first ball and Simmons is happy to defend it. Second ball, he gets an inside edge and takes a single to square-leg.
7.59 pm: The IPL trophy is in the spotlight, and the players are out, walking on the red carpet (no, really!). CSK are in a huddle and soon enough Lendl Simmons and Parthiv Patel walk out.
The IPL 2015 final is about to get underway.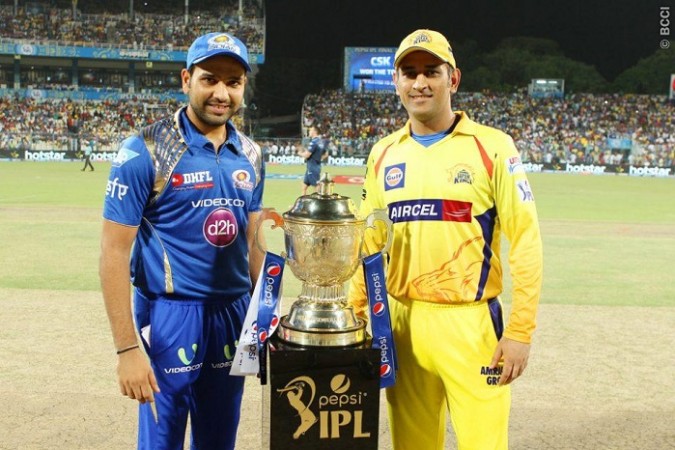 7.39 pm: Here are the teams: MI: Parthiv Patel, Lendl Simmons, Rohit Sharma, Kieron Pollard, Ambati Rayudu, Hardik Pandya, Harbhajan Singh, Jagadeesha Suchith, Mitchell McClenaghan, R Vinay Kumar, Lasith Malinga.
Chennai Super Kings: Michael Hussey, Dwayne Smith, Suresh Raina, Faf du Plessis, MS Dhoni), Dwayne Bravo, Ravindra Jadeja, Pawan Negi, R Ashwin, Mohit Sharma, Ashish Nehra.
7.35 pm: CSK win the toss and will bowl first. "The wicket looks a little tack, but hopefully it will stay the same," says Dhoni. "We would have batted first, and hopefully we can put a big score on the board," says Rohit. No changes in the side for either team.
7.33 pm: CSK win the toss and will bowl first.
7.32 pm: MS Dhoni: Not really, the whole of IPL is about no rest. So that is not a problem, and yesterday the flight from Ranchi was small, so it should not be a problem. It is a one-off game, it is not about any individual. One individual bowls or bats really well and he will be a hero.
7.31 pm: Rohit Sharma: Kolkata has been a good hunting ground for me. But this is about the team, and hopefully we can put it together.
7.25 pm: Five minutes to go for ze big toss – bat first or bowl first. We'll find out soon enough.
7.14 pm: MS Dhoni, Suresh Raina, Dwayne Smith, Dwayne Bravo, Rohit Sharma, Kieron Pollard, Lasith Malinga – take your pick of the superstars. However you look at it, this is going to be one heck of an IPL 2015 final between MI and CSK (yup, sticking to the abbreviations here; for full forms please check back on the earlier stories).
One team that has already won two titles, and is looking for the third and another looking to join their opponents as one of only three teams to have won the IPL title multiple times. One team with a ridiculous fan following and the other with an equally ridiculous support. One team who have been the most consistent in IPL history, and the other not too far behind.
Look at it how you may, this is going to be an absolute cracker between two great IPL teams with huge following. So come the end of the match, there will be a sizeable part of India rejoicing and crying in disappointment at the same time.
Hello and welcome folks to the live coverage of the IPL 2015 final. Sit back, have a nice swig of that mug of beer/juice/your pick of poison and let yours truly take you on what promises to be on heck of a ride.
The need to watch the match online is natural, and do no worry, everything you need to do just that is HERE