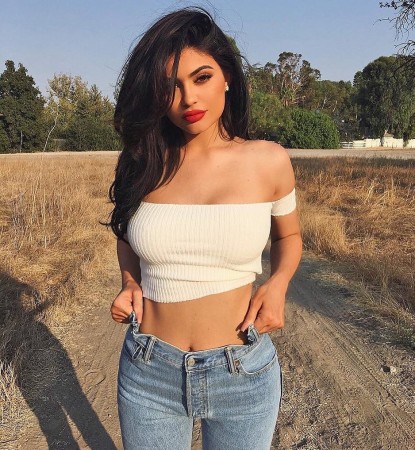 Dang, Kylie, back at it again with them teasing pregnancy updates!
The youngest of the Kardashian-Jenner siblings, Kylie is reportedly pregnant with her first child with beau Travis Scott.
Also read: Kylie Jenner: A billionaire by 2022?

While the world is still awaiting a legitimate confirmation from either of the would-be-parents or their families, soon-to-be-mommy Kylie can't stop getting cheeky on social media.
This time it is with the baby's gender again. Kylie had earlier taken to Snapchat to show her preference between the colours blue and pink by using iPhone cases with her lip-kit's signature logo in the two colours.
Now, Kylie has Instagrammed a photo of a fresh manicure — all shiny and extravagant in pink!
Not just that, she also sported a bejewelled butterfly ring with the same colour theme — pink.
Fans didn't take long to deduce that maybe this was just another confirmation of sorts?
The pink colour is associated with baby girls and, as was reported about Kylie's rumoured pregnancy, she is expecting a baby girl with her rapper boyfriend.
Among her teaser snaps was also a picture of a neon sign that read "The kiss was beautiful." Possibly gushing over baby daddy Travis Scott, 25?
The photo was captioned "See you soon Rice Krispie," which obviously seems like an inside joke the rumoured couple shares.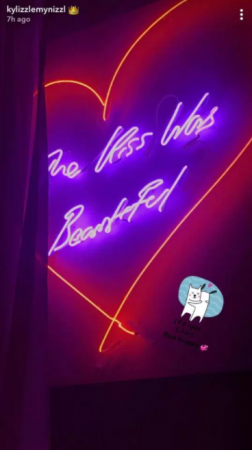 Or is it something they are referring to their soon-to-be-arriving bundle of joy as? Amidst theories and speculations revolving around the 20-year-old lip-kit mogul's pregnancy, fans are growing more impatient with each passing day.
Kylie captioned the "pink" photo "Shoot day," and as expected, fans were quick to comment back saying "Pregnancy shoot."
With Kylie's older half-sisters Kim Kardashian West, 37, and Khloe Kardashian, 33, both expecting, Netizens can't help but speculate that the triple Kardashian baby boom is just a ploy by matriarch Kris Jenner to boost the ratings of their family reality TV show Keeping Up with the Kardashians.
The 60-year-old momager was recently on The Ellen DeGeneres show, and when confronted with the buzzing rumours of her daughter's pregnancies, she addressed only Kim's, which has already been confirmed by the mother of two.
For her other two daughter, Kris chose to stay mum.
Ploy or not, fans and followers are rooting for the Life of Kylie star, literally begging at this point for a confirmation of her pregnancy.
And while Kylie has completely done away with her skimpy, sexy social media photos thanks to her newfound taste for oversized outfits, social media seems to be quicker at catching hints.
From "Soooo maybe it's a girl? Maternity shoot? Can't wait to see the pics if so," to "I bet it's pink for gender reveal", comments have been pouring in.
If the Kar-Jenner clan doesn't come forward with confirmations soon, looks like the internet is going to explode with curiosity!