Two can play this game!
Kylie Jenner has dropped a new Snapchat video, and fans and followers finally have a reason to rejoice.
No, there were definitely no confirmations — not direct ones at least — but her followers got a definite glimpse of a glowing Kylie and what they think was definitely her growing baby bump!
Also read: OMG! You'll never believe what Tyga wants from Kylie post birth of baby!
The Kardashian triple baby boom has been a thing for almost a month now.
With TMZ breaking the news of Kylie's rumoured pregnancy on September 22, it has been a month full of doubts, speculations and theories revolving around three Kardashian-Jenner sisters being pregnant at the same time.
And now they finally have answers. Or hints, at least. Kylie, who has avoided going out in public without her oversized baggy clothes to hide the rumoured pregnancy body, definitely seems to have gained some "baby weight."
In her latest Snapchat video, the 20-year-old was seen dancing with "BFF" Jordyn Woods.
The youngest Kar-Jenner sibling sported a sports bra which allowed ample view of her growing body – and as one particular fan pointed out on Instagram: "In this video you really do look pregnant! Glowing face, big(ger) boobs and I think I can see your belly in the edge of this shot. [sic]"
Of course, the lip-kit mogul's followers went into vast, extensive debates over her bodily proportions and some even claimed Kylie has always been naturally "thick" with curves and ample assets, and this clip gave away nothing to confirm the pregnancy; but that wasn't convincing enough.
The question still lingers: is she really letting followers in or is she teasing to play along with the rumours again?
Kylie had previously teased her fans in an even wittier manner, by posting phone cases with her lip-kit logo in the colours blue and pink, implying baby genders.
Her Instagram has also seemed to have lost its skimpy, revealing aesthetic as Kylie has only been posting photos of herself under close up shots and/or old throwback pictures.
Followers couldn't help but notice her growing upper body in a recent post, and that's where all the merry-making began.
As for the Life of Kylie star herself, sources had confirmed to Hollywood Life: "It has been a struggle for her because with a baby on the way, she has never been happier, however she is a little insecure with her new body as it is now changing constantly."
While there's no rush or forcing her to adapt to the prospective changes any sooner, her followers are also growing really impatient.
Looks like every post of her is going under hard, intense scrutiny, and for all we know, Kylie and her baby-daddy Travis Scott, 25, are just cheekily playing along.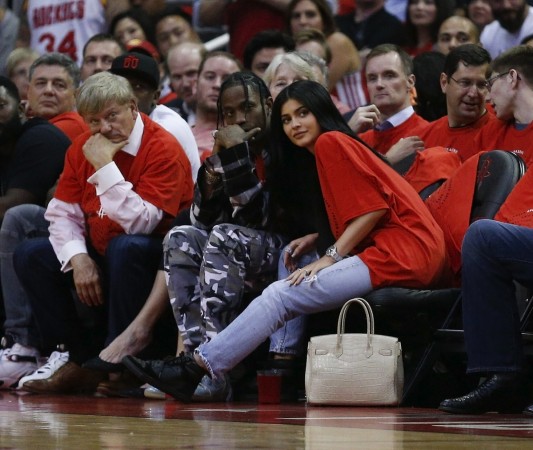 The only solace is a source confirming to Hollywood Life that she is set to make her comeback soon. "She is not ready to post steamy pregnancy pics, but she feels she will make a big comeback soon, when she is ready.
"When she does return it will be fantastic, sizzling and she will be an amazing, sexy pregnant woman!" No doubt!