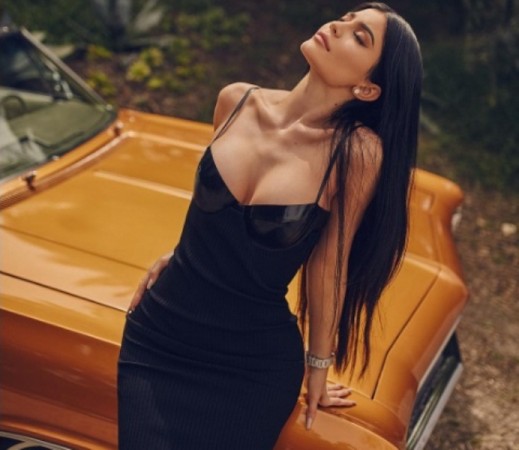 The youngest of the Kardash-Jenner clan, makeup mogul Kylie Jenner, is pregnant. Expecting a baby girl with rapper beau Travis Scott, 25, Kylie has been posting old photos and hiding the bump for a while now in baggy tee shirts.
Also read: Kylie Jenner pregnant, due date, photos: Who is the father – Travis Scott or Tyga?
But not anymore, clearly. In recent photos for bestie Jordyn Woods' birthday, Kylie teased her followers with the tiniest flash of a baby bump. Kylie's hand is upon her stomach, slightly exposing a glimpse of her stomach.
And if you thought followers went berserk, you're right.
While some ardent ones couldn't be more thrilled, as Kylie and Travis apparently are, some took to social media to speculate the not-so-coincidental timing of the news. With the new 10th anniversary season of Keeping Up With The Kardashians coming up, people seem to be convinced that "the devil might work hard, but Kris Jenner works harder."
Momager Kris, who has kept calm and withheld any direct statement on the news, addressed it as just another news breaking out about the Kardashian family. She told The Cut, "I just woke up this morning. She's not confirmed anything. I think it's kind of wild that everyone is just assuming that that's just happening."
But is that all, or has she really been toiling secretly? With Rihanna's Fenty beauty taking markets by storm, it doesn't come as a surprise that the oldest queen bee of the clan could pull a stunt like this, and who better to play it off, but the Life of Kylie star herself.
This particularly evasive response led to social media speculating that she herself could have been the one to pitch the news to TMZ, considering that the rumour arrives close to the 10th anniversary special episodes.
After all, none of us are strangers to that extremely viral snippet from Keeping Up With The Kardashians where Kris addressed Kim Kardashian's leaked sex tape, saying this:
Tweets have been pouring in and it's hilarious, to say the least.
Kris Jenner is the most talented person in that family. She should've used her talents to manage artists.

— Chloe (@ChloeKordeii) September 22, 2017
guarantee this is all a publicity stunt to drive attention to the anniversary special tomorrow kris jenner is an absolute genius

— James Charles (@jamescharles) September 22, 2017
watch this all be a pr stunt for her show or something. the devil is working hard but kris jenner is always working harder

— april (@fentysgrahams) September 22, 2017
Doubts and speculations aside, looks like baby fever is really spreading the clan rapidly. With Kim K expecting her third child via surrogacy soon, and now Kylie jumping the wagon too, one can only hope the world has enough patience to keep up with the ever-increasing number of Kardashians!