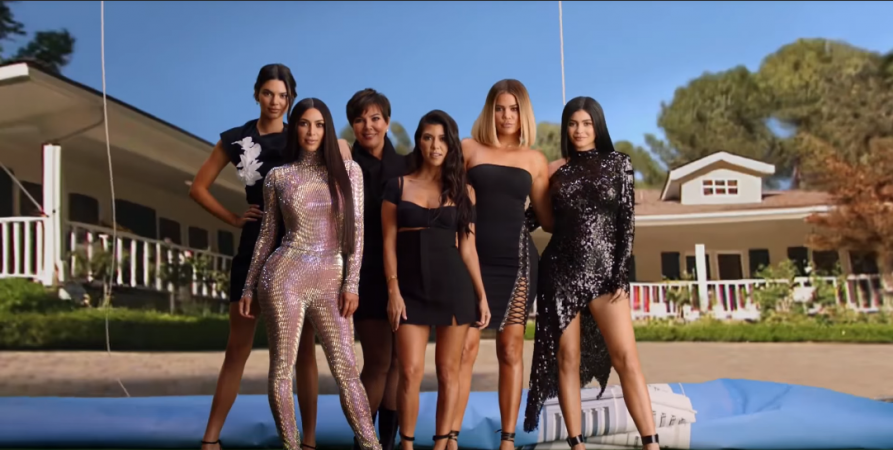 Back to basics or just a nostalgic throwback? The Kardashian clan have done it once again, but announcing the 10th anniversary season of Keeping Up with the Kardashians in the flashiest déjà-vu way. They recreated the opening credits of the first season.
Also read: Is Kim Kardashian trying to mend her relationship with Beyonce?
It starts with a montage of old snippets. The words "No matter how far they go, they never go alone," flash across the screen in bright white letters as the Kardashian-Jenner matriarch takes a ride across Los Angeles on – you guessed it right – a helicopter. You can tell she's the boss and she's fierce. King is Born by Aloe Blacc plays in the background.
Kourtney Kardashian appears right away, flaunting her svelte frame lounging on the poolside. Clad in a bikini and metallic silver shades, her aura screams sophistication. A Younes Bendjima lookalike is also seen alongside her.
Next we are treated to the rocking hot bod of Khloe working on her fitness in the gym before walking off to the glowing sunset. Kendall follows, slaying with her signature model style, running out of time as usual.
Somewhere, in a land (possibly?) far away, Kylie zooms off in her orange Lamborghini right after being handed a speeding ticket. Trust the youngest one of the clan to blow it off with her classic 'who-cares' expression.
So far it's clear: this season is about reunions. Mama Kris follows the season 1 scenes by trying to shuffle her kids around, fitting them in all the right spots. Come to think of it, quite symbolic, isn't it?
They also bring back the old classic mention of the season one intro where everybody asks "Where's Kim?" and Khloe complains how she's always late. And right when you might start worrying that maybe the social media moghul that started all this madness you've had to keep up with for years might not actually be present for this grand throwback, she appears.
Taking her own time, the KKW beauty founder is seen having a little pre-shoot glam session. From getting personally styled into a rhinestoned bodysuit to prancing off to stand right in the middle of her family – Kim Kardashian is just as bratty and unabashed as she was, announcing "No, I'm here!"
Kylie pulls off the final stunt by repeating her role as the curtain call princess, dropping the backdrop to reveal their former and original Hidden Hills pad. The original opening credits jingle plays in the background as Kris says "and we're done! Bye everybody."
There's shade, there's bossy sass and there's clear mention of how much they've evolved over the years. But still the same, and still a tight pack clearly. Check it out here: