Reality star Kim Kardashian has channeled former US First Lady Jacqueline Kennedy Onassis for the September issue of Interview magazine. And, North West also posed alongside her celebrity mother for the first time ever.
Also read: Jay-Z thinks Kanye West 'crossed the line'; but WHY
But the Keeping Up With The Kardashians star's latest photoshoot has irked the fans of the late First Lady so much that Kim is apparently being accused of 'blasphemy'.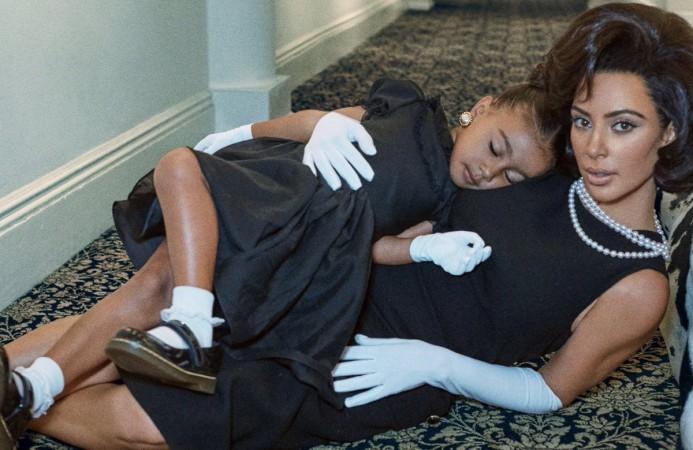 She has not stripped or accused of photoshopping her famous posterior. But still, she has managed to spark outrage on social media.
Twitterati expressed anger over the photoshoot calling it a 'disgrace'. The internet has also been wondering about why Kim's complexion has forcibly been darkened to match with her daughter North's skin colour.
The KUTWK star's beauty has been captured by photographer Steven Klein, who earlier shot the reality star back in 2015 for a raunchy LOVE magazine photoshoot.
Explaining the reason behind the Jackie Kennedy-inspired shoot, he told the magazine, "For this shoot I wanted to capture feminine beauty as an expression of empowerment and self-respect. Also, to highlight Kim in a chic manner that is retrospective of a time and yet modern."
Take a look at the photos below.
Here's what the Kennedy fans are saying—
Jackie had class. I don't think the kardashians ever could if you hit them over the head

— Anne (@annekbrooks) August 28, 2017
kim k channelling jackie kennedy is blasphemy at ITS FINEST

— lily (@cynicsontherun) August 29, 2017
You are not classy, at all! Jackie Kennedy had her Bachelor's Degree.. she used her brains not her body parts ?

— Amanda Espinoza (@acespinoza03) August 28, 2017
This is blasphemy! Kim K vs Jackie O?!There's no comparison. And why is she so "tanned"?! You know she likes to color coordinate ?

— Miss Britt (@Brittanne319) August 28, 2017
Why is she in black face???

— Pesach 'Pace' Lattin (@pacelattin) August 28, 2017