The Winter Olympics in South Korea is spreading joy to many, sportspersons and others. But, clearly, the dogs in the country are not among them. Animal lovers and organizations are working day and night to rescue these creatures before they are slaughtered and end up as soup to the Games' visitors.
Also read: Don't leave me alone! Abandoned dog runs miles behind car, but will she get a home? [Video]
Animal aid organization Humane Society International (HIS) just managed to rescue 90 puppies and dogs from a dog-meat farm by persuading the owner to give up his business and embark on a new trade. They believe that this victory will prompt many other dog traders to abandon their meat farms.
So far, 1,300 dogs have been rescued from being electrocuted and taken to local restaurants. HIS workers tend to hug and comfort the creatures after taking them out of the suffocating farm cages. But there are still an estimated 2.5 million dogs in South Korea waiting to be killed and carved as a delicacy.
The dog-meat industry in South Korea, however, is already a dying business as the younger generation do not care for the canine cuisine. Yet, it is tough to convince age-old businesses who swear by dog-meat for their loyal customers.
The Winter Olympics has already begun in Pyeongchang, South Korea, where athletes are fighting for medals. But nearby, there are millions of dogs waiting in chilly, cramped cages for their turn to be electrocuted to death.
"And they are relying on us, the Koreans and the global community to change their fate," HIS's Wendy Higgins told Mirror. She urged the world not to forget about the pitiful creatures while enjoying the games.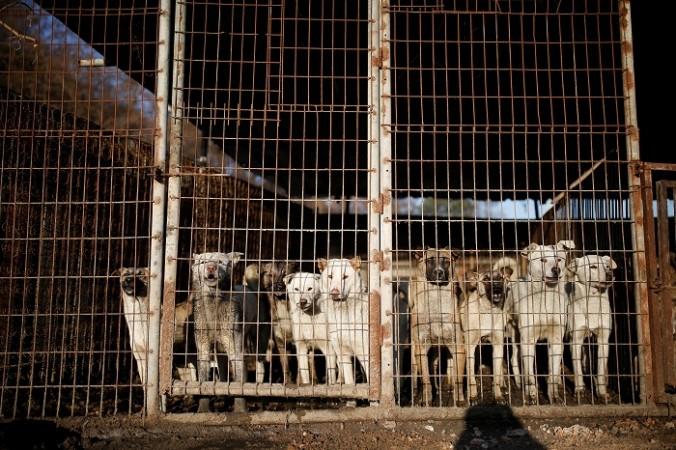 The dog trade in Korea is ingrained into their culture as the country has widespread dog farms which breed canines for the sheer purpose of killing and eating them. Dog breeds such as huskies, golden retrievers, labradors, etc, are popular for their taste as an ingredient of noodle soup or broths.
Many South Korean restaurants serve dog meat as healthy food options and these have many takers. When South Korean authorities attempted to replace dog-meat in traditional dishes with pork, the restaurants saw a sharp dip in customers and went back to their original ways.
"We've faced a lot of complaints from restaurant operators that we are threatening their livelihood," said County government official Lee Yong-bae.
Also read: Dog saves sedated tiger cub from getting shipped via express mail
But HIS believes that the attitude of the younger generation is different and they might contribute to closing down this heinous business. Already, 11 dog-meat farms have been permanently closed and more South Koreans are adopting dogs and cats as companions. The rescued animals from the farms are taken to the UK, US and Canada for adoption.
Other countries that indulge in dog-meat trade are China, Indonesia, Thailand, the Philippines, Laos, Vietnam and Cambodia, where street dogs are abducted for human consumption.
South Korea, the only country with open-market dog trade where dogs are also cut up in front of customers, is struggling to leave this part of its culture behind. South Korean president Moon Jae-in has started a petition for dog-meat ban and has also adopted a furry friend after his election.
Animal lovers are hopeful that the positive attitude of South Korean authorities towards saving dogs will lead to more farms being closed and more dog traders opting for different livelihoods.