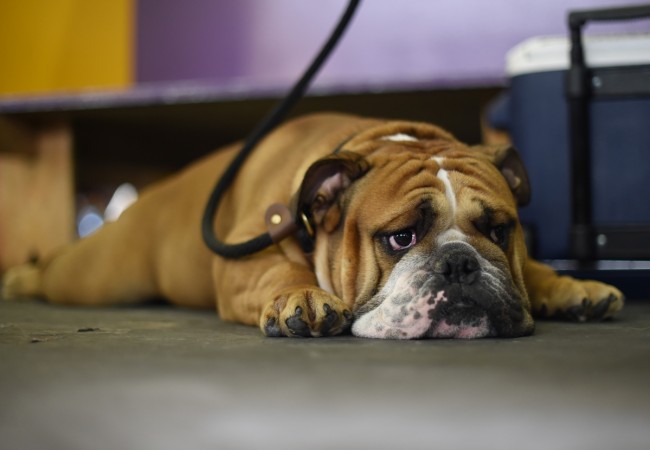 In a world of animal lovers, there still exist some monsters who treat animals brutally. Laurence Skelson is just the latest example of those scumbags.
The 63-year-old UK resident has been banned from keeping dogs for a lifetime after he beat up his friend's bulldog Boston using a plank of wood, a mop, and a shovel.
Also read: Merciless! These videos of a monkey tied, thrashed to death will make you lose faith in humanity
In the video, which was captured by a terrified neighbor, the bulldog was seen cringing in a corner of Skelson's back garden. Skelson was supposed to take care of the dog.
The man was caught on camera repeatedly intimidating and jabbing the pooch in the neck and face using a mop and a piece of wood.
But the good news is that justice was served for poor Boston when Laurence Skelson pleaded guilty in Hastings Magistrates' Court following an RSPCA investigation in May last year. He was fined £120 plus a £30 victim surcharge. He was also ordered to pay £300 in costs.
According to several reports, Boston did not suffer any major injury and is now under the care of his owner.
If you are brave of heart, you can watch the video here.
WARNING: SOME VIEWERS MAY FIND THE CONTENTS OF THIS VIDEO DISTURBING
"It really is heartbreaking to watch the video and see in one of the clips that Boston was not in any way acting aggressively," said RSPCA Inspector Alison Edwards.
"In fact quite the opposite, he was behaving in a submissive way by trying to get away from the man and lying on his side, but was still subjected to being jabbed in the neck with a large wooden plank.
"This was a totally unnecessary way of treating this poor dog. I am just grateful that poor Boston did not suffer any lasting physical injuries as a result of this unwarranted incident."
He also said: "I hope this sentence sends out a clear message that this type of behavior against animals will not be tolerated by the courts."