The opening ceremony of 2018 Winter Olympics witnessed two men dressed as United States President Donald Trump and North Korean leader Kim Jong Un shaking hands and thereby creating a stir at Pyeongchang Olympic Stadium on Friday, February 9.
Spectators at the venue fended off severe weather conditions to witness the colorful opening ceremony, titled "Peace in Motion". North and South Korean athletes also won hearts when they marched under one flag at the ceremony.
Also read: India at 2018 Winter Olympics live stream: Shiva Keshavan, Jagdish Singh's events date and time
The event also witnessed South Korean president Moon Jae-in sharing the VIP box with North Korean representatives, which included Kim Yo-jong, sister of the supreme leader who has been at loggerheads with Trump after the two exchanged nuclear threats.
Notably, American vice president Mike Pence and his wife were also present at the venue during the much-anticipated opening ceremony, which also hosted a heartwarming fairy-tale of five children who, through their performance, stressed on the need for peace and harmony.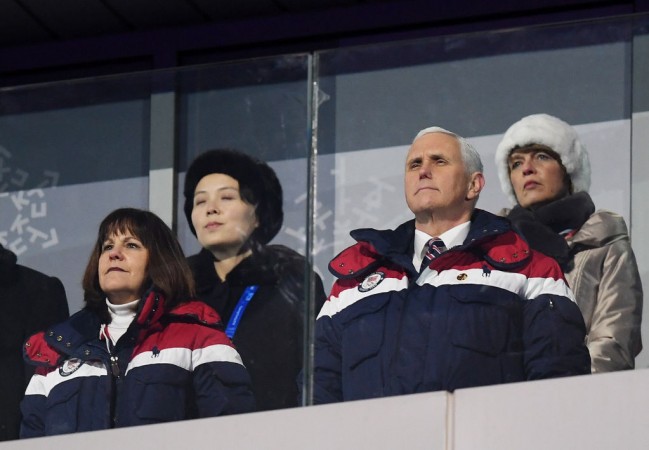 Nonetheless, the biggest attraction of the evening were the lookalikes of Trump and Kim as they garnered a lot of attraction at the venue. The two impersonators also posed for photographs when they appeared in front of the press-seating area, according to Express newspaper.
Trump's lookalike sported a red USA baseball cap while Kim's imitator made sure he looked like the North Korean leader by wearing a black spectacle and a black coat.
The security guards at the venue though were quick to react to the situation as they threw out both the impersonators.
'We're getting along great'
However, the two managed to send out a message to the world before they were escorted out of the stadium.
"We were getting along great. We wanted to surprise everyone and bring world peace and then we were being escorted out by security guards, which I think is really unfair," Kim's look-alike said, as quoted by Reuters news agency.
"Doesn't everyone want peace?. Is my sister getting the same treatment," he added.
The US has imposed sanctions on North Korea over the latter's nuclear weapons development. Trump and Kim earlier this year had exchanged nuclear threats after the latter, in his New Year message, said he has a "nuclear button" on his desk.
Trump, in his very own style, came up with a Tweet, saying his button is "much bigger & more powerful".
North Korean Leader Kim Jong Un just stated that the "Nuclear Button is on his desk at all times." Will someone from his depleted and food starved regime please inform him that I too have a Nuclear Button, but it is a much bigger & more powerful one than his, and my Button works!

— Donald J. Trump (@realDonaldTrump) January 3, 2018