Kylie Jenner might have accidentally busted her own pregnancy rumours.
While shocking, it's also extremely hilarious for everyone who had assumed that her pregnancy was just a ploy to get better ratings for their family reality show Keeping Up with the Kardashians.
Also read: Kylie Jenner: A billionaire by 2022?
Kylie posed in a recent snap while indulging in junk food as preparation for the 20-year-old reality TV star going on a girls' trip with her sisters. She even titled the photo "girls trip".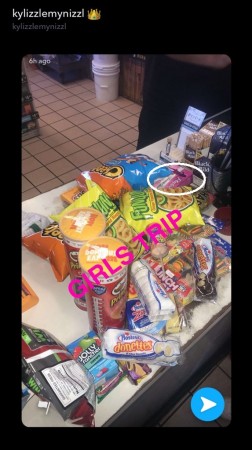 While most people deduced the hoard of junk food as what could probably be Kylie's pregnancy cravings, her fans and social media followers couldn't help but point out a pack of tampons in the photo.
Kylie, whose pregnancy rumours hit the media in late September after TMZ broke the news, has been evasive about the news so far. Neither she, nor her rumoured baby-daddy, rapper beau Travis Scott, 25, has addressed the rumours.
The entire Kardashian family has been awfully quiet about the situation, and so far the only confirmation of sorts about the pregnancy has been Kylie's public appearances in baggy, oversized clothes.
She has even stayed away from her usual skimpily-clad persona on Instagram.
Around the same time Kylie posted the snap, a few paparazzi photos of her surfaced on the internet showing her with some definite extra weight.
While most people chalked up the lip-kit mogul's bigger size to her pregnancy, Kylie wasn't having any of that and chose to shut down the rumours.
She took to Twitter to speak about how the images were photoshopped. So far this has been the only time that Kylie has addressed any news even remotely related to her pregnancy.
First of all if you're going to photoshop my photos blogs/paps!! Check for the crooked lines in the background.2nd photo is clearly altered pic.twitter.com/c9fi0EyhWB

— Kylie Jenner (@KylieJenner) November 5, 2017
The Life of Kylie star has also been very careful with the photos she posts on Instagram, completely covering up her stomach and barely posting any full-body shots since the rumours of her big pregnancy news started swirling.
While sources have confirmed that she is in fact pregnant and just insecure about coming out in the open on social media, this new photo of her hoarding tampons has definitely created quite a stir.
If rumours are correct, Kylie is about five months along, which should rule out any need for tampons.
Pregnant or not, Kylie has fans and followers impatiently waiting for even the slightest bit of confirmation from the cheeky social media troll who has just been dropping hints that could confirm the pregnancy.
Rumour has it that Kylie's older sister Khloe Kardashian, 34, is also pregnant with her first child with NBA champ boyfriend Tristan Thompson, and the two sisters are due around the same time next year.
Their sister Kim Kardashian West, 37, is expecting her third child with rapper husband Kanye West, via surrogacy, and happens to be the only one whose baby is very much confirmed. As for Kylie, guess we just have to "keep up"!
I thought this morning that what if Kylie Jenner is holding off on her pregnancy announcement until Reputation drops to try and steal the attention and now I'm convinced it's gonna happen so stay tuned

— ?????????? (@LIAMKAUSTEN) November 8, 2017