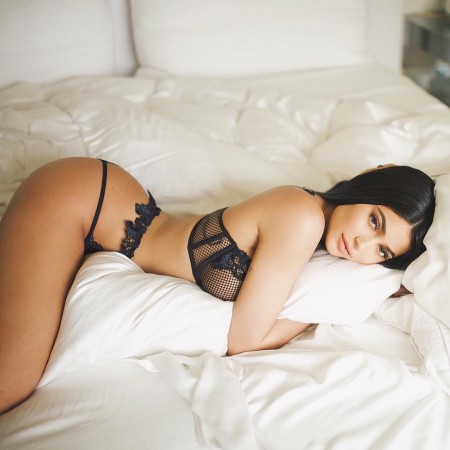 Kylie Jenner has finally decided to speak up about pregnancy rumours, and well – it's not very nice.
While her words weren't directly addressed to the multiple rumours about the 20-year-old expecting her first child with beau Travis Scott, 25, Kylie did seem quite frustrated with the way media and paparazzi have been blowing things up and clearly, she's not having any more of it.
Also read: OMG! Is this WHY Kylie Jenner stayed low-key this Halloween?
Recently Kylie made an appearance at a small airport with she and her clan of sisters were awaiting a private jet, and The Daily Mail posted exclusive paparazzi shots of the reality TV star looking slightly bigger than her usual self. Possible pregnancy confirmation?
Pregnant or not, Kylie decided to shut up speculations that might have been sparked off by publication of those photos, saying: "First of all if you're going to photoshop my photos blogs/paps!! Check for the crooked lines in the background. 2nd photo is clearly altered," in a tweet.
First of all if you're going to photoshop my photos blogs/paps!! Check for the crooked lines in the background.2nd photo is clearly altered pic.twitter.com/c9fi0EyhWB

— Kylie Jenner (@KylieJenner) November 5, 2017
Kyllie, who was dressed in a black Yeezy "Calabasas" sweatshirt and matching sweatpants was spotted with her half-sister Khloe, who is also rumoured to be pregnant with her first child, with NBA champ boyfriend Tristan Thompson, 26.
Considering how confirmation is yet to be provided by the family on either of the pregnancies, The Daily Mail wrote, "We are awaiting confirmation on her much talked about pregnancy and in this latest outing we are starting to see a bit of a growing baby bump."
Upon Kylie's claims of the pictures being photoshopped, the photographer from X17Online, who took the photos, responded to the makeup mogul's tweet saying the photos are "100% REAL! No Photoshop, #nofilter, no additives, no preservatives—all organic and all REAL!"
The Daily Mail on the other hand, spoke about the issue in their story, stating that "DailyMail.com can confirm the pictures have not been digitally altered."
This is clearly not the first speculation that has been made about Kylie putting on body weight from what her social media followers can see in her recent posts. While she has been strategically avoiding posting sultry full body shots in skimpy outfits, it hasn't helped her case much.
Sources have confirmed to Hollywood Life that, "It has been a struggle for her because with a baby on the way, she has never been happier, however she is a little insecure with her new body as it is now changing constantly."