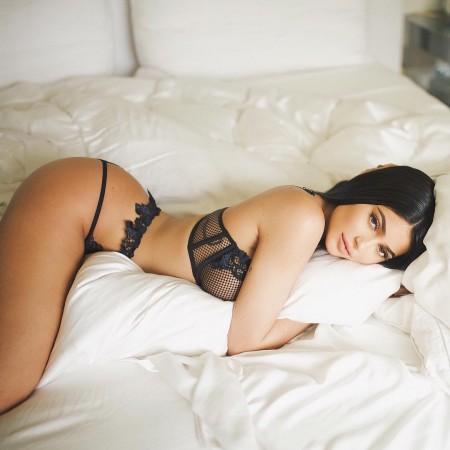 Thanksgiving cheer might be fading away but clearly not for Kylie Jenner's fans. In a recently leaked photos, the 20-year-old reality TV star's followers have been blessed with the first ever photos of Kylie's much talked about, yet secret, baby bump!
Also read: Did Kylie Jenner just address her pregnancy rumours?
The makeup kit mogul was spotted sporting a no-makeup look on Thanksgiving, all clad in a P.E. Nation active-wear as she ran some errands, probably last minute ones before her Thanksgiving gala that she couldn't stop gushing about on Snapchat.
While Kylie has been extra cautious to not reveal any signs of her pregnancy on any of her social media accounts – especially resorting to just extreme close-ups of her face and oversized outfits on all photos that she has posted since TMZ broke the news of her pregnancy, this does put rumours to rest.
Multiple sources have confirmed to various media outlets that Kylie is, in fact, expecting a baby girl with rapper boyfriend Travis Scott, 25, even though the two and the entire Kardashian-Jenner clan has been mostly quiet and evasive about the rumours.
But trust Kylie to act cheeky and tease fans with Snapchat posts of what could possibly be hinting about her pregnancy and even her soon to be arriving baby's gender. From the overdose of pink hues in her post to a rumoured secret baby shower – Kylie has done it all.
Even her relationship with Travis is yet to be confirmed by the Life of Kylie star herself and while there are no photos of the two together on either of their social media accounts, Kylie did sport a dazzling rock on her ring finger in one of her recent snaps, leading fans to assume the couple is now engaged.
Of course, there was no confirmation on that either and looks like the leaked photos are the only Holiday season cheer Kylie is letting her fans relish. Apart from her latest throwback very revealing, super racy polaroids on Instagram though.
Kylie took to the photo-sharing website to post snaps of herself semi-draped in nothing but a white sheet, and while fans tried to scrutinize any silhouette of a baby bump, the words "throwback" was a give away at the beginning that there's nothing hidden under the sheets.
However, the photos are sexy and fitting of Kylie's original skimpily clad bombshell looking photos aesthetic that her Instagram boasted of. They do make up for all her hushed up secrecy!