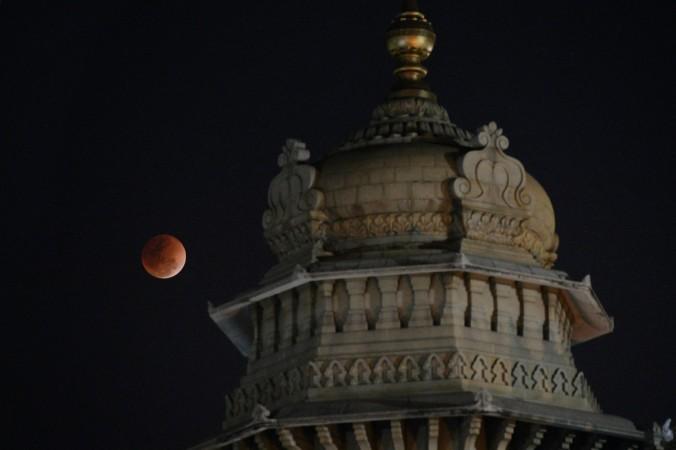 While many are excited to witness the blood moon coinciding with the lunar eclipse tonight, there are some who believe that the July 2018 lunar eclipse spells good news for the year ahead. Cabinet ministers in Karnataka, however, are not too excited about it.
Astrologers tracking the moon cycle have predicted a disruption for the ministers ahead of Lok Sabha elections. It might seem ridiculous to many, but ministers of the volatile coalition government are taking no chances. Several political leaders are off on temple visits to appease the Moon god. And for ones who aren't going on temple runs will be taking a break from their duties ahead of the weekend.
Since the lunar eclipse is also believed to be a bad omen, over a dozen cabinet ministers in the volatile Congress-JD(S) coalition have chosen to take some downtime from work, Times of India reports.
JD(S) supremo HD Deve Gowda's family including chief minister HD Kumaraswamy are off to Tirupati to offer special prayers, hoping Lord Venkateshwara counters their "bad time" with some blessings. The Deve Gowda family off on a temple run comes as no surprise since they had done the same during the lunar eclipse that had occurred in January, earlier this year.
Meanwhile, water resources minister DK Shivakumar, who is already on a temple run, is said to be visiting a few more religious places on Friday before returning to work. PWD minister HD Revanna is also offering special poojas at his residence to appease the Moon god.
Deputy chief minister G Parameshwara, on the other hand, is in mourning with his family following the death of his brother on Thursday.
The superstition surrounding the lunar eclipse extends past the cabinet ministers. Opposition leader BS Yeddyurappa, who believes it is the most inauspicious of lunar eclipses will not be engaging in any work until Tuesday, July 31, the report noted. The BJP leader, who has been advised to not step outside of his home until the eclipse is over, has also requested people to postpone all auspicious activities until Sunday.