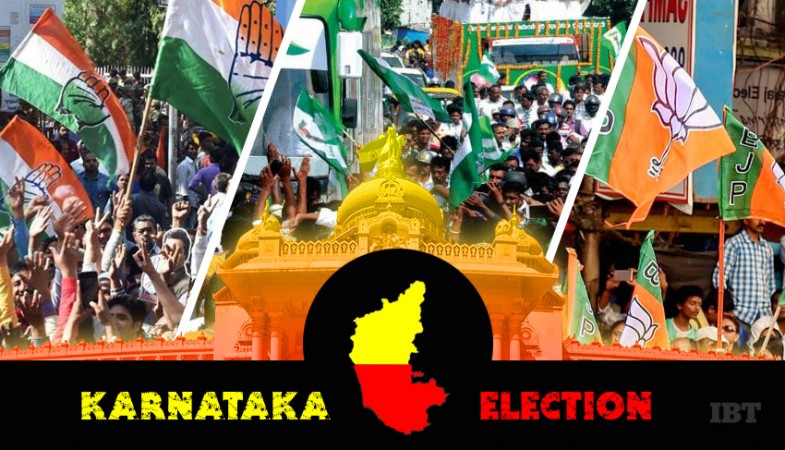 Congress and JD(S) leaders rejoiced after Karnataka CM-elect BS Yeddyurappa announced his resignation on Saturday, May 19. Yeddyurappa resigned as the chief minister just two days after being sworn in.
After making a speech berating the Congress government in Vidhana Soudha, Yeddyurappa said that he was grateful for all the love and support he received from the people of Karnataka. The BJP leader also broke down while addressing the house and admitted that he was stepping down as the chief minister as he could not muster up the numbers required to form the government.
As it happened
Mamata, Rahul Gandhi and others react to Yeddyurappa's resignation
Congress President Rahul Gandhi said: "You've seen openly how the PM directly authorized purchasing of MLAs in Karnataka, so the idea that PM spreads in the country that he is fighting corruption, is a blatant lie, he is corruption."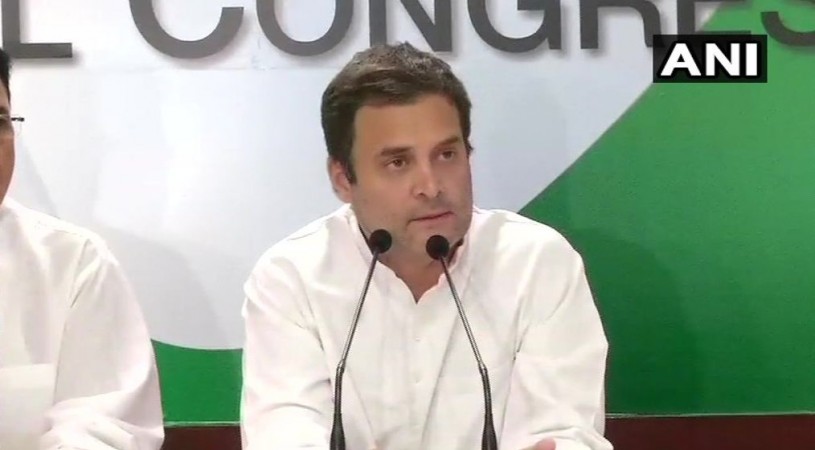 Gandhi accused BJP of buying MLAs from Congress and JD(S).
Congress leader Ghulam Nabi Azad has congratulated MLAs from Congress and JD(S).
JD(S) leader HD Kumaraswamy has said that he is waiting for the invitation from the Raj Bhavan for taking oath as the chief minister.
Andhra Pradesh CM Chandrababu Naidu told ANI: "Right now news has come that BS Yeddyurappa has resigned as Karnataka's CM, are all of you happy? All those who believe in democracy are happy."
West Bengal CM Mamata Baneerjee tweeted, "Democracy wins. Congratulations Karnataka. Congratulations DeveGowda Ji, Kumaraswamy Ji, Congress and others. Victory of the 'regional' front."
Congress and JD(S) leaders rejoice after the chief minister steps down from his post.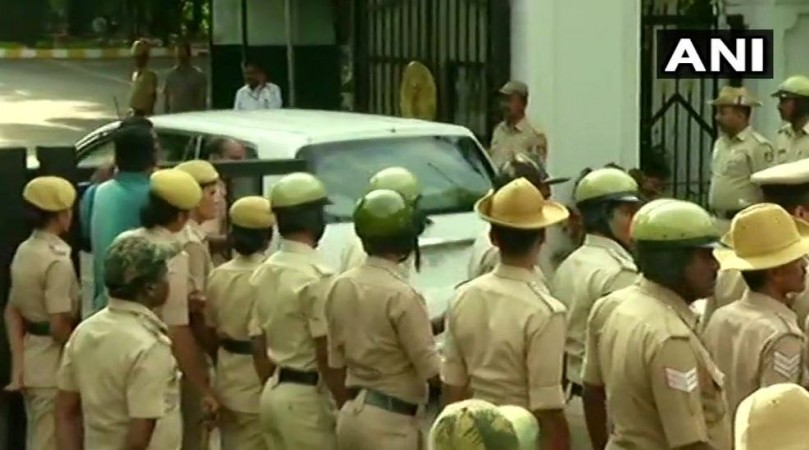 Yeddyurappa resigns as chief minister of Karnataka
Yeddyurappa has reached Raj Bhavan.
He heads to Raj Bhavan to submit his resignation to the Karnataka Governor.
Yeddyurappa resigns as the chief minister just 2 days after being sworn in.
He admits that he could not muster up the numbers needed to form the government.
Yeddyurappa breaks down while making his speech at the assembly.
He says he has dedicated his life for the welfare of farmers.
Yeddyurappa says that he has been traveling throughout Karnataka for the past two years and has seen pain on the faces of people.
Yeddyurappa adds that seats are not important.
He is grateful for all the love and support he has received from people of Karnataka.
Yeddyurappa thanks people of Karnataka for supporting BJP.
He thanks Narendra Modi and Amit Shah for making him the chief ministerial candidate.
Yeddyurappa says Congress and JD(S) joined hands by disregarding people's mandate.
Yeddyurappa presents motion of trust in assembly.
Vidhana Soudha session resumes
Pro tem Speaker KG Bopaiah administers oath to the newly elected MLAs.
Congress leaders Anand Singh and Pratap Gowda Patil take oath as MLAs.
BJP leaders back in Assembly
BJP MLA Somashekara Reddy has said that he did not even go to the Goldfinch Hotel.
Congress leader Siddaramaiah takes potshots at Narendra Modi on Twitter.
He asks Modi to advice Yeddyurappa to give up horse-trading.
BJP's Shobha Karandlaje is confident of her party emerging victorious at the floor test.
She says "Wait and see. In politics every decision is wonderful & happy.'"
BJP leaders Ananth Kumar and BS Yeddyurappa are present in the Chief Minister's chamber in Vidhana Soudha.
Yeddyurappa meets the Speaker before the floor test commences at 4 pm.
BJP MLA Somashekar Reddy leaves Taj Westend Hotel and is on his way to Vidhana Soudha.
"Missing" Congress MLAs back in camp
Congress MLA Pratap Gowda Patil and Anand Singh have reached Vidhana Soudha.
He is back in the Congress camp and is seen interacting with fellow party members DK Suresh and Dinesh Gundu Rao.
Shivakumar has put party's whip in Patil's pockets.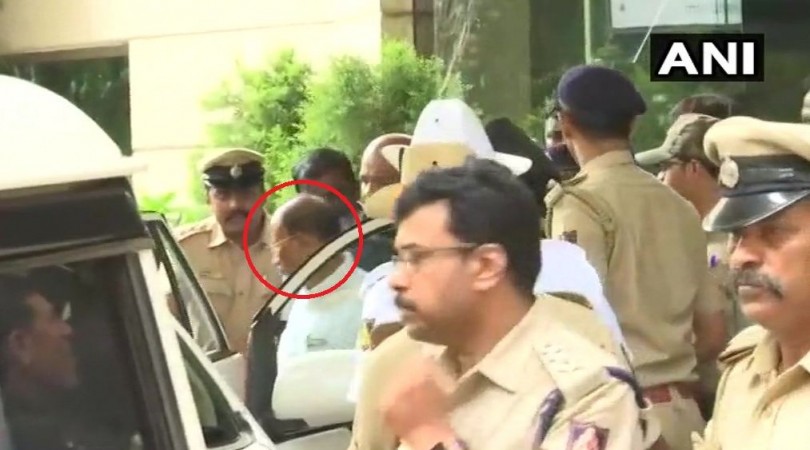 Congress leader DK Shivakumar has said that Pratap Gowda Patil will take oath as an MLA and vote for the Congress party.
He added that chief minister Yeddyurappa will resign even before the trust vote.
Assembly adjourned until 3.30 pm. Floor test at 4 pm.
One of the 'missing' Congress MLAs Anand Singh seen leaving Bengaluru's Goldfinch hotel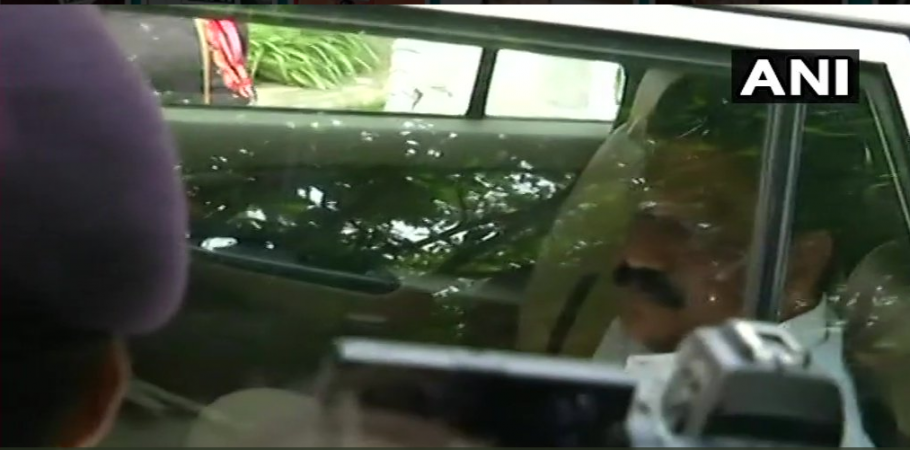 BSY losing hope?
In case the BJP is unable to prove majority at the floor test, Yeddyurappa will be forced to resign as the CM. However, things aren't going to be easy and simple as the BJP has prepared a 13-page resignation speech, reported News 9.
Security has been tightened at the Gold Finch Hotel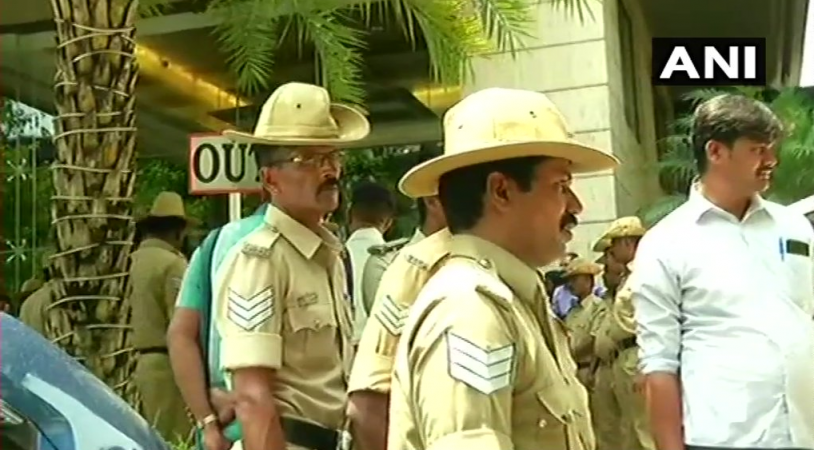 Leaked tapes take over
Despite the BJP claiming that Congress has been falsely accusing it of trying to poach MLAs and offering them benefits, the Congress has released another tape.
The conversation is said to be between Yeddyurappa and MLA BC Patil.
The BJP has now released a tape, in which the Congress can be heard pleading with missing MLAs to return
Whip to 2 Congress MLAs
While it was earlier said that the two missing Congress MLAs were at the Taj West End, News 9 has now reported that they are at the Gold Finch hotel, off Race Course Road.
Congress member HM Revanna said that a whip will be issued to the two MLAs
Congress has also accused the BJP of using the MLAs' family members to seek votes
"He (BJP's BY Vijayendra) called the wife of a Congress MLA & asked her to request to her husband to vote for Yeddyurappa. He said, we'll give your husband a ministry or else we'll give Rs. 15 crore to your husband:" VS Ugrappa, Congress.
Tight security around Vidhana Soudha
Horse-trading allegations
Verappa Moily told the ANI that the BJP will be exposed to the whole world after the floor test.
"They know very well that they are 104, still they are trying everything & anything to buy our MLAs. But, our MLAs are intact. Two of our MLAs are still not here, whenever they come they will surely support us," he added.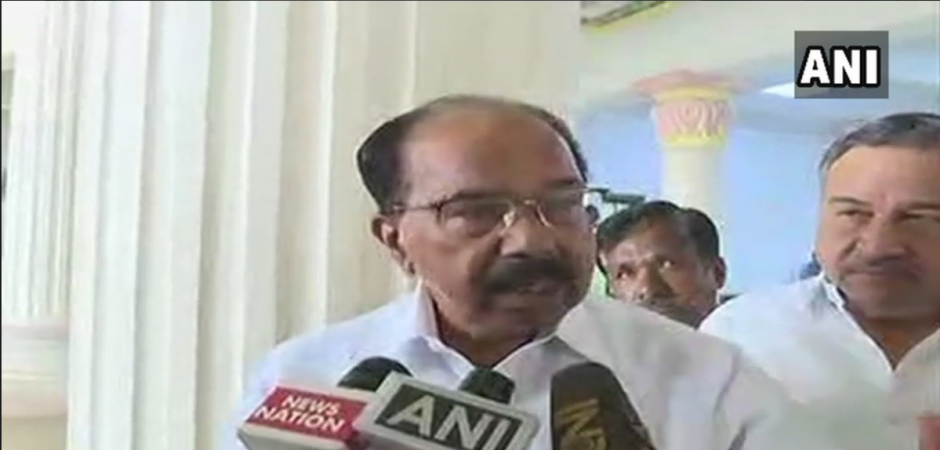 Congress member VS Ugrappa accuses Yeddyurappa's son of horse-trading
Section 144 imposed
Prohibitory orders are in place in view of the floor test. Section 144 has been imposed in several parts of the state including Mangalore and a few constituencies in Mysuru
Oath-taking of MLAs under way
Two Congress MLAs Anand Singh & Pratap Gowda Patil have not arrived at the Assembly yet. They are said to be staying at Taj West End
Pro-tem speaker Bopaiah forms five-member speaker panel, which will function at the assembly in the absence of the speaker.
B Sriramulu and Yeddyurappa have resigned from Lok Sabha. Their resignations have been accepted by the Speaker.
Hearing in Supreme Court begins
SC turns down Congress-JD(S) plea challenging the appointment of Bopaiah. Floor test as scheduled at 4 pm.
The Supreme Court has said that if the parties are not happy with the pro-tem speaker, the floor test can be postponed
The hearing on the appointment of KG Bopaiah as pro-tem speaker is ongoing.
"The individual appointed must be the senior most member of the House which is a convention in the Parliament also," says Kapil Sibal.
"Long-standing convention has been broken after the appointment of Bopaiah," Sibal added and said that even the SC has "ratified this practice in two judgments."
Justice SA Bobde says that there have been times when the senior-most MLA wasn't appointed as Pro tem speaker.
Kapil Sibal said: "KG Bopaiah has different history. His decision of disqualification was set aside by this Court earlier."
Karnataka Assembly session begins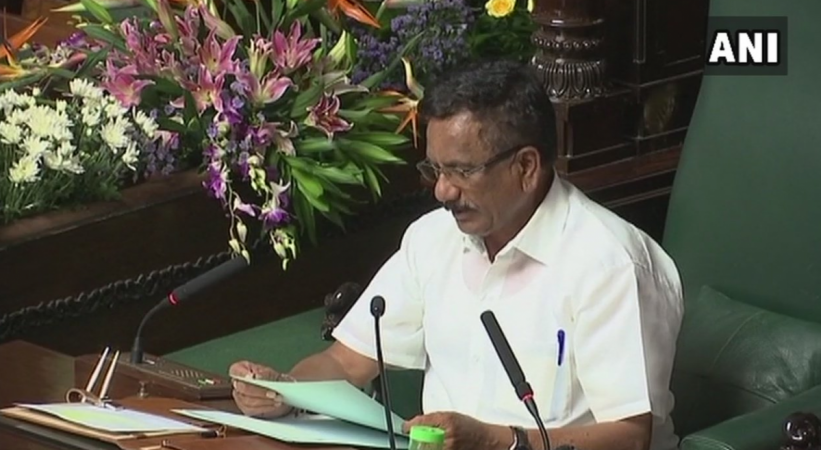 Yeddyurappa and Siddaramaiah take oath as MLAs
Voting options at floor test
Voice Vote -- where MLAs vote orally
Division Vote -- vote with the help of electronic gadgets or ballot box
What happens during floor test
CM moves a vote of confidence
Has to win a majority among the MLAs present
In case, Yeddyurappa doesn't attain a majority in the house, he will have to resign
CM arrives at Vidhana Soudha
Yeddyurappa, along with the BJP MLAs, has arrived at Vidhana Soudha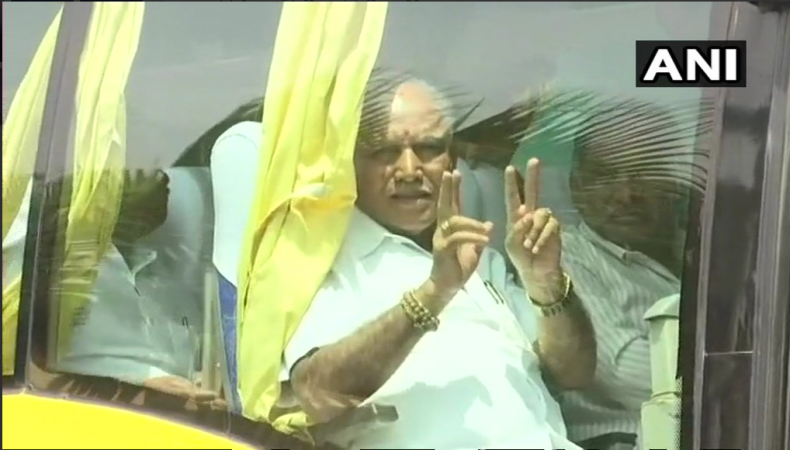 HD Kumaraswamy comments on floor test
"For me, today is not an important day, the important days will come in future," he told ANI.
"Up to 4 pm, BJP will try to poach our MLAs. All the MLAs are together, no one is going to go to the other side. None of our MLAs are trapped. Me & Siddaramaiah will go together."
He also told his MLAs not to fall for any last minute offers by the BJP
Preparations for floor test on inside Vidhana Soudha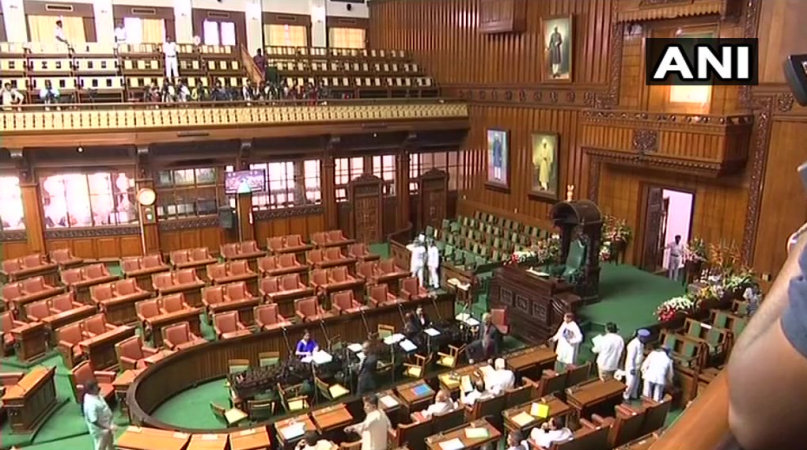 Congress MLAs arrive at Vidhana Soudha
Congress MLAs have now left Hotel Hilton and are enroute to the Vidhana Soudha.
The bus is accompanied by a few security vehicles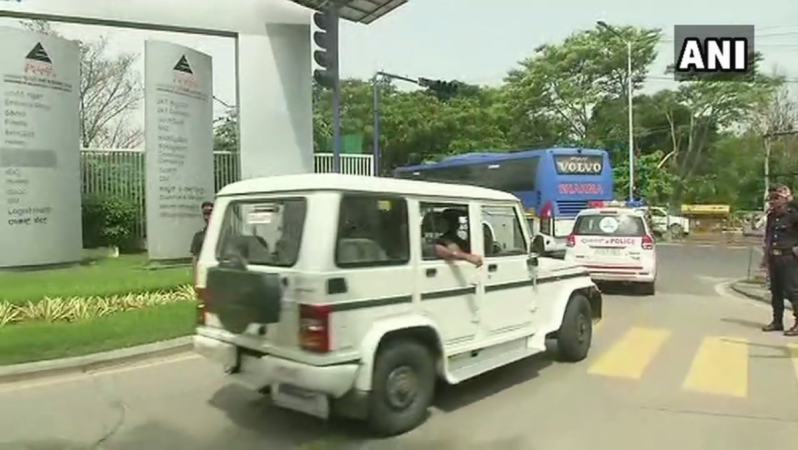 Prohibitory orders within two-km radius of the Vidhana Soudha
Massive security has been deployed in Bengaluru on Saturday, May 19, specially in the Vidhana Soudha area, where the floor test is scheduled at 4 pm
Siddaramaiah at Vidhana Soudha
Congress leader Siddaramaiah has already arrived at the Vidhana Soudha in anticipation of the floor test at 4 pm.
Yeddyurappa confident of victory
The chief minister seems confident that he will be able to prove his majority in the house at 4 pm and even said that he will announce several policies, including the farm loan waiver, Sunday.
He also said that BJP supporters will be celebrating at 5 pm.
Yeddyurappa has announced a Cabinet meeting Sunday, May 20.
A bus with BJP MLAs has also arrived at the Shangri-La.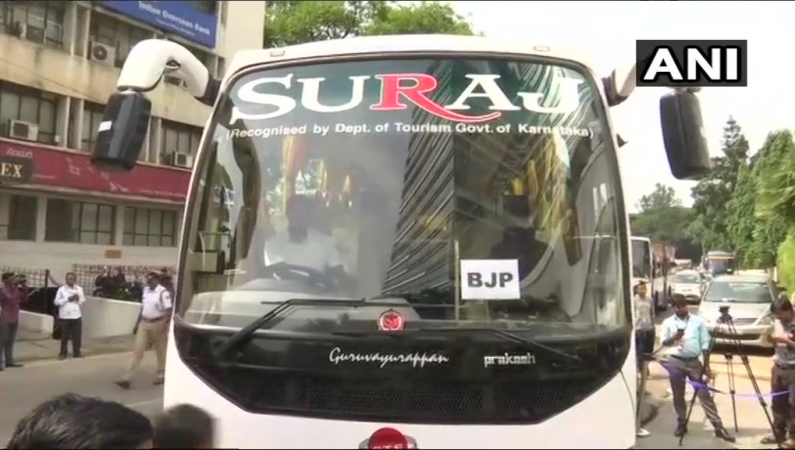 CM arrives at Shangri-La
Yeddyrurappa has arrived at the Shangri-La to hold a party legislature meeting
War of words between the two parties
The BJP, as well as, the Congress-JD(S) alliance have criticized each other and both the parties believe that the May 19 floor test will bring them good news.
While Sadananda Gowda from BJP told ANI: "Wait till 4.30 pm. We will win and BS Yeddyurappa will be the CM for 5 years," Congress leader Ghulam Nabi Azad added: "Numbers are against BJP. Numbers are in favor of us. MLAs are in our favour. We will form the govt."
CM BS Yeddyurappa is also confident of victory and claimed: "100% I am going to have absolute majority. Tomorrow I am going to take all that decision which I promised to the people of Karnataka."
"Both Congress and JD(S) have an unholy alliance. They are going to be rejected, people are going to reject them:" Union Minister Ananth Kumar
SC Hearing at 10:30 am
While BJP may be gearing up for the floor test, the Supreme Court will hear a petition filed by the Congress-JD(S) alliance at 10:30 am Saturday, May 19.
The alliance has now challenged Karnataka governor Vajubhai Vala's appointment of MLA KG Bopaiah as pro-tem speaker
Yeddyurappa prepares for the floor test
Prepping for the crucial day, BJP's BS Yeddyurappa will leave for the Shangri-La Hotel on Palace Road at 9 am, where he will hold a party legislature meeting.
Post the discussing, he will head to the assembly for the floor test.
JD(S) MLAs have also arrived in Bengaluru
The MLAs have checked into the Le Meridien hotel
Congress MLAs reach Bengaluru
The Congress MLAs, who were whisked away to Hyderabad over fears of poaching, have reached the IT city as BJP gears up to prove a majority in the house.
The floor test is scheduled at 4 pm.
Images showing Congress MLAs arriving at the Hotel Hilton in Bengaluru
Questioning governor Vajubhai Vala's decision to let BJP form the government and even administer oath to Yeddyurappa, the Supreme Court ordered the BJP to face the floor test Saturday. The SC was hearing a petition filed by the Congress-JD(S) alliance. The governor had earlier given the CM 15 days to prove majority in the state.
The BJP had claimed stake to form the government saying that it was the single largest party in the state with 104 seats in its name, as opposed to the Indian National Congress who won 78 seats. However, the Congress is now claiming to have majority as it has formed an alliance with the JD(S), which won 39 seats in the state elections held May 12.
While one wonders how the BJP plans to prove its majority in the house May 19, considering it only has a few hours to attain the magic 112 number and very little ways of doing it, the Congress and JDS have whisked its MLAs away to Hyderabad over fears of poaching.
The Congress and JD(S) MLAs were taken to Hyderabad late Thursday, May 17, night and are lodged at the Hotel Taj Krishna Palace at Banjara Hills. The group was, in fact, supposed to be taken to the city of pearls in chartered planes, but when this plan couldn't be put into action, the MLAs were put on buses to Hyderabad.
The two parties had already said that the MLAs would be taken away to another city to keep them safe from being poached by the BJP.
Congress leader DK Shivakumar had accused the BJP of trying to "poach MLAs" and told ANI: "They (BJP) are poaching our MLAs, we know that. Every day there is a lot of pressure. But, it not so easy because two parties have the necessary numbers.
"People are watching this," he told ANI. So is he once again in-charge of safeguarding these MLAs and will they too be moved somewhere else? "Yes, definitely there is a plan. We have to safeguard our MLAs. We will let you know what is the plan."
While the SC's order of a floor test may have been an advantage to the Congress-JD(S) alliance, the governor strangely appointed three-time BJP MLA KG Bopaiah as pro tem speaker of the assembly as opposed to eight-time Congress MLA RV Deshpande. As per rules, the senior member of the house is appointed as speaker, which in this case is Deshpande.
Vala's move has now raised several eyebrows, but it looks like Karnataka's fate will finally be sealed May 19, when the BJP tries to prove its majority in the state. Stay tuned for live updates.
The low down on the drama that has been playing out in Karnataka
The counting for the May 12 assembly election takes place on May 15, in which BJP manages to secure 104 seats, Congress wins 78 seats and the JD(S) wins 39 seats.
The state is left with a hung assembly as no party attains a 112 majority, required to form the government. In tune, the Congress forms an unconditional alliance with the JD(S) even inviting HD Kumaraswamy to be the CM.
However, the BJP claims a stake to form the government and says that it is the single largest party in the state. Governor Vala invites the party to form the government and gives it 15 days to prove majority.
The Congress-JD(S) alliance objects to this and files a petition with the SC to put a stay on Yeddyurappa's swearing-in ceremony. In a midnight hearing, the SC refuses to stay the oath-taking, but schedules another hearing for May 18.
Yeddyurappa takes oath as the 23rd CM of Karnataka during an elaborate ceremony at the Raj Bhavan in Bengaluru. He holds his first cabinet meeting and even promises to announce a farm loan waiver of Rs 1 lakh.
The Congress-JD(S) alliance vehemently opposes the swearing-in, calling it unconstitutional.
The other parties even claim that the BJP has already gotten in touch with them offering them ministerial positions in exchange of support.
"I got a call from the BJP leaders. They said come to us & we'll give a ministry to you. We'll make you a minister. But, I'm going to stay here. HD Kumaraswamy is our Chief Minister," Amaregouda Linganagouda Patil Bayyapur, a Congress member, told ANI.
Amid such fears, the Congress and JD(S) MLAs are moved to Hyderabad overnight.
The SC hears the petition once again May 18 at 10:30 am and questions Vala's decision to permit BJP to form the government and orders a floor test Saturday.
While the BJP says that it will prove majority in the house Saturday, the floor test may just spell its doom if it doesn't attain 112 seats, making way for the Congress-JD(S) alliance to form the government in Karnataka.