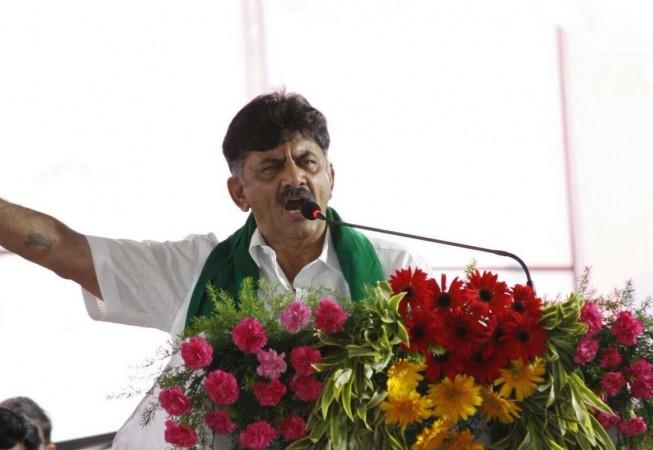 Will Congress stalwart DK Shivakumar have to resign from the newly sworn-in HD Kumaraswamy ministry in Karnataka? With the Income Tax department tightening noose around the Water Resources minister, grim questions about his future have surfaced.
The IT department, which had conducted a series of raids against him last year, has now slapped charges of running a hawala network on Shivakumar.
"As per the facts and analysis of the evidences, it is clear that accused number 1 (Mr. Shivakumar) has set up an extensive network of persons and premises across Delhi and Bangalore in order to transport and utilise unaccounted cash," the I-T department said.
In its complaint before the Special Court for Economic Offences, the I-T department added that the All India Congress Committee (AICC) was a direct beneficiary of the cash operations carried out by Shivakumar.
"Shivakumar set up an exclusive network of persons and premises across Delhi and Bengaluru in order to transport and utilise unaccounted cash. It is pertinent to note that unaccounted cash of '8.5 crore has been found and seized in four premises of Delhi which are directly relatable to DKS," the tax office's complaint said.
The IT department had sent Shivakumar a fourth notice on Wednesday. The tax investigation against the prominent Vokkaliga community leader in Karnataka stems from a series of raids on his properties and premises in August 2017. The tax authorities had said at that time that several hundred crores worth of unaccounted assets had been unearthed in the raid.
Shivakumar, a Congress strongman who played a clinical role in stitching together the Congress-JD(S) alliance in Karnataka last month, has denied all allegations, saying the IT raids were political vendetta. The minister has said he will fight the cases in the court.
"I know why they are doing this ... I will speak about it at an appropriate time. Let them do whatever they want to do. At the end of the day there is a law and courts," Shivakumar said.
Even as the IT department dusted up the old case file and sent notice to Shivakumar on Wednesday, Chief Minister HD Kumaraswamy had cancelled all appointments and went into a huddle with his father, former prime minister Deve Gowda.
On Thursday, when the details of the IT department's complaint emerged, the chief minister rejected BJP's calls for Shivakumar's resignation. "DK Shivakumar has right to legal recourse. Question of his resignation does not arise," Kumaraswamy told News 18.
Meanwhile, the Congress party has maintained that a witch-hunt is on against Shivakumar.