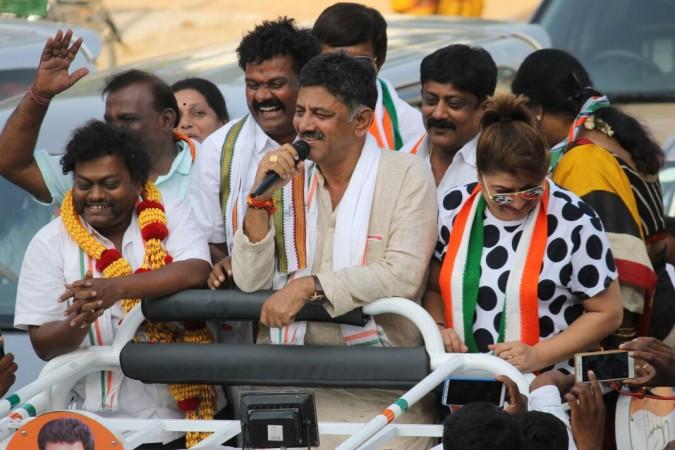 Amidst the intense power struggle during the Karnataka assembly elections, trouble-shooter DK Shivakumar managed to keep the Congress flock together while defeating BJP's attempt for horse trading. But the former energy minister is reportedly upset with the Congress high command after missing out on becoming the Deputy Chief Minister of Karnataka. The post has been bagged by KPCC president G Parameshwara.
TV9 reports that DK Shivakumar and his supporters are upset with the party for not giving him the post of Deputy Chief Minister. The Vokkaliga strongman and his brother DK Suresh shared their anguish in the meeting held by the party with the newly-elected members of the Congress.
"The party needs us to bring out of the crisis, but we are overlooked when it comes to positions," the channel quoted DK Suresh as saying in the meeting before he walked out with his supporters. AICC secretary Yashomati Thakur tried to pacify him, but her words did not yield the desired response.
"Shivakumar was hoping to take oath as deputy chief minister along with Kumaraswamy. He was also promised the post of KPCC president. However, the high command has asked him to give up his aspiration to become deputy chief minister for now, while he is likely to be given the KPCC chief's post," a close aide of Shivakumar told Deccan Herald.
With Vokkaliga leader HD Kumaraswamy as the Chief Minister of the Congress-JD(S) coalition government, the Congress high command is unwilling to hand over the deputy chief ministerial post to another person from the same community. They fear that this might send a different message to other communities in the state. Congress has instead chosen KPCC chief G Parameshwara for the post.
Now, Shivakumar has pinned his hopes on becoming the next president of the Karnataka Pradesh Congress Committee.
DK Shivakumar has managed to establish himself as a tall leader in the Congress over past years. He successfully guarded the party's interests by keeping Congress MLAs from being poached by rivals, and also brought independent candidates to support the Congress-JD(S) alliance. The controversial leader has evidently played a key role in ensuring Congress stays in a strong position in Karnataka.
As a result, HD Kumaraswamy from JD(S) is turning the Chief Minister of Karnataka and he is taking oath on Wednesday, May 23.