The Congress-JD(S) displayed a massive show of strength against the BJP when HD Kumaraswamy was sworn in as the chief minister of Karnataka. But looks like the JD(S) leader helming the coalition government is not too happy with the responsibilities that come with being a chief minister.
Talking at a party function in Bengaluru on Saturday, July 14, the JD(S) leader very visibly teared up as he spoke about the pressure of the chief ministerial role and the toll it was taking on him.
Ironically, the function held in the state capital was to felicitate HD Kumaraswamy's role as the chief minister of Karnataka. Here's what he had to say about the job, as quoted by Deccan Chronicle:
The CM's post is not a bed of roses, it's a bed of thorns. If the pressure gets to me, I'll have no hesitation in resigning in less than a couple of hours. I'm not after power. I was only interested in becoming CM to save our farmers from debt trap.
You are standing with bouquets to wish me, as one of your brothers became CM and you all are happy, but I'm not. I know the pain of coalition government. I became Vishkantha (receptacle of all poison) and swallowed the pain of this government."
Kumaraswamy added that as a chief minister, people gathered around him to hear his speech, however, they do not remember him and his party candidates at the time of elections.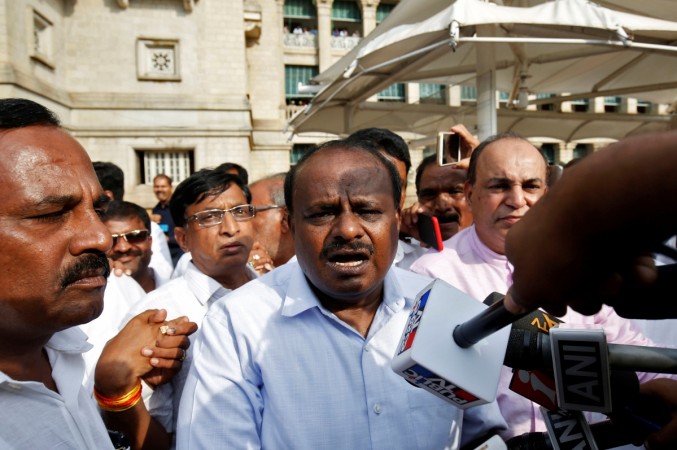 People gather in large numbers to listen to my speech but they will forget my party at the time of voting. I do not blame the electorate. I have undergone heart surgery for the second time and my body is working without any rest. I became Chief Minister due to the blessings of my parents and God's grace and formed the government with the help of Congress."
Kumaraswamy's father and Janata Dal (Secular) patriarch HD Deve Gowda did not want him to be the chief minister. Deve Gowda had stated that he was worried about his son as he works almost 18 hours a day, despite his medical conditions, reports The Times of India.
Watch the video here:
#WATCH: Karnataka CM HD Kumaraswamy breaks down at an event in Bengaluru; says 'You are standing with bouquets to wish me, as one of your brother became CM & you all are happy, but I'm not. I know the pain of coalition govt. I became Vishkanth&swallowed pain of this govt' (14.07) pic.twitter.com/cQ8f90KkFT

— ANI (@ANI) July 15, 2018