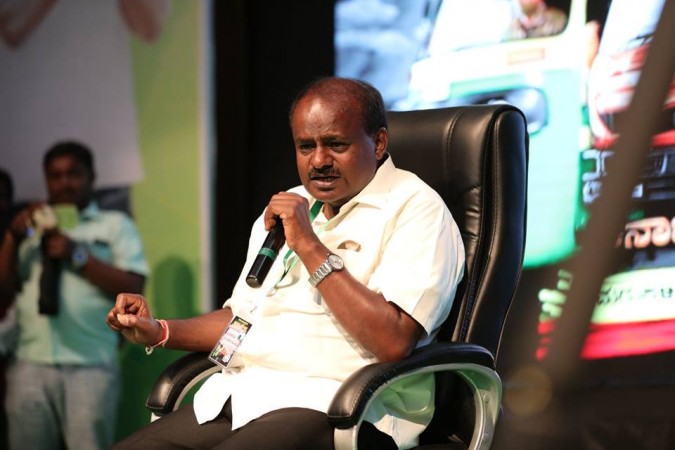 While Karnataka's Chief Minister HD Kumaraswamy has been praised for his austerity measures, there is one move of his that has received flak - his Rs 1.50 core customised SUV.
The black Range Rover has been fitted with special shock absorbers and a customised seating structure for the comfort of the CM. While Kumaraswamy is allowed to use any vehicle of his choice, he has reportedly chosen to use the Range Rover since his family believes it is lucky for him.
The vehicle - KA 42P 0002 - has been registered in the name of Kasturi Medias Pvt Ltd. and reportedly has a milage of just 12km per litre. In contrast, former Chief Minister Siddaramaiah used a Toyota Fortuner, that only cost a fraction of HDK's Range Rover.
"It is a bad precedent to set," The Times of India quoted social activist BH Veeresh as saying.
In response, the chief minister's office said that he uses the vehicle due to his health condition. Kumaraswamy has previously undergone two heart surgeries and is reportedly asked to minimise travel strain as per doctors. The office said that since he was using the car before he became the Chief Minister, he found it very comfortable and decided to continue using it, rather than take up the government-provided vehicles.
Since coming into office, the CM has implemented a range of austerity measures including spending less on the renovation of offices, living in his own home rather than the government-allocated bungalow and asking his colleagues to fly economy class rather than business. He has also asked for no new vehicles to be purchased, either for him or his colleagues.
All these measures he believes will help save money that can be used to waive off the loans of farmers in the state.
The family's beliefs, however, haven't stopped the car from being pulled up. Once it was caught for being parked in a no-parking zone and another time for taking a U-turn in a prohibited junction. The office said that both times the fines have been paid promptly.
In related news, Karnataka Food and Civil Supplies Minister BZ Zameer Ahmad Khan drew flak for his request for a Toyota Fortuner. The minister said he was used to travelling in a 'big car' since childhood, and felt the provided Innova was not big enough.