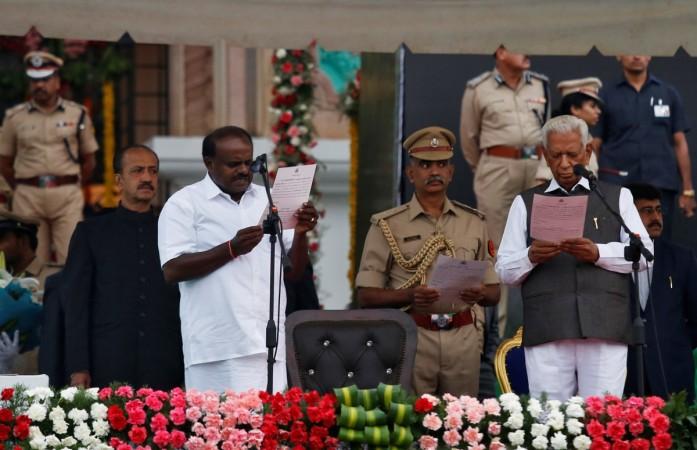 Days after announcing waiver of loans taken by farmers, Karnataka Chief Minister HD Kumaraswamy has directed the officials to reduce extraneous expenses to help strengthen the state's finances.
Chief Minister of the state, HD Kumaraswamy has come under immense pressure over the issues of the waiver of farmers' loan. He held a public consultation with farmer leaders and representatives on May 30. He said that saving farmers is his government's priority and promised to honour his pre-poll assurance to waive farm loans within 15 days.
Before the assembly elections, former Chief Minister Siddaramaiah had announced waiver of all loans up to Rs 50,000 taken by farmers from cooperative banks and it cost the state Rs 8,165 crore. Now, HD Kumaraswamy's promise covers not just nationalised banks, but also all loans taken from the formal financial sector. It is likely to cost at the minimum of Rs 53,000 crore to the state.
This decision will affect the economy of the state adversely and the economists and political analysts were wondering how the government would manage the situation. HD Kumaraswamy embarked on an austerity drive and told the officers to review proposals on buying new vehicles and discourage renovation of government offices and residences.
"He (chief minister) has instructed the officials to cut down on unnecessary expenditure, if any, in the state administration," PTI quoted a statement from the chief minister's office.
However, economists and political analysts say that though "extreme austerity" measures could help in a small way, it would cripple, not just the economy, but also agriculture support infrastructure. This includes power and irrigation, apart from slashing budgetary allocations to sectors including education, health and other essential services.
Reports suggest that the finance department has planned to cut down upto three to five percent in the budgetary allocations of all the departments. Besides, it has planned to cut down Rs 2,000 crore from some departments that get the budget of over Rs 10,000 crore every year. This way, the government can save around Rs 15,000 crore per year.
In a statement to a Kannada daily, K Ratna Prabha, the Chief Secretary to state government, said that HD Kumaraswamy has already directed the officials on cutting down unnecessary expenses. He will decide on other savings from various departments. With regard to this, he will soon hold a budget meeting and he will readjust the budget allocation to different department based on their priorities.
ಸಾರ್ ಸರ್ಕಾರದ ಯೋಜನೆಗಳ ಜಾಹೀರಾತು ನೀಡಲು ಕೋಟ್ಯಂತರ ರೂಪಾಯಿ ವೆಚ್ಚಕ್ಕೆ ಕಡಿವಾಣ ಬೇಕು ಇದರಿಂದ ಉಳಿತಾಯ ಮಾಡಿ.. ಹಣ ಹೊಂದಿಸಿ.. ಯೋಜನೆ ಜನರಿಗೆ ತಲುಪಿಸಿದರೆ ಸಾಕು ಅದೇ ದೊಡ್ಡ ಜಾಹೀರಾತು ಈಗ ಜನರಿಂದ ಜನರಿಗೆ ವಾಟ್ಸ್ ಆ್ಯಪ್ ಫೇಸ್ ಬುಕ್ ಮೂಲಕ ಉಚಿತವಾಗಿ ಜನರಿಗೆ ತಲುಪುತ್ತದೆ.. ಜಾಹೀರಾತು ನೀಡುವ ಅಗತ್ಯವಿಲ್ಲ..

— Mohankumar H N (@hn_yhn) May 31, 2018
ಸರ್, 53000 ಕೋಟಿ ಸಾಲ ಮನ್ನಾ ಅಷ್ಟು ಸುಲಭವಲ್ಲ ಅಂತ ಅನಿಸುತ್ತದೆ ಆದರೆ ಅದು ಅಸಾಧ್ಯವೇನಲ್ಲ. ನಾವು ಏಕೆ GIVE IT UP compain ಮಾಡುವುದರ ಮೂಲಕ ಸ್ವಲ್ಪವಾದರೂ ರೈತರೇ ಸ್ವತಃ ಸಾಲ ಮನ್ನಾ ಬೇಡ ಎಂದು ಬಿಟ್ಟರೂ ಹೊರೆ ಕಡಿಮೆಯಾಗುತ್ತದೆ ಹಾಗೂ ಒಂದು ಮಾದರಿ ಆಗುತ್ತದೆ.

— KRISHNAMURTHY (@KRISHNA07456144) May 31, 2018
ಅಣ್ಣಾ ಸಾಲ ಮನ್ನಾಗೆ ಹಣ ಹೊಂದಿಸಲು ಒಂದು ಸಲಹೆ ಸರ್ಕಾರದ ತಾಲ್ಲೂಕು, ಜಿಲ್ಲಾ ರಾಜ್ಯ ಮಟ್ಟದ ಹಾಗೂ ನಿಗಮ ಮಂಡಲಿಗಳ ಬ್ಯಾಂಕ್ ಖಾತೆಗಳಲ್ಲಿ ಸರ್ಕಾರದ ಅನುದಾನಕ್ಕೆ ಬಂದಿರುವ ಬ್ಯಾಂಕ್ ಬಡ್ಡಿ ಸರ್ಕಾರಕ್ಕೆ ವಾಪಸ್ ಪಡೆದರೆ ಸಾವಿರಾರು ಕೋಟಿ ರೂಪಾಯಿ ಆಗುತ್ತೆ ಗ್ರಾಮಪಂಚಾಯತ್ ಹಿಡಿದು ಸರ್ಕಾರಿ ಶಾಲೆ ವರೆಗೆ ಸರಿಯಾದ ಮಾಹಿತಿ ಪಡೆದು ನೋಡಿ..

— Mohankumar H N (@hn_yhn) May 31, 2018