Following the three-cornered fight between Congress, BJP and JD(S) in the state assembly elections, HD Kumaraswamy of Janata Dal-Secular took oath as the 24th chief minister of Karnataka.
JDS and Congress have come together in an unlikely marriage to form a coalition government after BJP's Yeddyurappa resigned as the chief minister in the assembly on May 19.
Here's what happened:
HD Kumaraswamy takes oath as 24th CM of Karnataka.
Governor Vala administers oath to HD Kumaraswamy.
Dr G Parameshwara takes oath as Deputy CM of Karnataka.
Politicos on their way to Vidhan Soudha
Governor Vajubhai Vala has arrived at Vidhan Soudha.
Sonia Gandhi and Rahul Gandhi have also reached. They greet HD Kumaraswamy, Mamata Banerjee and Deve Gowda.
Former Prime Minister HD Deve Gowda and his wife Chennamma arrive at Vidhana Soudha.
SP and BSP leaders Akhilesh Yadav and Mayawati are seated on the dias.

Janata Dal (United) leader Sharad Yadav and JD(S) leader Danish Ali also seen on stage.
Congress leaders Sonia Gandhi and Rahul Gandhi are heading towards Vidhana Soudha.
The mother-son duo get a first-hand experience of the Bengaluru traffic.
Siddaramaiah, G Parameshwara, MM Kharge and several other MLAs are accompanying the Gandhis.
Former Indian prime minister HD Deve Gowda is also on his way for the oath-taking ceremony.
Kerala CM Pinarayi Vijayan has reached Vidhana Soudha.
Seating arrangement for 7 BJP leaders has been made at the left-hand side of the dias.
The seats have been arranged for BS Yeddyurappa, Ananth Kumar and KG Bopaiah and other BJP leaders.
However, several BJP leaders are reportedly boycotting the swearing-in ceremony.
Sonia Gandhi's pearls of wisdom for Congress MLAs
Sonia has said that the political scenario in India is changing.
The UPA chairperson lauded Congress MLAs, saying they fought the elections courageously and emerged victorious.
She added that the coalition government should not be disturbed.
Weather playing spoilsport?
Reports suggest that the rains could delay the swearing-in ceremony.
Temporary roofing erected over the dias to provide shelter.
The rains have not dampened the spirits of Kumaraswamy's supporters as they shout slogans hailing the CM-elect at Vidhana Soudha.
MeT department has said that thunderstorms are expected in the next three to four days.
Heavy rains cause massive traffic snarls outside Vidhana Soudha.
Congress-JD(S) combine conifdent of its victory
Congress leader Ashok Gehlot is confident that the alliance will win the floor test on Friday (May 24). "Kumaraswamy will prove majority in floor test," Hindustan Times quoted Gehlot as saying.
Heavy rains in Bengaluru will take a toll on the seating arrangements made for the over 1 lakh guests.
Politicos start arriving at Bengaluru

Delhi CM Arvind Kejriwal, Andhra Pradesh CM Chandrababu Naidu and CPI(M)'s Sitaram Yechury interacted before the swearing-in ceremony.
Rahul Gandhi and Sonia Gandhi have arrived in Bengaluru for HDK's oath ceremony.
CPM general secretary Sitaram Yechury, NCP chief Sharad Pawar, West Bengal CM Mamata Banerjee and Pondicherry CM Velu Narayanasamy have reached Bengaluru.
"We've come here to witness swearing in ceremony of HD Kumaraswamy and express our solidarity to him. In future, we'll work together to protect and promote national interest. We're here to strengthen all regional parties," Andhra CM N Chandrababu Naidu and Mamata Banerjee said, reported ANI.
Andhra Pradesh chief minister Chandrababu Naidu has arrived in Bengaluru to attend Kumaraswamy's oath ceremony.
Kerala CM Pinarayi Vijayan of CPI(M) too has reached.
INC president Rahul Gandhi and mother Sonia Gandhi are scheduled to arrive at 2 pm.
Sanjay Raut of Shiv Sena said that his party members won't be able to attend the event as they are busy for Palghar Lok Sabha By-Election.
"Shiv Sena had received invitation too (for HD Kumaraswamy's swearing-in ceremony), HD Deve Gowda ji invited Uddhav ji hoping someone from us would come but all of us are busy for Palghar Lok Sabha By-Election. So we can't go but our best wishes are with him," Raut said, reported ANI.
Saffron party protests against JD(S)-Congress alliance
BJP has launched a state-wide protest in Karnataka. They are observing an 'Anti-People's Mandate Day in the state in view of the swearing-in ceremony of the Janata Dal (Secular)-Congress coalition government
"Hunger, greed and power is the basis of JD(S)-Congress alliance, such alliance will not even last 3 months," ANI quoted Yeddyurappa as saying.
BJP leaders unhappy with CM-elect
Shobha Karandlaje, a member of the saffrom party has called HD Kumaraswamy a 'liar'
Prioritising welfare of farmers
Kumaraswamy has said that the welfare of the farmers in Karnataka would be his prime focus.
"All the promises made in the manifesto will be implemented. Safeguarding the interest of the farming community is our top priority," ANI quoted the CM-elect as saying.

Kumaraswamy may move into Chief Secretary house
After taking oath as the 24th CM of Karnataka, Kumaraswamy will likely move into Chief Secretary, K Ratna Prabha's bungalow, as former chief ministers of Karnataka feel that the designated bungalow to them behind Lalit Ashok is 'jinxed', reported Bangalore Mirror.
CM-elect on a temple run
Kumaraswamy and his former wife Anitha have gone to Chamundi hills to perform a special puja.
They will also visit Ramanagara before returning to Bengaluru.
The CM nominee has visited Lakshminarasimhaswamy temple and Shiva temple in his native village in Holenarsipura, Sri Kshetra Dharmasthala and Sringeri Sharada Temple in the past few days
Celebrations are on outside Kumaraswamy's residence as he preps up to to take oath as CM for the second time in 12 years.
Security beefed up outside Vidhan Soudha
Security has been tightened outside the Vidhan Soudha. Police personnel and para military security has been deployed.
3,000 traffic policemen have also been deployed to control the traffic congestion.
BJP to stage protest
BJP, which saw to its fall on May 19, will be a staging a protest across the state on Wednesday against the formation of the Congress-(JD-S) combine.
"As the Congress-JD-S alliance hijacked the people's mandate and formed an unholy alliance to form a coalition government on Wednesday, we are observing the occasion as the 'anti-people's mandate day' across the state," IANS quoted BJP's spokesman S Shantaram as saying.
BSY will also lead a protest in Bengaluru. reported News 9.
Floor test
The Congress-JD(S) combine will face a floor test on May 24.
Congress to take lion's share in Karnataka cabinet
Congress leader KC Venugopal said that his party met with the JD(S ) leaders on Tuesday (May 22) and discussed about the cabinet formation.
He added that out of the 34 ministries, 22 ministries will go with Congress and 12 ministries, including that of the CM will be with JD(S).
Portfolio allocation will be decided after Kumaraswamy takes oath as CM.

G Parameshwara of Congress has been chosen to be the deputy chief minister of Karnataka.
"I and Parameshwara will be taking oath tomorrow," Kumaraswamy told the media.
The CM designate of Karnataka has said that the speaker and deputy speaker would be elected on May 25.
News agency ANI has said that Congress's KR Ramesh Kumar will be the speaker of the Karnataka Vidhana Soudha.
Celebrations begin in Bengaluru
Tribal dancers arrived outside Kumaraswamy's house, early on Wednesday morning.

Preparations for oath ceremony outside Vidhana Soudha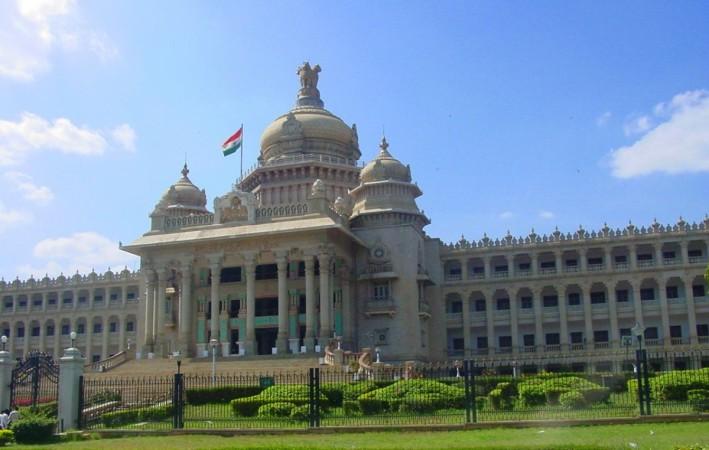 The oath ceremony, which will begin at 4:30 pm will be held on the flight of stairs of the Vidhan Soudha.
On Monday (May 21), a puja was held by a priest outside the Vidhan Soudha before a stage was erected.
Seating arrangement for over one lakh people have been made and the road between Vidhan Soudan and the Karnataka High Court has been cordoned off.
Around 3,000 chairs have been placed in a separate enclosure for the VIPSs attending the ceremony.
A Deccan Herald report has said that a special silk shirt and a dhoti has been purchased for Kumaraswamy's for the event.
A recap of the events in the last few days
Kumaraswamy was chosen as the nominee for the position of the chief minister of Karnataka when BJP failed to win 112 seats — the numbers needed to form government in Karnataka, on May 15.
Karnataka Governor Vajubhai Vala then invited BJP to form the government and prove their majority in a span of 15 days. BJP's CM candidate BS Yeddyurappa took the oath on May 17.
On May 19, the Supreme Court's order, wherein it asked BJP to face a floor test at the house, spelt doom for the saffron party as it got less than one and a half days to prove their majority. As a result Yeddyurappa failed to muster up the numbers required to form the government and resigned, following which Kumaraswamy picked up his invite to become the next CM.
Since then Kumaraswamy has been prepping up for his oath taking ceremony. He flew down to Delhi Monday (May 21) and personally invited Congress chief Rahul Gandhi and UPA chairperson Sonia Gandhi to his swearing-in ceremony.
Also, a slew of regional political heavyweights opposing BJP will be attending the event, which is being seen as a show of unity by the opposition leaders ahead of the 2019 Lok Sabha elections.
"I had a warm and cordial meeting this evening, in Delhi, with HD Kumaraswamy. We discussed the political situation in Karnataka and other matters of mutual interest. I will be attending his swearing in as Chief Minister of Karnataka on Wednesday in Bengaluru," Rahul tweeted.
Who are invited for HD Kumaraswamy swearing-in?
Delhi Chief Minister Arvind Kejriwal
Kerala CM Pinarayi Vijayan
West Bengal CM Mamata Banerjee
Rashtriya Janata Dal leader Tejashwi Yadav
Bahujan Samaj Party chief Mayawati
Andhra Pradesh CM Chandrababu Naidu
Former Uttar Pradesh CM Akhilesh Yadav
DMK working president MK Stalin
Actor-turned-politician Kamal Hassan
Telangana CM K Chandrashekar Rao and his son KTR
CPM general secretary Sitaram Yechury
National Conference patriarch Farooq Abdullah