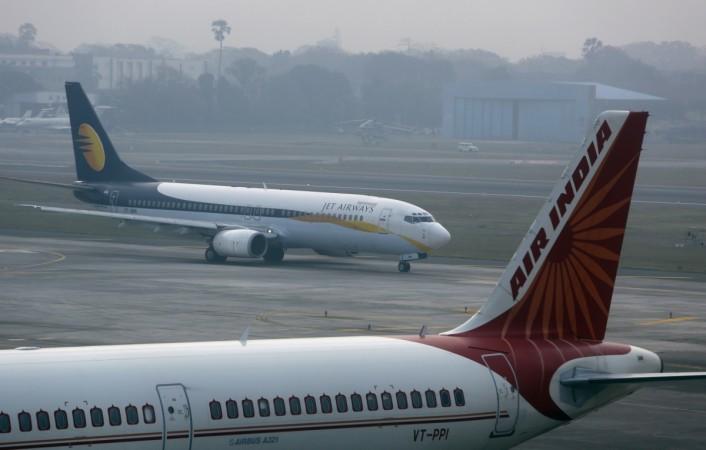 Shares of aviation companies ended with gains on Thursday, though Indigo-owner Interglobe Aviation outperformed Jet Airways and SpiceJet. The domestic air traffic data for May is due in a few days, amid carriers announcing special airfares to increase market share.
Interglobe Aviation closed 2.47 percent higher at Rs 1,184 while Jet Airways ended almost flat at Rs 534. Low-cost carrier SpiceJet dropped to Rs 122 after hitting an intraday high of Rs 125.
The BSE Sensex closed 80 points lower at Rs 31,075.
Privatising Air India: Tatas eyeing state-run carrier?
CBI to investigate Air India-Indian Airlines merger, probe purchase of 111 aircraft
Jet Airways-investor Etihad Airways could merge with Emirates: Economist
India's 12 carriers in the domestic air traffic space have been witnessing a slowing down of growth over the past three months, YoY — 15.15 percent in April, 14.91 percent in March, 15.77 percent in February and 25.13 percent in January.
In absolute terms, the carriers flew 91.34 lakh (9.13 million) passengers in April, 9.04 million in March, 8.65 million in February and 9.57 million passengers in January.
The three listed entities also posted a fall in quarterly net profit for Q4 due to rising fuel costs.
The largest carrier in terms of passengers flown is IndiGo, followed by Jet Airways, state-run Air India and SpiceJet. Other players include GoAir, AirAsia India and Vistara.
Staying with market share, former Air India director Jitendra Bhargava tweeted it was unfair to say that the national carrier's market share was a low 14 percent given its focus on global routes.
Govt's erroneous narrative. Harps on 14% domestic mkt share when AI has 75% capacity deployed on international sectors. #airindiastakesale

— Jitender Bhargava (@JitiBhargava) June 10, 2017
He also tweeted that the carrier's problems started around 2004, resulting in debt-piling: