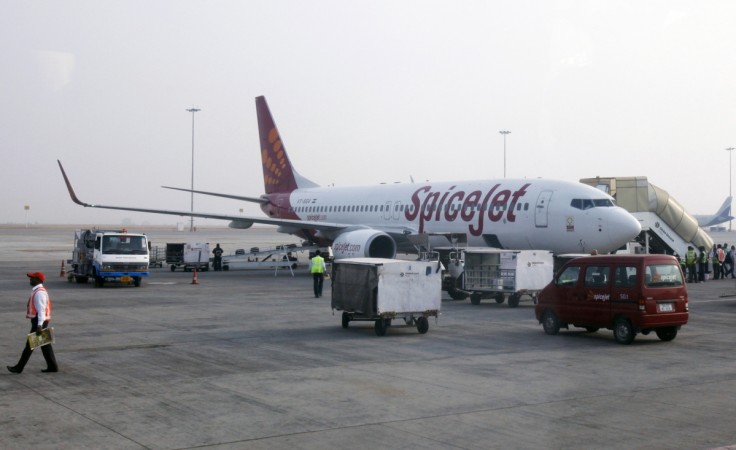 SpiceJet shares are likely to fall on Monday when the stock exchanges open for trading after the low-cost carrier's disappointing March quarter (Q4) results. The airline's net profit dropped 43 percent to Rs 41.6 crore from Rs 73 crore in the corresponding period last year. On a sequential basis, the fall was steep, from 181 crore in the December quarter.
It may be recalled that the company's March 2016 quarter was due to a one-time expense of Rs 173 crore towards fleet upgradation.
Read: Privatising Air India: Tatas eyeing state-run carrier?
Income from operations stood at Rs 1,625 crore in Q4, up 10 percent from Rs 1,475 crore in the year-ago period, according to statements released to the media by SpiceJet on Saturday.
The company said that the fall in Q4 net profit to Rs 41.6 crore was due to note ban and rising fuel costs. "Demonetization resulted in significant decline in yield in Q3 and Q4. Increase in fuel cost was at 46 percent in Q4 eroding approximately Rs 160 crore of profit."
For the financial year 2016-17, net profit came in at Rs 430 crore in comparison to Rs 407 crore last fiscal while operating income rose to Rs 6,191.3 crore from Rs 5,088 crore in 2015-16.
"Two successive profitable years, a record aircraft order and emerging as India's largest regional operator are testament of the fact that SpiceJet remains firmly on track on its long term growth strategy," Ajay Singh, chairman and managing director of SpiceJet said in the statement.
The other listed aviation companies — Jet Airways and IndiGo-owner Interglobe Aviation — had also posted weak Q4 results, mainly due to rising fuel costs.
Full-service carrier Jet Airways reported 95 percent in its Q4 net profit to Rs 23 crore as against Rs 426 crore in the corresponding period last year and 3.5 percent rise in income to Rs 5,728 crore from Rs 5,533 crore.
Earlier, Interglobe Aviation had also reported weak Q4 numbers. Net profit fell 24.6 percent to Rs 440 crore in comparison to Rs 584 crore in the year-ago period while operating profit margin (EBIDTAR) dropped to 29.9 percent from 37.9 percent for March 2016 quarter.
The fall in net profit was mainly due to 71 percent rise in fuel costs to Rs 1,750 crore for Q4 as against Rs 1,024 crore in the corresponding period last year. Overall costs stood at Rs 4,523 crore, up 30.8 percent from Rs 3,458 crore in the year earlier, according to regulatory filings by Interglobe Aviation.
Share prices of SpiceJet, Jet Airways and Interglobe Aviation closed at Rs 103.80, Rs 484.55 and Rs 1,115.15, respectively, on the Bombay Stock Exchange on Friday.
Other carriers — Air India, AirAsia India, Vistara, GoAir, Air Costa and Zoom Air — are not listed.