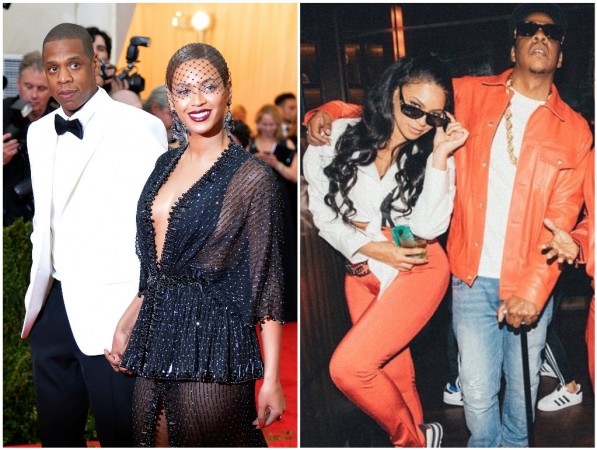 Queen B and Jay Z have done it again. And by it, we are talking about slaying Halloween by pulling off the most iconic Halloween costumes ever. Adding to their list of couple's Halloween costumes, this year, the parents of three decided to go as Li'l Kim and Notorious BIG.
Also read: Kim Kardashian, Amal Clooney, Cindy Crawford and other celebrities who are totally doing Halloween '17 right
Beyonce's outfit was all about Li'l Kim from Missy Elliot's music video for "The Rain," all with a curly black wig, a white dress shirt, black suspender and sunglasses to match the ensemble to perfection. To top it all off, she even added the classic mole above her lips to pull off the look.
Jay Z on the other hand sported a classic look from his fellow Brooklyn rapper, full with red leather jacket, white shirt teamed with jeans, sunglasses. And of course, the classic cane!
Known for their right on point Halloween transformations with couple costumes every year, it was expected that Jay Z and Beyonce would drop bombs this Halloween. But they weren't the only one with couples' costumes on "fleek."
Rachel Lindsay and Bryan Abasolo from The Bachelorette paid tribute to the late Hugh Hefner by Bryan dressing up as the Playboy founder and Rachel going as one of his bunnies.
Gwyneth Paltrow and Brad Falchuk probably won twisted Halloween costume this year when the 45-year-old actress created a throwback moment from hher 1995 suspense thriller Se7en, by dressing up as her character's severed head, while boyfriend Brad dressed up as the movie's villain, Jon Doe.
When it comes to iconic costumes, Zoe Kravitz and Karl Glusman cannot be left out even though the first rule of Fight Club is you don't talk about Fight Club. But we have to talk about these two because they brought back the chilling Marla Singer and Tyler Durden from the cult movie.
Sarah Hyland and Wells Adams might have gone with the cliché ideas, but adorable nevertheless, by dressing up as Mike and Eleven from the popular Netflix original series Stranger Things. Twist in the tale was their gender-bent role reversal. Sarah went as Mike while Wells turned into Eleven!
Let's add some Demogorgons to that in the background. Perfect.
And talking about iconic couple costumes, we cannot list them all without Kelly Ripa and Ryan Seacrest, both of whom appeared on their show Kelly as Ryan as female characters from the widely acclaimed Handmaid's Tale.
But of course, special mention goes to the queen of social media presence, Kim Kardashian, as the 37-year-old transformed into the LGBTQ icon, Cher and teamed up with bff Jonathan Cheban to turn into Cher and Sonny from the 1970's.
Let's just say this was a rather 'spookacular year for Celebrity Halloween indeed.