Are you ready to binge on Stranger Things season 2? Well, the new season is set to arrive on Netflix just before Halloween. After waiting for 15 months, the much-awaited nine-episode series will be live on the streaming platform on October 27.
Also read: From strong cliffhangers to breathless finale: Stranger Things Season 2 has everything to excite you [REVIEW]
Here we have rounded up on the 5 reasons why to watch Stranger Things Season 2.
Eleven will be BACK
From a bunch of trailers and clips that have been released so far, what is clear is that Millie Bobby Brown's Eleven will be back from the Upside Down. But she will not be carrying the bald look anymore as she is already seen having short hair in the final trailer.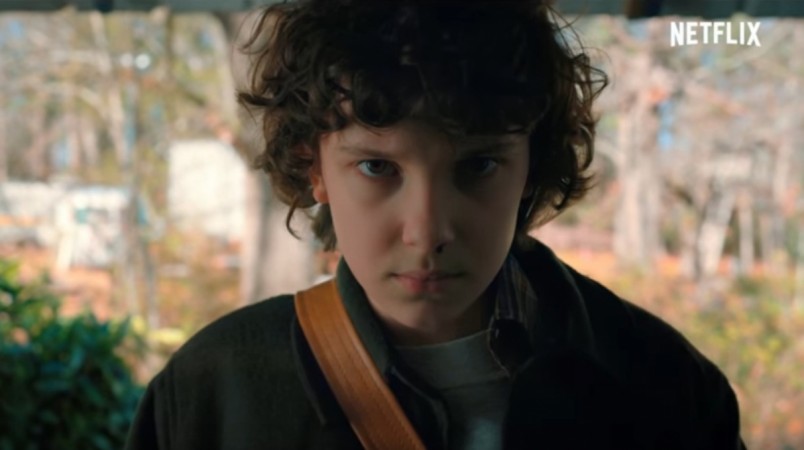 Core four will be back together
As we have seen in the last season that Will was rescued from the Upside Down, he will finally join his gang alongside Mike, Lucas and Dustin.
The trailer shows that Will and his gang have gone to a video game arcade and that's when he gets to see the mysterious clouds and the shadow monster.
Mike and Eleven to kiss?
A small teaser revealed that Mike will finally kiss Eleven. The actors revealed that they have been told several times by the Duffer brothers that they have to kiss at the end of the season. But they did not realise that it would happen in reality.
Will Nancy and Steve still be together?
After what happened in the first season of Stranger Things, fans might think that the duo will break up in the season 2. But it seems Nancy will still be with Steve, according to the trailer. Amid all the tensions, there are possibilities that Nancy and Steve might break up at the end of the season and Nancy would start dating Jonathon this season.
Eleven's mother
In the season 1, Joyce Byers and Sheriff Hopper's search for Will lead them to a similar child missing incident and that's how they meet Terry Ives. Terry, who is now mentally disabled and under her sister's supervision, believes that her baby has been taken by the government agency she used to work for. The case implies that Eleven is the missing daughter of Terry Ives.