The first season of Stranger Things sparked a frenzy worldwide. The Netflix series ahead of the release of the second season has been pumping up the excitement among fans engaging them with many 80s-themed movie posters, teasers, and a mind-blowing final trailer (which has been dropped on Friday the 13th).
Also read: THIS Stranger Things star fired his agent over sexual assault allegations
According to the critics, Duffer Brothers' creation will definitely satisfy the viewers while uncovering the mystery of Upside Down and Will Byers's sudden disappearance in the first season.
The official synopsis for Stranger Things season 2 reads —
"It's 1984 and the citizens of Hawkins, Indiana are still reeling from the horrors of the Demogorgon and the secrets of Hawkins Lab. Will Byers has been rescued from the Upside Down but a bigger, sinister entity still threatens those who survived."
Stranger Things Season 2 will arrive on Netflix on October 27, 2017.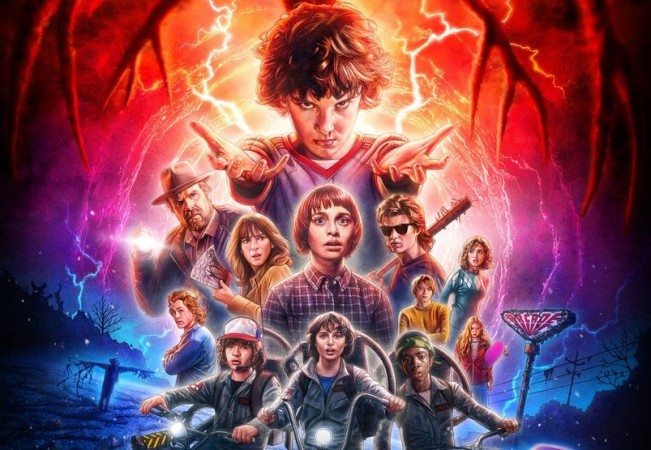 The cast of the show includes — Winona Ryder (Joyce Byers), David Harbour (Jim Hopper), Finn Wolfhard (Mike Wheeler), Millie Bobby Brown (Eleven), Gaten Matarazzo (Dustin Henderson), Caleb McLaughlin (Lucas Sinclair), Noah Schnapp (Will Byers), Natalia Dyer (Nancy Wheeler), Cara Buono (Karen Wheeler), Charlie Heaton (Jonathon Byers), and Matthew Modine (Dr Martin Brenner).
Here's what the critics are saying about the upcoming season.
Variety
"Like El, who has her own methods of getting her way, "Stranger Things" is pretty wily about how it gets past your defences. Gaten Matarazzo's comic timing is continually entertaining, Caleb McLaughlin makes the most of his expanded role and Brown's ability to summon emotion is as impressive as her character's ability to walk between worlds. And as it wraps up Season Two, it summons some of its most propulsive and emotionally effective storytelling."
The Hollywood Reporter
"It's that ensemble that still makes Stranger Things hum. Matarazzo and McLaughlin may have a little extra exposure this season, and their ability to resist getting hammy remains admirable. Schnapp was offscreen most of the first season, but assimilates immediately, and he and Wolfhard do well when the plot intensifies. The writers have wisely focused on the things that make Steve likeable and the things that make Nancy badass, and both actors benefit. In two seasons, Stranger Things has yet to reach the limitations of its diminutive stars, and it's the coming-of-age side of the story."
The Telegraph
"We see a lot more of (Noah) Schnapp this year and he proves himself to be just as enviably talented as his co-stars – who all wowed just about everybody with their performances last year. Mike (Finn Wolfhard), Will's sensitive best friend, is struggling to move on nearly as much Will and pining hard for Eleven. Dustin (Gaten Matarazzo) is as garrulous, nerdy and charming as before, still frequently getting the best lines and now with a complete set of teeth, while Lucas (Caleb McLaughlin) remains as cautious, cool and dynamic."
Vanity Fair
"Stranger Things 2 is still engaging throughout— and features plenty of charming performances. Though the early-mid-80s world of the series is perhaps a bit too over-articulated this season, things still look good, all earth-toned, autumnal, and wistful, in their way. "