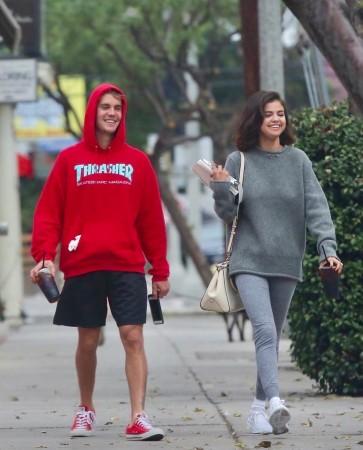 Looks like Selena Gomez and Justin Bieber are all set to prove what we had already reported about the two – a couple that prays together, stays together – quite literally too. As shocking as it might seem, the on-again, off-again couple are reportedly in the process of moving in together!
Life & Style magazine recently reported that the couple who have finally decided to rekindle their romance is wasting no time to start spending as much time together as possible now that they are back together and have decided to get married.
Also read: Selena Gomez is Billboard's Woman of the Year; did she just confirm relationship with Bieber?
"They're already hunting for a home so they can move in together," an insider close to the outlet spilled. "It was Selena's idea, and Justin is all for it. He's already looking at homes in the Calabasas [CA] area. They just can't wait to start their life together."
Makes sense, considering they spent most of the time dating on and off from 2010 until they called it splits in 2014. But while Selena, 25, has only seriously dated The Weeknd, 27, after that, Bieber, 23, has been linked with quite a few women every now and then.
However, "Jelena" seems to be endgame now that they have been pretty much inseparable, attending church, going on bike rides and enjoying date nights together.
But Selena's family is not one to let things go easily and consider her reunion with Bieber "disrespectful". "They want Selena to remain healthy," shared another source with Life & Style, adding, "and feel this could be the biggest mistake of her life."
Still, insiders revealed to InTouch magazine that, "Justin and Selena want a fresh start together, on neutral ground. The only way they can do that is by purchasing a mansion neither of them has lived in before."
Probably why they have been taking baby steps, starting with "baseball caps and a stack of clothes at her [Selena's] house." Adorable, right? "And Selena bought him a toothbrush and some products to keep there. Now, he's moved the majority of his belongings in."
This doesn't mean that they aren't looking for a new place though, as the insider added that, "They can't wait to start a family, so they're looking to buy a baby-friendly pad in Calabasas or Hidden Hills [outside LA]." And their ideal budget is reported "around $15 million."
Whether they are jumping into things, too much too soon, is still a matter of debate – especially with Selena's lupus and kidney transplant recovery being on the cards right now, but "they've both grown up so much," insists the insider.
"Being apart was crucial for them to move on and to realize they were meant to be together. Buying a home to live in as a couple will seal the deal."