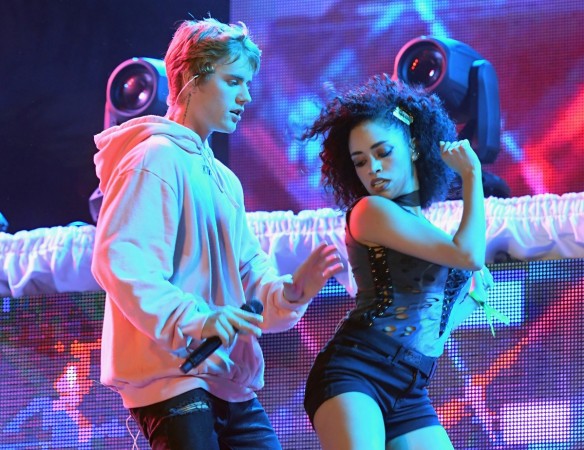 Justin Bieber has a new lady love and while that might not be the shocking part – given the singer's popularity – what does strike us is her resemblance with the Baby singer's former flame, Selena Gomez!
Also read: Did Selena Gomez collaborate with Justin Bieber for a love song? Leaked track sends fans into frenzy
The singer's relationship with Paola Paulin, the Ballers actress, was not confirmed but a source to Us Weekly, exclusively. "They're totally smitten with each other," shared the insider.
The couple were first spotted together in Beverly Hills, when they attended a church service together. That was September 27 and sources claimed they had first met only earlier that day.
"They met earlier in the day and he insisted she go to church with him," informed the source. But that wasn't all as they also continued their little soiree with an "intimate, private date."
The couple went back to Bieber's church again on Wednesday, October 4. They were spotted leaving together. Sources also mentioned how adorable the duo was, and of other tidbits and introductions.
"They were cute together at church," the source spilled about the couple. "Justin wanted Paola to meet the pastor, so he introduced her." Bieber's former flings, both Kourtney Kardashian and Hayley Baldwin were present at the service too.
Later on, the couple reportedly went to the Soho House in West Hollywood for a romantic dinner. As per the insider's words, "She had the salmon salad and he had the chicken salad. They were all over each other and didn't care who was watching. They left together after that."
While Justin has been linked with multiple celebrities this year, including Sophia Richie and Hailee Steinfeld too, the rumours were unsourced and had died down pretty soon. Paola seems to be the only confirmed romantic alliance for the 23-year-old heartthrob in a really long time.
Looks like Justin's sad little single-on-Valentine's-day post on Instagram has finally been answered! "I got no food, I got no job, our pets' heads are falling off and I got no Valentine," he had said, just months after his long time lady, Selena Gomez had made her relationship with The Weeknd, official.
As an insider has previously told People magazine, Bieber is doing "much better" this time around with the new relationship. "It was a really bad scene," the insider had mentioned about his health in the recent past prior to the dating rumours.
"He was just not himself. He was profoundly unhappy. Exhausted, low energy. He was just miserable. He needed to step back, recalibrate, and then figure out his next move." What had followed was him cancelling concerts on his Purpose World Tour and it was only when he returned to church, that he started getting back to his old self.
"It has been a process, but he's doing so much better," claimed the insider. "You can talk to him and see that the old Justin is coming back. He seems happier, more energetic. It's encouraging. He's not completely there, but he's definitely on his way."
As for us, all we can speculate that 'one less lonely girl' makes for one very happy Bieber!