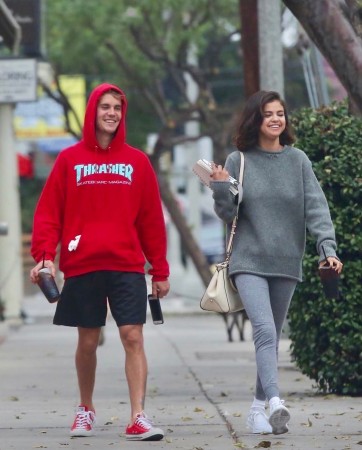 Looks like Justin Bieber was, in fact, the reason why Selena Gomez and The Weeknd split up. But hey, a couple that prays together most probably stays together too.
Spotted at the Hillsong Church in Los Angeles multiple times over the weekend, the two have been almost inseparable. The also attended a church event at the same venue on Friday, and services twice on Saturday.
Also read: Selena Gomez and The Weeknd split; is Justin Bieber the reason?
Even though they arrived separately to the church – dressed in chic casuals both the times, on Friday, the duo was spotted enjoying a private dinner, which has been labelled as another date night for them. Following the church event at the Microsoft Theatre, the two went to Morton's Steakhouse in downtown Los Angeles.
As per onlookers, Justin, 23, himself arranged for the dinner after the restaurant had closed so that he and Selena, 25, could have the place all to themselves. They arrived at 10 pm and stayed until midnight.
Almost anybody who knows the duo is aware of their rocky past and on-again, off-again relationship. But as per sources close to the Purpose singer, he is dying for Selena to announce them as officially back together, despite knowing that he still has to win over her family.
"Justin is doing great. Spending all week with Selena is the dream week for him," a source close to Bieber told People magazine. "He is trying to take things slowly, but it hasn't really worked. He is too excited to spend time with her."
Looks like he has something in common with every fan on the planet. "He is waiting for Selena to tell him that they are officially back together. He doesn't feel any rush, because no doubt they are already emotionally back together," added the source.
They also continued, addressing the fact that Justin still has a long way to go when it comes to gaining Selena's family's approval. "Justin still needs to win her family over and he realizes it will take some time. But he very much feels he is a different person."
The source added, "He knows what he did wrong in the past and understands that Selena deserves better. He wants to be with her and will do anything to prove he can be a great boyfriend."
And looks like it's working because Selena was spotted cheering for Justin at his hockey game in LA on Wednesday. This was shortly after the Bad Liar singer ended her 10 months relationship with the Starboy aka Abel Tesfaye.
While sources had confirmed that their relationship couldn't survive due to their separate schedules and time apart from each other, the timing of this rapidly budding affinity between Gomez and Bieber raises doubts.
Also, the split arrived shortly after Justin visited Selena in a reunion of sorts and how the two can be seen sporting all smiles on friendly bike rides together.
As sources told People magazine, "It seems their relationship now is very different. Justin is certainly a much better person. He would be a better boyfriend, too."