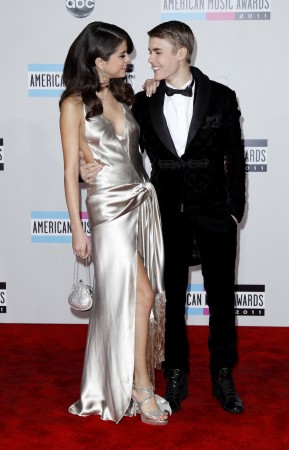 People close to Selena Gomez are reportedly not happy to see her with Justin Bieber. The reunion apparently reminds them of all the hard times she had to go through because of him.
"Justin is a vile human and will never be accepted by us. As long as she is even speaking to him in any way, it is not only disrespectful to everyone around her, it is disrespectful to herself," a family member told TMZ.
However, The Weeknd's girlfriend seems to have nothing against her former lover, as she has been spotted spending quality time with him. On Sunday morning, the former couple were caught on camera enjoying their breakfast at a cafe in Westlake Village, Los Angeles.
Also read Justin Bieber has a new lady love and guess who she looks like!
"They grabbed breakfast, blueberry smoothies with whipped cream, and were just talking—none of the staff really recognised them. Justin paid for both of them, they looked to be in a good mood, they just sat at a table and chatted for a while, no hand holding or anything, the conversation seemed lighthearted. They sat at a table inside where they had a little more privacy. They stayed for about 25 minutes before leaving together," a source told US Weekly.
Last week, the Sorry singer also spent a night at his ex-girlfriend's house and enjoyed time with their mutual friends. According to industry insiders, they spoke about the Fetish singer's kidney transplant and there was nothing romantic about the reunion.
"Justin lost touch with Selena for a while, but they are communicating again. He visited her at home last week. They spent a few hours together as friends. He was very worried after learning about her kidney transplant. He is so relieved that she is doing well," the source told People.
Meanwhile, the reunion between Justin Bieber and Selena Gomez was a big news for all the Jelena fans. But a section of The Weeknd's fans is upset about it. They claimed that the Starboy hitmaker unfollowed his lover and the people close to her on Instagram. They also shared an image to prove their claims, reported Elle UK.