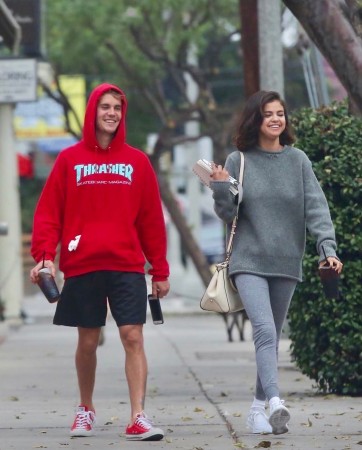 It hasn't been a week since news of Selena Gomez and The Weeknd splitting after 10 months surfaced on social media, and Selena Gomez is already seen spending most of her time cosying up with ex-flame Justin Bieber.
While sources had confirmed to multiple outlets that Biebs wasn't the reason behind the split, in recent updates, it has been revealed that apparently, Selena had never given up on the idea of her getting back together with him.
Also read: Selena Gomez and The Weeknd split; is Justin Bieber the reason?
Selena and Justin first started dating back in 2010 and even though the two might have had a rocky relationship, this isn't the first time they seem to be rekindling the old flame. Selena, 25, has also been linked with Zedd, 28, but The Weeknd aka Abel Tesfaye, 27, has been her only official long-term relationship other than Bieber, 23.
Explains why she would have never lost hope on the two finding their way back to each other. Ever since the split with Abel, Selena and Justin have been inseparable, going to church, spending date nights and enjoying bike rides together.
While everybody has been trying to figure out what exactly the two's relationship status is, insiders have confirmed to People magazine that, "Justin was Selena's first love. He will always have a special place in her heart. She's always held out hope that one day the circumstances and timing would be right."
Selena reportedly "always saw the best in him," and that involves Bieber's many breaches of the law in the past. However, sources also spilled to People that it hasn't always been all smiles and sunshine for the two as Selena has been let down by Justin in the past.
"There have been times in the past where Selena was excited and thought things would work out again, but then was disappointed," shared the insider. But clearly this time it's different as he's also reported to be working on earning her family's approval.
"They're having a great time together. Neither are seeing anyone else and they seem happy to leave it at this for now," sources close to Justin shared with People. "Spending time together makes them both very happy."
For Justin, no one ever came close to comparing to Selena. He always thought she was the most special and now seems mature enough to realize Selena deserves best." As they say, third time's the charm and looks like Jelena is the end game for sure.