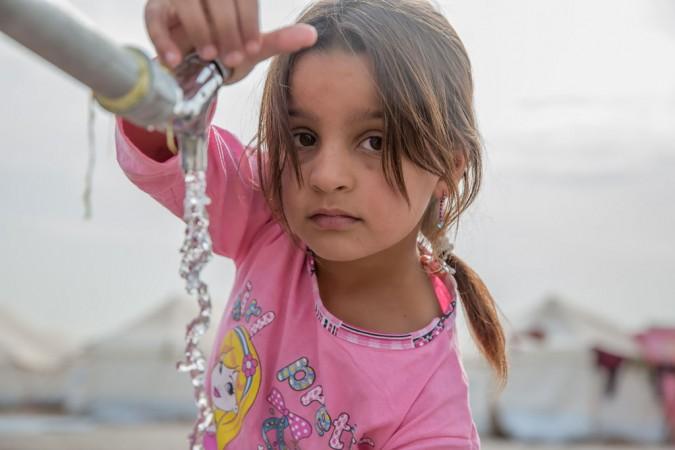 Children are turning out to be the biggest sufferers in the continued war against the Islamic State group — which is also known as Islamic State of Iraq and Syria (ISIS) or Islamic State of Iraq and the Levant (ISIL). When they are not being targeted by ISIS militants for either execution or to be inducted into their ranks, they are suffering from lack of basic needs, like a playground.
Now, the United Nations Children's Fund (Unicef) has detailed how children in Iraq and Syria are suffering as efforts go on to end ISIS presence in these two countries. The situation, it says, is dire in Syria, where 84 schools have been bombed in 2016 alone. It is probably much worse in Iraq, or more specifically Mosul, where the UN body claims 300,000 children have lost access to water.
Not a drop to drink in Mosul
Unicef said in a statement on Wednesday: "Nearly 300,000 children in Mosul — almost half of all the children in the city — and their families have reportedly been cut off from access to clean water after a major water pipeline was destroyed amid the ongoing conflict. The broken pipeline — one of three major water conduits serving civilians in eastern Mosul — is located in parts of the city still held by ISIL, making it impossible to repair quickly."
Unicef Representative in Iraq Peter Hawkins was quoted by the statement as saying: "Children and their families are facing a horrific situation in Mosul. Not only are they in danger of getting killed or injured in the cross fire, now potentially more than half a million people do not have safe water to drink."
The statement also said Iraqi authorities were "trucking water from some 35 km away" into Mosul, but it was "not enough to meet the needs of residents." It added: "Unless running water is restored in the next days, civilians will be forced to resort to unsafe water sources, exposing children to the risk of waterborne diseases such as severe diarrhoea and the threat of malnutrition."
'Living nightmare' in Syria
The situation is no better in Syria, as described by Unicef Regional Director Geert Cappelaere to the UN Security Council. He began by saying: "To say that the situation is tragic, Mr President, would be an understatement."
He went on to add: "Tens of thousands of children have already been killed. Millions have been uprooted, some more than once. Too many have been deprived of basic medical care and safe drinking water. Too many have witnessed the death of their loved ones and the destruction of the places they once thought are safe: their homes, their schools, their playgrounds. Simply put, Syria's children are trapped in a living nightmare."
Describing the attack on schools, Cappelaere said: "This year has been particularly devastating for education. Since the beginning of 2016, the UN has documented 84 attacks on schools across Syria, with at least 69 children losing their lives and many more injured."
He put the overall situation as this: "Across the country, more than 7,000 schools can no longer be used because they are destroyed, damaged, sheltering displaced families or being used for military purposes. The result is that, 1.7 million children and adolescents in Syria are out of school."