The Syrian civil war — which began with the Arab Spring, escalated when President Bashar al-Assad tried to suppress the uprising with an iron fist, and was complicated by the rise of the Islamic State group in the region — seems to have had an odd, but totally understandable effect on the country's populace. A large number of people there have gone underground, literally!
Reports have for long claimed that rebel groups like the Free Syrian Army or the Syrian Democratic Forces — backed by the United States in their fight against the regime forces of Assad — have been using tunnels to hide, regroup and wage war.
Reports have also said that the Islamic State group — also known as Islamic State of Iraq and Syria (ISIS) or Islamic State of Iraq and the Levant (ISIL) — have used tunnels to move in and out of Turkish strongholds. Even the regime forces have used them.
Now, it has emerged that these tunnels are being used by people to not only escape the besieged parts of Syria, but also live in them. Interestingly, according to the United Nations Children's Fund (Unicef), many of the nearly 500,000 children under siege in Syria are not only living underground, but playing there as well!
Land of Childhood
According to a Unicef statement: "In one besieged area, a group of volunteers built a playground and a park by linking a series of basements. On average, around 200 children come to this playground every day. In another besieged area, an underground school provides 250 girls with the chance to keep learning."
It went on to add: "In the absence of safe spaces, children are turning to basement playgrounds, schools and hospitals to continue playing, learning and, when necessary, seeking medical care."
The playground is called Land of Childhood, and Unicef identified one of its creators by just the name Yaseen — "a fourth-year architecture student when the siege forced him to leave university a year before graduation." He told Unicef: "Designing this project was a relief from the war photojournalism I did during the war. I wanted to retrieve my old skills as an architect to produce something that brings happiness to children."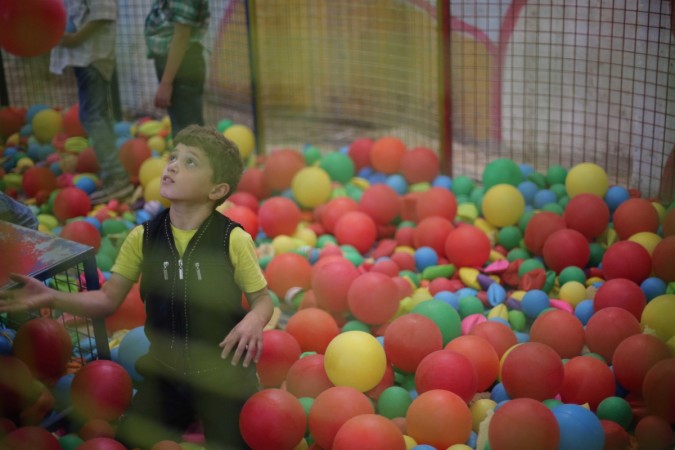 One of the kids who visited the playground is 10-year-old Adbulaziz, who lost his father in the civil war. "My mom doesn't allow me to play on the street. When she learnt that this place is underground, she lets me come here to play," he was quoted as saying by Unicef.
It quoted a little girl, who also visits the Land of Childhood often, as saying: "My friends and I come here because it's the last park that is still working. The one we used to go to was attacked and is not working anymore."
Appeal for aid
The true nature of the life they are leading becomes evident from the remarks of Unicef Executive Director Anthony Lake, who was quoted as saying in the statement: "For millions of human beings in Syria, life has become an endless nightmare — in particular for the hundreds of thousands of children living under siege. Children are being killed and injured, too afraid to go to school or even play, surviving with little food and hardly any medicine."
With the conflict nearing its seventh year, Unicef, has again called upon everyone "to lift the sieges across Syria, and to allow and facilitate immediate, unconditional and sustained humanitarian access to all areas across the country."