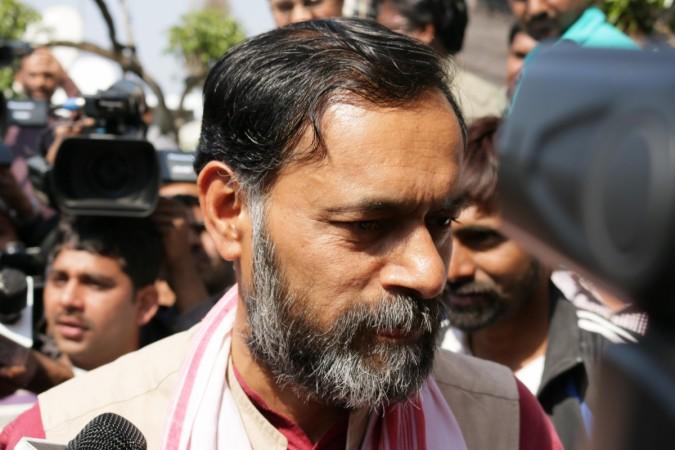 Income Tax (IT) officials on Wednesday raided two properties belonging to sisters of Swaraj India President Yogendra Yadav, who said that it was a move to intimidate him.
The raids at a hospital and nursing home Rewari, Haryana began early on Wednesday and were still ongoing late in the evening. Yadav said that the raids involved more than 100 people.
A spokesperson for the IT department said that Rs. 20 lakh in cash had been recovered so far, as well as "links" to the Nirav Modi fraud case, including jewelry purchased in cash. Yadav dismissed the claims, stating that he was being attacked by the Modi government for his agitations against the Minimum Support Price (MSP) and liquor vends.
Kalawati Hospital-cum-Nursing Home, which is run by Yadav's elder sister Neelam Yadav was raided around 11 AM, along with Neelam Yadav's home which is on the first floor of the hospital building. The Kamla Nursing Home, run by Poonam Yadav was shut for the day after the raids since policemen stood guard outside and did not let anyone in.
Yogendra Yadav has distanced himself from both properties, saying he has no direct involvement in their running. He added that it is up to the hospital authorities to explain the cash, he simply raised his voice because his family was being targeted for his actions.
The raids come nine days after a padyatra by Yadav in Rewari, and just days before a crucial meeting with the All India Kisan Sangharsh Coordination Committee (AIKSCC) in Delhi. "It is a clear attempt at political intimidation, but I will not be silenced... The PM is so rattled by the farmers' issue because he knows it can cost him elections," Yadav said.
Yadav further acknowledged that his party donated money to both facilities, but did so through electronic means so as to keep its dealings transparent. He criticised officials for conducting the raids, as it forced the closure of the ICU as well as the pharmacy.