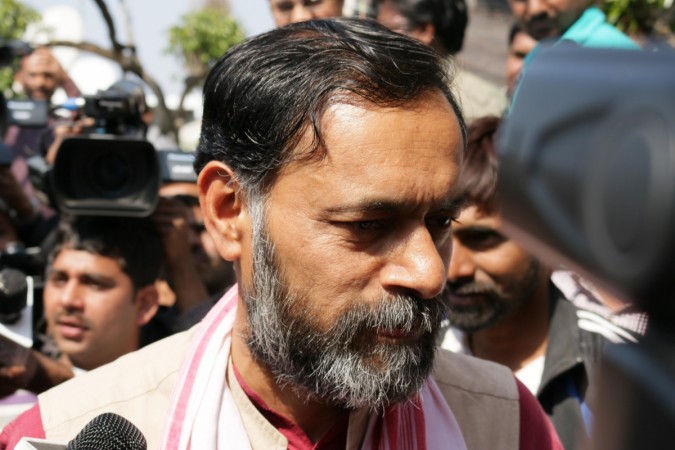 Even as Prime Minister Narendra Modi and Congress vice president Rahul Gandhi ready for a face-off in Saurashtra on Wednesday, politician and psephologist Yogendra Yadav has said that Rahul is no match for Modi when it comes to the ability to communicate.
However, he also added that Modi lies a lot to the people of India.
Here's what Yadav said about Modi
The Swaraj Abhiayan founder besides applauding Modi for his communication skills also condemned the PM for lying.
"The requirements for being the leader of this country are almost impossibly high for any human being... you have to address a Mumbaiker, a Bangalore IT sector person," Yadav was quoted as saying by a News 18 report.
"Modi's worst critics, including people like me, must acknowledge that he is an exceptional communicator. He does too much of 'goli' in the process, the proportion of fudge to my mind is more than required and is caught very soon after that," Yadav said before asserting that Modi still continues to be "exceptional communicator".
The ex-AAP member even cited Mahatma Gandhi's communication skills while drawing comparison to Modi but said that Modi lags behind due to his deceptive nature.
"He (Mahatma Gandhi) had this exceptional ability to speak to a barrister and to that last woman sitting in a village - that is what is required. Gandhi for me is the model of communication. Modi is an exceptionally good communicator, but in the process also very deceptive unlike Gandhi".
Yadav's take on Rahul Gandhi
However, Modi was not the only person who was scrutinised by Yadav, he also expressed his opinion about the Congress vice-president, who is busy campaigning in Gujarat.
Yadav feels that Rahul lacks the ability to rule a country like India.
"Does he (Rahul Gandhi) have what the country needs today to take on the challenge to the very foundations of this republic? Does he have what it takes to galvanise people of this country to meet the bigger challenge? Unfortunately, the answer is 'no'," said Yadav while urging the Congress VP to buckle up.
"It (Congress) is an obstacle in this country. It is a problem in this country. It is not a solution. So someone has to transform this party or junk it. That is the only option in history and Rahul Gandhi has to make up his mind whether he has to take up the road to transformation, take short term risks, go for the big transformation or go for quick fixes, or somehow let things be as they are," said Yadav.
However, just like Yadav harped on Modi being a good communicator despite his deceptive nature, Yadav concluded his scrutiny of Rahul on a diplomatic note as well.
Yadav said that he found the Congress vice-president "more sincere" than most top politicians in the country that he has met, reported News 18.