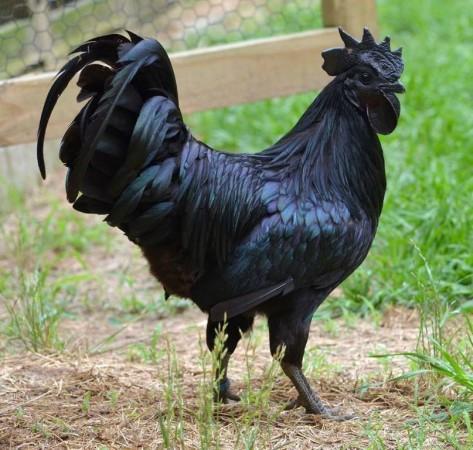 Kadaknath chicken, also known as 'super chicken' seems to be the next food fad. This local variety of chicken, found in some parts of the Indian subcontinent, is three times costlier than the ordinary chicken.
ALSO READ: Can smoking up boost sexual pleasure?
Here's all you need to know about this chicken species:
1. Kadaknath chicken is a native bird of Madhya Pradesh (MP), an Indian state. This unique breed of fowls is black in colour, its flesh and eggs are black too. The bird's original name is 'Kalamasi', which stands for – a fowl with black flesh. Though the meat of this chicken might not look too appealing to eyes, it is really good in taste.
ALSO READ: Pads and tampons causing allergies? Use menstrual cups, suggests this doctor
2. Compared to other fowls, the Kadaknath chicken is much more nutritional than the ordinary fowls and even possesses medicinal value. Here's the nutritional statistics of Kalamasi, as described by Dantewada district administration.
Protein content: found in ordinary fowls is 18 to 20 percent, Kadaknath has 25 percent
Fat content: found in ordinary fowls is 13 to 25 percent, Kadaknath has 0.73 to1.03 percent
Cholesterol: found in ordinary fowls is 218 mg/100g, Kadaknath has 180mg/ 100g
ALSO READ: Did this man capture 'real life fairy' in his photographs? [VIDEO]
3. This bird is usually reared by the tribal communities of Bhil and Bhilala, found in central India, hotfridaytalks.com stated. This fowl is commonly raised by these tribes because of its adaptability to the local environment and its ability to stay immune to diseases prevailing in its natural environment. But, the bird becomes more prone to Marek's disease – a highly contagious viral neoplastic disease in chickens – under severe rearing conditions.
ALSO READ: Want to boost your sex drive? Include these foods in your diet
4.The meat of this fowl provides vitamins, amino acids and boosts sex drive. Its eggs are nutritional and possess healing properties as well.
5. Unlike the broiler chicken, Kadaknath even eat and survive on leftover kitchen waste, this makes the Kadaknath chicken comparatively more pocket-friendly for farmers rearing it.
ALSO READ: Want to get pregnant quicker? Try these
"The Kadaknath is highly disease resistant and a hardy bird. Unlike broiler chicken, it can survive and even thrive on kitchen waste. It is also a semi-scavenger and an ideal ally for farmers who are looking to supplement their income. In fact, we have received many queries from areas about Kadaknath such as Marathwada and Nagpur," says S Ganesan, director-in-charge of the Central Poultry Development Organisation (Northern Region), as reported by hotfridaytalks.com.
6. Presently, this fowl species is being raised in the Naxal-infested Dantewada district of Chhattisgarh from eastern MP districts of Jhabua and Dhar. The government is motivating women to rear this bird species here by offering subsidized loans.