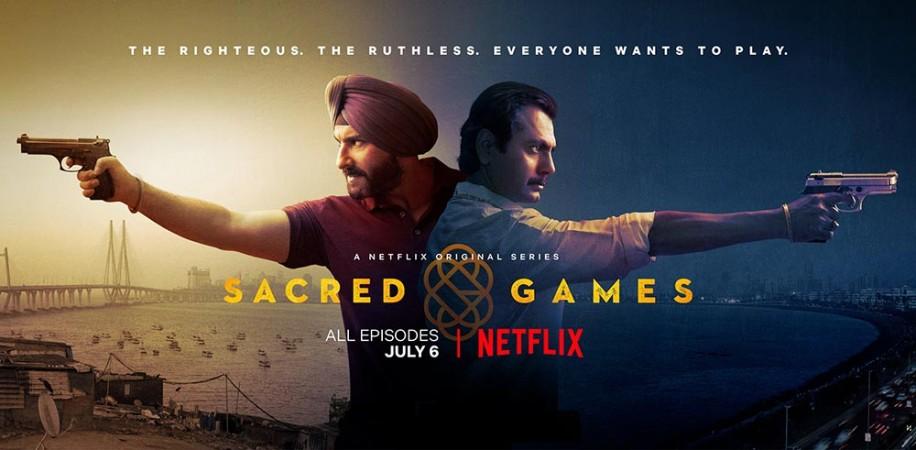 The Indian television for long was dominated by Saas-bahu serials and reality tv shows, but new entertainment players in the market such as Amazon or Netflix are bringing new content to the market.
Amazon had earlier launched various original series such as Breathe, Inside Edge and other comedy specials. Netflix has now taken it to a whole new level with its newly released series – Sacred Games.
Netflix's first Indian original series Sacred Games was released on 6th July globally with eight episodes. The original series is adapted from an award-winning 2006 novel of the same name written by Vikram Chandra. The series narrates the journey of an unsuccessful police officer played by Saif Ali Khan and how a phone call changes his life. It's a political-crime thriller, with a gripping plot from the get-go. Radhika Apte and Nawazuddin Siddiqui play vital roles in the series.
Saif Ali Khan portrays the role of Sartaj Singh, an honest and dutiful officer. Unfortunately, he is unpopular among his peers. His situation changes with a phone call from a very powerful crime lord, Ganesh Gaitonde played by Nawazuddin Siddiqui. The kingpin gives him a tip about a terrorist attack in the city in 25 days. Apte plays the character of a RAW intelligence officer.
Sacred games start with a line "Bhagwan mein bharosa karte ho? Bhagwan ko l**d farak nai padta" from Siddiqui and till the series end, it keeps the audience hooked.
The series revolves around Mumbai City's charm as well as its dark side. Local politicians, movie stars, corrupt police officers, mobsters, businessmen, religion play for their own power and personal profits.
Sacred Games' story jumps between past and the present, making it difficult for viewers to keep up with the plot twists. Directors Anurag Kashyap and Vikramaditya Motwane have done a stellar job with the directing the storyline.
Unlike the usual gangster flicks, the series doesn't have the perfect portrayal of a good hero and bad villain but explores the grey areas.
With another series in line, Date for Ghoul starring Radhika Apte, Netflix might give a tough competition to Amazon India shows.