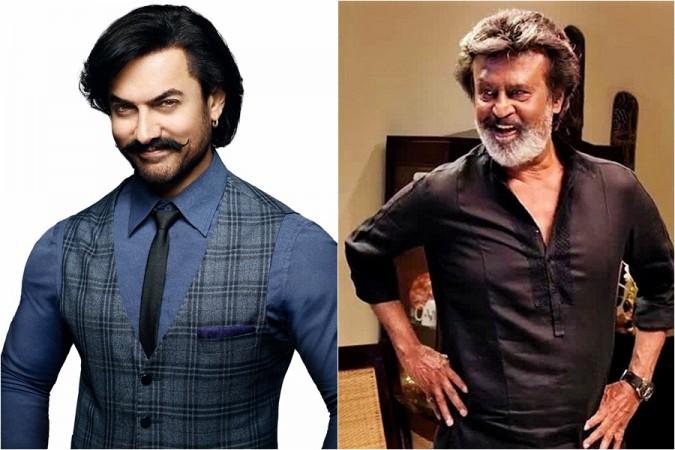 Rajinikanth's Kaala, which has been facing opposition in Tamil Nadu and Kartanaka, has finally been released in theatres on Thursday, June 7. The movie has opened to mixed reviews from the film critics while audience have been going gaga over Thalaivar's latest outing including Aamir Khan who is eagerly waiting to watch Kaala.
"Have always been a huge Rajni fan, can't wait to watch 'Kaala'," he tweeted. For the uninitiated, Aamir and Rajinikanth have worked together in the 1995 film Aatank Hi Aatank which also stars Juhi Chawla in lead role.
Meanwhile, Kaala has come as a massive setback to Rajinikanth as it has reportedly recorded one of the lowest-recorded openings in recent times for the superstar. The movie was also streamed live on Facebook just hours before the film hit the theatres.
Trade analyst Atul Mohan says that the buzz for this one is low despite having known faces from Hindi cinema like Nana Patekar, Huma Qureshi and Pankaj Tripathi.
"This may be due to some of the factors like couple of postponements in release date, Ramzan period , particularly the week before Eid which is dullest for business , as next Friday the big film of Salman Khan releases. Rajinikanth is still a huge craze as the character Chitti of 'Robot' and fans are waiting for the sequel '2.0' .
"Also his last few films haven't done well. The promos of 'Kaala' haven't established a connect with Hindi audiences. It looks like a 1990s' film. But we hope they have some great story to be shared which may be liked and the film does well," said Mohan.
Atul Mohan also warns about the competition.
"'Kaala' has to compete with a Steven Spielberg franchise 'Jurassic World' which is a huge event. Also, a section of Rajinikanth's audience is not happy with his entry into politics," said Mohan.
Oscar-winning sound designer Resul Pookutty who has worked repeatedly with Rajini on "Ra.One", "Robot" etc, agrees that Rajini's politics could be a negative force in his career.
"I have not been following 'Kaala' release or its prospects, but I would imagine, the socio-political stand Rajini Sir has taken in the past one year people might have started looking at him differently from the demi-god that he used to be," he said.
Directed by Pa Ranjith, Kaala also stars Eswari Rao, Samuthirakani,Huma Qureshi, Sampath Raj, Sayaji Shinde, Anjali Patil, Manikandan, Dileepan, Pankaj Tripathi, Ravi Kale, Ramesh Thilak, Arul Doss, Aravind Akash, Sakshi Agarwal, Arundhati, Suganya and Nithish.
In Karnataka, the film's release was opposed by some organisations after the southern superstar said the Cauvery Management Board (CMB) on the sharing of the Cauvery river water between Tamil Nadu, Karnataka, Kerala and Puducherry, has to be set up.
(With IANS Inputs)